Album Description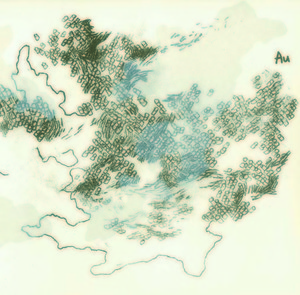 "It took me exactly six months from the day of its release to begin writing about Au's self-titled "debut" album. Despite the crippling procrastination that plagues most Tiny Mix Tapes reviewers (okay, just me, but I am not averse to dragging my superior wordsmiths into my wading pool of incompetence), I am genuinely surprised at my lack of motivation and overall laxness in penning this one. It's not like the album hasn't gaily danced its way into my pleasure center and taken up residence in my hypothalamus during the past few months or anything!
Au ("ay-yoo") is primarily Luke Wyland, a musically promiscuous Portlander who in 2005 released peaofthesea under the simple handle "luc." Some of Au will appeal tremendously to those longing for Sung Tongs-era Animal Collective. Opening track "Boute," in particular, recalls that same exciting positive folk feel that Messrs. Tare and Bear practice when the mood strikes them. "Sum" is just as thrilling; after an intro of tinkles and strums, the song starts in earnest around 0:43 with a mix of banjo, Zoë Wright's dreamy vocals, and then a full muddled arsenal of rattles and clangs as it quickly builds a sound drift of intoxicating proportions.
"Shelter" is a quiet dazzler that thrashes together two important sections of Wyland's creative CV: his childhood classical piano education and his avant-garde work. It is a lovely piece of vocal-splicing and piano- and sleighbell-abetted drone that runs a course without any real end goal. In fact, it doesn't really go anywhere at all, but it feels wonderful getting there. Elsewhere, without hinging on any major sensational events, Au reveals itself slowly, subtly, and satisfyingly. "Death," which features vocal help from A Weather's Sarah Winchester that actually sounds like creeping death, starts a dark troika from cleanup to sixth in Au's batting order. After this bout of introspection comes the meditative exercise "Life" and "Ask the River," closing the album with a discharge of freshly-plucked notes.
Maybe it is not entirely my fault that I sat on this album a little longer than I would have preferred. It would be easy to disregard this li'l slip of an album if it were not for the music it contains. With a non-descript, hand-drawn cover and very little fanfare trumpeted by my beloved Rolling Stone and Spin (joking), Au perhaps suffers from underexposure, which is a shame because it would take a malcontent of the highest order to find many faults with this superb example of modern songwriting. While comparisons can be made to other forward-thinking acts, Au genuinely feels like a blank slate record: it is devoid of many thoughts of the past, instead relying on painting little, unique pictures with sounds. It has the feel of a "graphic score" rather than an album. In musical notation, Au is all warm wingdings.
The whole album soundtracks a stimulating encounter between song and sound. At times haunting and morose, at other times uplifting, Au is a mixed bag with plenty of tasty tricks. Rather than patching things together like a weekend carpenter in a vain effort to make a million things "fit," Wyland employs the skills of a seasoned curry cook, sprinkling in a measured variety of sonic concepts like garam masala into the finest of dishes. Wyland and his Au collaborators have produced an accomplished and commendable album. Dig in and dig often." -Tiny Mix Tapes (http://aagoo.bigcartel.com/product/au-au)
Au
by
Au
is licensed under a
Attribution-NonCommercial-ShareAlike 3.0 International License
.
Aagoo Records