Album Description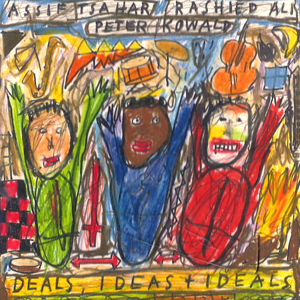 On the surface Ali, Kowald and Tsahar may not seem like the most complimentary combination. Their music together however suggests that the teaming, while brief, was something of a stroke of genius. Each man is masterfully versed in the vernacular of free jazz, but surprisingly much of the time this date has more in common sonically with Sonny Rollins precedent setting Village Vanguard trios of 1957 than it does Ayler's Spiritual Unity unit with Gary Peacock and Sunny Murray. The opening the "Rap" works off a thematic center comprised of tight melodic cords, which Tsahar seems to delight in unraveling. Kowald constrains himself mainly to pulse keeping and Ali's traps are awash in coruscating rhythms. "Isotopes" opens with Kowald's precision bow slicing ruddy streaks in a descending harmonic funnel. Tsahar's throaty bass clarinet makes a rare and welcome appearance soon after bubbling up in a viscous show of emotion over Ali's sparse fills before Kowald's acerbic bow takes things out.
Ali is first up on "Freedom Train" trafficking in authoritative polyrhythms that allow slippery purchase for Tsahar's tenacious tenor. Kowald's speed walking pizzicato line is a little under-recorded this time out, but a tacky pulse is maintained. Confident that the rhythmic end of things is shored up Tsahar empties his lungs and lets fly with a steady stream of striated sound sheets. This is one transom that isn't going to be rerouted from its appointed arrival at emancipation. Ali's drums also preface the title piece, a track that serves a showcase for all three players as soloists, prior to a unison close. "Walking Shadows" flirts with Tuvan throat singing over a resonating drone pattern of Kowald's strings.
Even though this trio had only a fleeting time together, the music created is timeless, testament to the abilities of the players both as individuals and collectively. The likelihood of a reunion is perhaps unlikely. But as improvised music continually reminds, anything is possible and there's no doubt that these three would have volumes more to say together if given the opportunity.
By DEREK TAYLOR for allaboutjazz.com
Album
deals, ideas, ideals
deals, ideas, ideals
by
Assif Tsahar
is licensed under a
Attribution-NonCommercial-NoDerivatives (aka Music Sharing) 3.0 International License
.
Hopscotch records