Album Description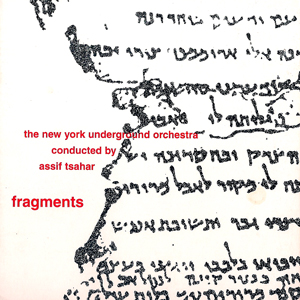 Assif Tsahar explores an entirely different side of his art onFragments, the second recording by his self-conducted, string-dominated Underground Orchestra. Tsahar's previous large band projects have come from the brass/reeds-centric Brass Reeds Ensemble and Zoanthropic Orchestra and, in this case, the leader's tenor is missed. Not just fragments but fragmentary, the relatively short 16 pieces of this whole sound like incomplete ideas, with long middles and no ends. Paranoid violin scratching, slow string pulls, repeated motifs and sustained notes that build in intensity then recede are occasionally interrupted by violent cacophonous orchestral blasts, which all add up to an unnerving emotional and psychological experience, as if Schoenberg were to score Hitchcock. Only on "Sixth , a brief Charles Waters clarinet feature and "Seventh , with its gypsy fiddle and cello flourishes, does Fragments approach the inviting organic warmth of Tsahar's collaborations with Cooper-Moore.
By JEFF STOCKTON for allaboutjazz.com

Fragments
by
Assif Tsahar
is licensed under a
Attribution-NonCommercial-NoDerivatives (aka Music Sharing) 3.0 International License
.