Album Description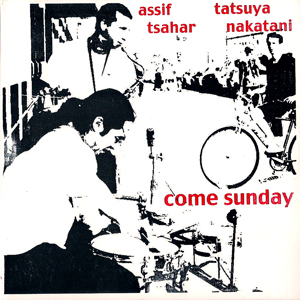 Released:
August 1st, 2003
Come Sunday is music that on its most immediate, most obvious level is meant to conjure an ostensibly non-musical vignette in the mind's eye. Think of Clifford Brown & Max Roach's "Parisian Thoroughfare" or Beethoven's sixth "Pastorale" symphony. Within its 52-minute running time, Come Sundaycontains several such items. The sound of waking from a mid-afternoon nap to the sound of gentle rain. The sound of sitting in rush hour traffic. Of watching one of life's comedies play itself out through a greasy diner window. Of hearing one side of a frantic phone conversation. From start to finish, Come Sunday is free, loose, broadly expressive, impressionistic.

And yet, for all its moments of discord, not one threatens the organic, almost telepathic dialogue between these two musicians. Tsahar and Nakatani maintain an impressive unity that is rarely possible among larger incarnations like trios, quartets and philharmonic orchestras. As if to demonstrate the power of the jazz duo (their own in particular), they have given us the title track, a Duke Ellington chart originally composed for a much larger ensemble, in addition to their ten original compositions.
By ERIC J. IANNELLI for allaboutjazz.com

Come sunday
by
Assif Tsahar
is licensed under a
Attribution-Noncommercial-No Derivative Works 3.0 United States License
.