Album Description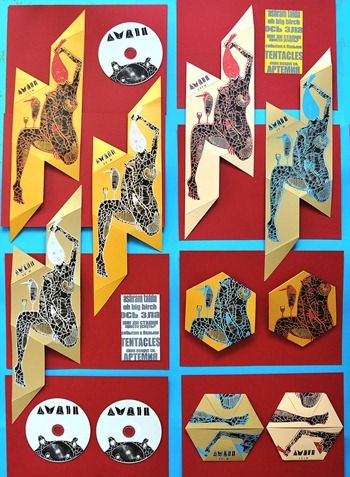 Ivan
White Russ is yellow actually like Ivan's hair, like wheaten bread, like Karakumi sand. Koala shows three fingers: me and two mother's little helpers. Spikes are dancing in field, birches whisper and further sea-ocean, fishes are there silenced. Spring flows with water, summer flows with oil. Day - parubok is running down farting, sun is playing his hair. Night - young doughter medovaya flows near univermag. Plyuh-plyuh - thawed armpit squishes. Hlop-hlop - buttocks is rebeling between one another. Bzh-bzh - wind is walking in the windows of my house. Koala shows four fingers and the fifth one will be shown later.
AWOTT TEENS VS EURO MAMAS TOUR exclusive 100 copies CD. Will be available at concerts of the forthcoming tour. Price 7 euros.
TOUR DATES
May 7 Minsk Belorussia rock bar Kril'ya
May 8 Vilnius Lithuania X120
May 11 Leipzig Germany Zoro
May 12 Prague Chech Republic Café V lese
May 13 Berlin Germany Urban Spree
May 17 the Hague the Netherlands Pip Den Haag
May 18 Utrecht the Netherlands Moira
May 18 Tilburg the Netherlands Gifgrond
May 19 Brussels Belgium Les Ateliers Claus
May 20 Antwerpen Belgium Stadslimiet
May 22 Caen France Ecuyes
May 29 Perpignan France L'UBU
May 30 Montpellier France la Villa des Cent Regards
June 7 Zagreb Chroatia Attack!
June 8 Belgrade Serbia TBA
June 14 Vienna Austria club d'hommage
More dates TBA
Album
IVAN (euro edition)
IVAN (euro edition)
by
Asian Women on the Telephone
is licensed under a
Attribution-NonCommercial 3.0 International License
.