Album Description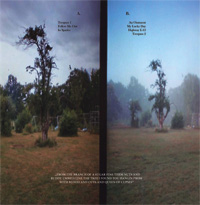 Angels in America, the bodypump-infected and skuzz-infested duo of Moppy Pont and Merv Glisten, have been honing their rickety vocabulary on fractured, edge-of-the-abyss cassette releases for a few years now. With Narrow Road to the Interior, their first LP, the band offers a palliative for the debilitating stench of summer with a heady mix of sweet smells, agreeable natural notes, and plenty of creeping, low-to-the-ground odor. Some elements--songs, lyrics, Moppy's voice at the absolute threshold--will be familiar, visible enough from the waking path; but this is dreamstate music, and to follow it is to cross unannounced into zones less easily pinned down.
-via Ehse Records
Album
Narrow Road to the Interior
Narrow Road to the Interior
by
Angels in America
is licensed under a
Attribution-Noncommercial-No Derivative Works 3.0 United States License
.
Ehse Records LP / CD / DL