Artist
Russian pianist Alexander Ghindin is emerging as a major force in the international piano world. In 1994 at age 17, he became the youngest winner ever of the prestigious International Tchaikovsky Competition, later gaining Second Prize at Brussels International Queen Elisabeth Competition in 1999. In 2007 he won the first prize of the Cleveland International Piano Competition in Cleveland, Ohio.
Alexander Ghindin has given solo recitals and concerto performances across the United States, Europe, and nearly every major city in Russia as well. Highlights of Mr. Ghindin's recent concert seasons include the Berlin Symphony Orchestra at the Konzerthaus performing Rachmaninoff No. 4 with Eliahu Inbal, the Tokyo Suntory Hall with the Tokyo Metropolitan Symphony performing the Chopin Concerto No. 1 with James de Priest, and the Brussels Palais-des-Beaux performing Rachmaninoff Concerto No. 3 with the Orchestre National de Belgique with Jean-Claude Casadesus. Mr. Ghindin also performed concertos with orchestras in Bordeaux, Ekaterinaburg, Kazan, Latvia, Luxembourg, Moscow, Pau (France), Monte Carlo, Prague, Slovenia, and Vilnius, and others.
In 2009–2010, Mr. Ghindin organized two festivals in Moscow, and his own concert series in one of the greatest halls of Russia, the Svetlanov Hall of the Moscow Performing Arts Center.
Mr. Ghindin graduated from Moscow State P.I. Tchaikovsky Conservatory after completing master class studies with Professor M.S. Voskrensky in 2001. By the age of 14 he had already won the Moscow Young Pianists' Competition, and after his victories at the Tchaikovsky and Queen Elisabeth Competitions, he joined the Moscow State Philharmonic as soloist in 1999.
Alexander Ghindin has recorded 15 CDs, including a recording of Rachmaninoff's Piano Concertos No. 1 and 4 in their original versions with the Helsinki Philharmonic Orchestra led by Vladimir Ashkenazy (2001, on the Ondine label). He has also appeared on TV and Radio in Russia, Germany, Belgium, Japan, France, Luxembourg, Poland and elsewhere.
» READ MORE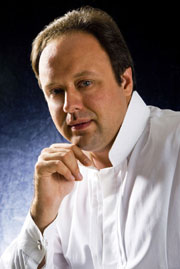 Gardner Museum Library