You came this way:
Home
>
24 Hours
24 Hours

(1 Albums, 1 Tracks)
Artist
MEMBERS:
bass -> Zhang Chen
guitar -> Ren Yilan
drums -> Li Guanyu
24Hours, formerly called 24 Hour Party People named after the film about the Manchester music scene, hail originally from Xi'an. They create, in their own words, passionate rock and roll. Solidifying their lineup in May 2007 with bassist Zhang Chen, guitarist Ren Yilan and drummer Li Guanyu, the three share vocal duties.
In Summer 2007, the trio released their debut EP in Xi'an using a pure DIY ethic, handling production, mixing and art design themselves. They played their first show in Beijing in 2007 and caught the eye of local musicians Yang Haisong (P.K. 14) and Li Qing (Snapline, Carsick Cars). With their help, the trio signed a deal with Maybe Mars Records. They moved to Beijing in early 2008.
» READ MORE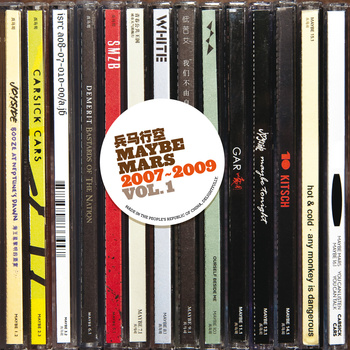 Maybe Mars Distribution