About Lost Frog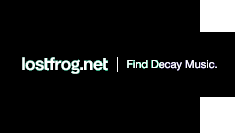 Lost Frog Productions is an independent CD/CDr & MP3 label specializing in releases by lesser-known artists worldwide, based in Tokyo, Japan. Originally founded in 1993.
CD/CDr releases are a series of limited edition for sales. MP3 releases are a non-profit promoting. You can free listen, copy, distribute it for private purpose.
Almost all of our projects are small. But small projects can get started and released very fast. We strive to bring you stuff that we find interesting, compelling and enjoyable.