About ESP-Disk
ESP-DISK' opened for business in New York City in 1966 on the 12th floor of 156 5th Avenue. During its first 18 months, 45 albums were recorded and released, featuring previously unknown free improvisational artists. The only exceptions were Ornette Coleman and Paul Bley, both of whom had gained global recognition during the 1950's. Artists who made their debuts as leaders on ESP included Albert Ayler, Sun Ra, Gato Barbieri, Bob James, Marion Brown, Roswell Rudd, Burton Greene, Patty Waters, Henry Grimes, Charles Tyler, Sunny Murray, Milford Graves, Sonny Simmons, Ronnie Boykins and Frank Wright. Several of these artists were then quickly sought out and recorded by the Impulse and Columbia labels. ESP had signed no term agreements with its artists, anticipating that this might happen, and that they would then enjoy promotional support from these large companies.
ESP's rock groups, the Fugs and the Pearls Before Swine, wrote and recorded powerful statements against the war in Viet Nam, (KILL FOR PEACE, UNCLE JOHN) and their records rose quickly towards the top of the pop charts, through word of mouth. Over night, the record industry began bootlegging their lps, and no further orders reached ESP. In 1968, less than 3 years after its launch, ESP was driven out of business. The new music that was the major focus of the label was ignored in the U.S., while it was celebrated in Europe and Japan, where licensing agreements were made. Bernard Stollman, who had founded ESP, continued to produce records, although his distributors had shifted to purchasing bootlegs of these recordings, and his market had vanished, He treaded water until 1974, when the label ran out of funding. Within months after ESP closed its doors, Federal anti bootlegging laws were enacted. The master tapes were stored in safe deposit boxes, where they remained for 17 years. Stollman, a lawyer, eventually found employment as an Assistant Attorney General of the State of New York, and retired in 1991. A German record company, ZYX, then licensed the catalog in 1992, reissuing all 115 titles on cd. This relationship continued for 6 years, to be followed by a brief licensing agreement with a Dutch label, CALIBRE, and subsequently with an Italian company, Abraxas.
In 2005, ESP resumed manufacturing, and now, many of the titles are available from retailers in many countries or by online order directly from this web site, or by download from itunes, emusic, rhapsody, musicnet and others. 

espdisk on 12/16/2009 at 11:00PM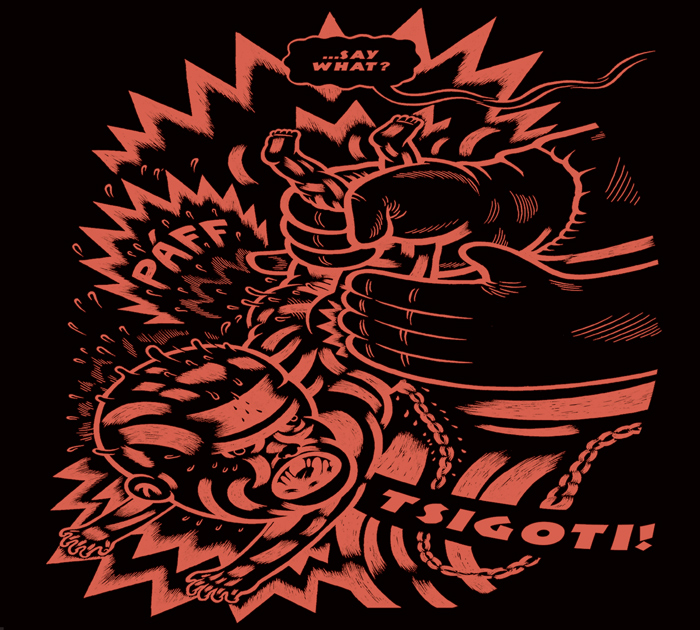 ESP-Disk' is proud to announce its newest artist, TSIGOTI (previously known as Waristerror Terroriswar), a collaborative and improvisational quazi-punk band dedicated to expressing their opposition of war, authoritarian regimes, and violent religious extremes. Combining revolutionary politics and intelligent avant-punk fervor, Private Poverty Speaks To The People Of The Party was recorded with a group of players that have run the gauntlet of life experience and musical exploration.
Private Poverty Speaks To The People Of The Party was created with patience and dedication, yet still holds the same raw improvisational qualities of their debut recording, The Brutal Reality of Modern Brutality. Straying from the typical notion of political commentary, TSIGOTI focus their approach from an insider's perspective, exploring people who suffer being attacked, imprisoned, terrorized, tortured, brainwashed, and tricked. By expanding their sonic territory and political repertoire, TSIGOTI deliver a clever, experimental, yet accessible work of art that is true to the ESP mission - forward thinking and forever changing.
READ MORE
Via ESP-Disk » Visit Blog
» 0 COMMENTS
jason on 11/06/2009 at 05:47PM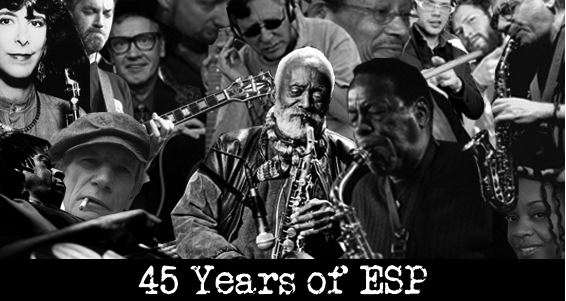 The legendary experimental imprint ESP-Disk (who are curating a collection of their music right here on the Free Music Archive!) celebrates their 45th anniversary with an all-day event at the Bowery Poetry Club in Manhattan this Sunday. ESP-Disk is especially renowned for releasing groundbreaking work by forward-minded jazz artists like Sun Ra, Albert Ayler, Don Cherry and Ornette Coleman. So it's fitting that this 45th anniversary concert is also a benefit for The Jazz Foundation.

Since 1966, ESP-Disk has supported pioneering musicians like Cromagnon, Pearls Before Swine, The Godz, The Fugs, Alan Sondheim, and the Har-You Percussion Ensemble (which Macedonia called The Funkiest Homework Assignment EVER). In 2005, the label re-launched and has been hitting all the right spots with new releases from the likes of Yximalloo, Arrington De Dionyso's Naked Future, Talibam!, and Barnacled mixed in with reissues and previously unreleased material.
Sunday's show includes performances by a few artists whose work can be heard right here on the FMA: the scraping sounds of Totem> (Tom Blancarte/Andrew Drury/Bruce Eisenbeil), the spazztic duo Talibam!, and Flow Trio (featuring Joe Morris, who will also be performing with Mercy to start off the afternoon). I've made this mix with a few more ESP-Disk favorites, enjoy! (after the jump)
READ MORE
Via ESP-Disk » Visit Blog
» 0 COMMENTS