Beep! Beep! Back up the Truck (Label)
About Beep! Beep! Back up the Truck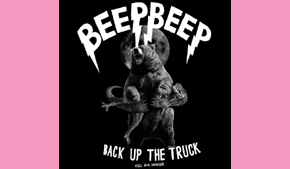 Beep! Beep! was founded in 2008 by a group of friends/musicians from Utrecht based bands such as We vs. death, Kismet and The Walt. On the one hand rooted in a 'one for all, all for one' mentality, on the other hand because of a dissatisfaction with the Dutch music industry.
'Why isn't there a label in the Netherlands that uses the possibilities of the internet for distribution and understands and uses the power of social media?'
Beep! Beep! turned out to be the answer to this question. Soon we distinguished ourselves as the first Dutch label that published its full catalogue under a Creative Commons License and thus made it possible to stream AND distribute all music online for free. The distribution deal we signed with the world's number two biggest torrent site Mininova caused both controversy as admiration with the national and international press. In short: Beep! Beep! is a label that is not afraid to deviate from the norm.
At the same time we are a label that values the physical product a lot. The love for collecting, pressart, distinct artwork and the unique sound of vinyl must not be lost. That's why we make a special crafted hardcopy edition of every release available. For and by music devotees.
Now, less than two years later, there have been more than 200,000 album downloads and the first pressings of CDs and vinyl are sold out. We work with artists who are able to convince and impress us. From filthy garagepunk to enchanting singer-songwriter melodies. From simple popsongs to artistic stubbornness. Beep! Beep! is proud to be a platform for the eclectic mix of talent that is equally talented as hard-working. Beep! Beep! represents the following artists at the moment: We vs. Death, The Black Atlantic, My Bubba & Mi, Paper Tiger, Het Gloren, Schotel van de Dag, Kismet and The Walt.