About All Tomorrow's Parties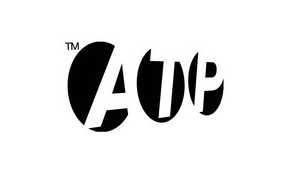 All Tomorrow's Parties is an organisation based in London that has been promoting festivals and concerts throughout the world for ten years.
It was founded by Barry Hogan in 1999 in preparation for the first All Tomorrow's Parties festival, the line-up of which was curated by Mogwai and took place in the unusual setting of Pontins Holiday Camp, Camber Sands. Since then the festival has appeared every year, and continues to set itself apart from festivals like Reading or Glastonbury by staying intimate, non-corporate and fan-friendly. Another vital difference is that the line-ups are chosen by significant bands or artists, resulting in unpredictable and exciting events which combine performances by legendary and influential acts with appearances by the latest crop of experimental artists from any (and every) musical genre.
The All Tomorrow's Parties festival has become more successful with every passing year, moving in 2006 to a larger holiday camp. It has taken place in the UK, USA and Australia, and has been curated by the following artists: The Flaming Lips, The Breeders, Nick Cave & The Bad Seeds, Mike Patton & Melvins, My Bloody Valentine, Explosions In The Sky, Pitchfork Media, Portishead, Dirty Three, Sonic Youth, The Shins, Sleater Kinney, Dinosaur Jr., Devendra Banhart, Mudhoney, Yeah Yeah Yeahs, The Mars Volta, Vincent Gallo, Slint, Jake & Dinos Chapman, Stephen Malkmus, Mogwai, Tortoise, Shellac, Autechre, Modest Mouse, and Simpsons' creator Matt Groening.
-ATP
Featured Collection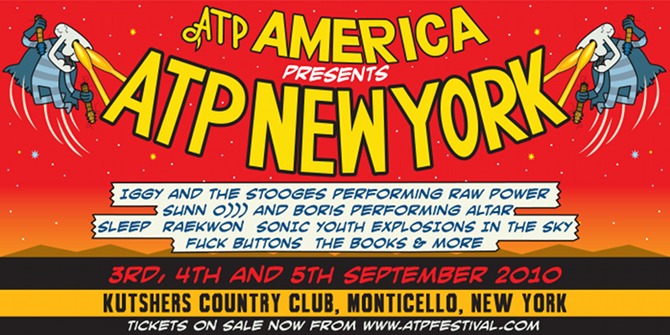 » VIEW BLOG
All Tomorrow's Parties Blog Feed
BTurner on 11/21/2010 at 01:00PM
This past September WFMU traipsed up to Kutshers Resort in Monticello, New York for a third yearly broadcast of the grand All Tomorrow's Parties, and we were especially excited to be plugging in the recorders Friday night as we'd landed permission from Kim Salmon to broadcast and archive the legendary Scientists! Starting off as a Perth-based punk band of the 70s, a move to Sydney in the 80's (and eventually London) found the Scientists morphing into one of the best Australian bands of all time. Like kindred spirits the Gun Club, and fellow countrymen the Birthday Party, Salmon and company defined blooze-ooze and gutter dwelling while equally purveying a lofty sense of style and poetry; their timeless nature easily defined by putting on a platter like Blood Red River (played in its entirety this night), or seeing their image floating around the DNA of later bands like Mudhoney, Chrome Cranks, Blues Explosion and many more. At ATP, we heard rumors of minimal (or no) rehearsal, but from the first scrape of "Set It On Fire" the timespan seemed nonexistent and Salmon's yowl no less bone-rattling. Take a dig via the Free Music Archive, where you can check out more archived sets from WFMU's 2008, 2009 and 2010 broadcasts. You can also check the WFMU site and stream of some of the non-downloadable sets we aired from this year here, including Hallogallo, Sonic Youth, Mudhoney and White Hills.
Via All Tomorrow's Parties » Visit Blog
» 1 COMMENTS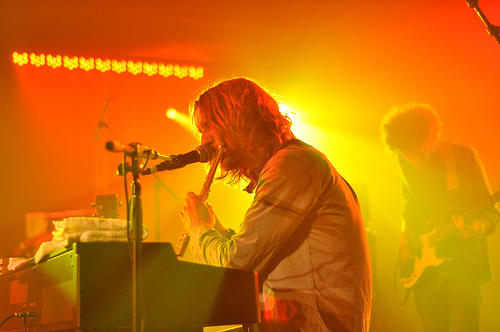 Swedish psychedelic rock band Dungen (pronounced "dune-yen", not "Dungeon", as your Stryper-loving stepbrother may refer to them as) performed an awesome set at the Jim Jarmusch curated ATP last month in Monticello, New York.
While the set covered most of the band's discography, it centered around the group's awesome new LP, Skit i allt, which in English humorously translates to "Fuck it all." That title may have been a bit more appropriate for frontman Gustav Ejstes' early days as a hip hop artist, but there's something about it that's perfect for Dungen's music, which to me occasionally sounds like Eureka-era Jim O'Rourke playing with Selling England By The Pound-era Genesis.
Maybe only I hear that combination... but to me that sounds... awesome! Dungen can be a bit proggy, they can be a bit folky, a bit metal, and sometimes it even seems like in any minute Karen Carpenter might come up and grab the microphone from Gustav and start singing a Burt Bacharach-penned number, especially on "Marken Lag Stilla", from the newest album.
"Mina Damer Och Fasaner", from 2008's 4, was a particular highlight from the set, recalling Gentle Giant and Peter Gabriel (in a good way) and has been made available to download via WFMU below, engineered by Ernie Inradat. Unleash your inner prog nerd!
Via All Tomorrow's Parties » Visit Blog
» 0 COMMENTS