You came this way:
Home
>
lizb
lizb
(FMA Admin)
lizb on 09/08/2014 at 03:45PM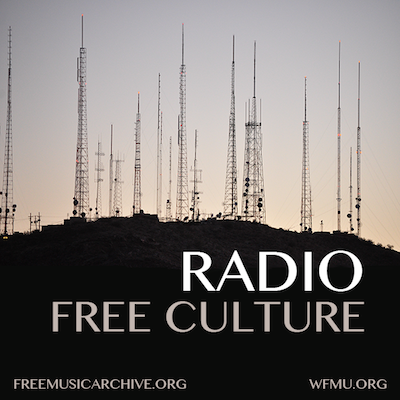 WFMU and the Free Music Archive are proud to present a new season of Radio Free Culture, a weekly podcast exploring issues at the intersection of digital culture and the arts. Our season opener is a two-part interview with FMA pal Elliot Harmon, Communications Manager at Creative Commons. We couldn't have imagined a better way to bring back Radio Free Culture than to take a look at the current state of affairs at our favorite alternative licensing operation.
Check out the first episode here, or subscribe to the podcast here (via iTunes).
» 3 COMMENTS
lizb on 04/16/2014 at 09:45AM
National Endowment for the Arts (NEA) Acting Chairman Joan Shigekawa announced today that WFMU's Free Music Archive is one of 886 non-profit organizations nationwide to receive an NEA Arts in Media grant. The FMA is recommended for a $75,000 grant to support the Re:Invent:Media Project.
Re:Invent:Media is a four-part project that will broaden access to the FMA's rich and diverse audio library, strengthen public understanding of music in the contemporary digital setting, and foster creativity through hands-on engagement with the arts:
Re:imagine will be our second series of themed multimedia contests and workshops to encourage hands-on engagement through the creation of new works inspired by Creative Commons and the public domain.


An Education Portal and instructional webinars will be developed on the FMA to help educators, audio producers, podcasters, filmmakers, and others navigate the complex rights issues associated with using and appropriating music in new creative projects.


Radio Free Culture is a weekly radio segment/podcast that will explore the changing landscape of music, the arts, and digital technology, as well as celebrate the transformative potential of the digital era.


Mobile Apps will be developed for both iOS and Android platforms, providing mobile and tablet users with full access to the audio works available on the FMA, as well as artist information and music discovery features.
We are honored to be recommended for the NEA's Arts in Media award for the second time, and it's a great way to commemorate the Free Music Archive's 5th anniversary this month. The Re:Invent:Media project will allow us to expand access to the FMA's 70,000+ songs, to cultivate the creation of new multimedia digital arts projects, and to provide better educational resources for navigating rights issues online.
For a complete listing of projects recommended for Arts in Media grant support, please visit the NEA website at arts.gov. Here's NEA's official announcement as well as our own press release if you'd like to help spread the word. 
Perhaps a birthday celebration is in order here at the FMA? Take a listen to our winning entry from last year's NEA-funded contest to create new, alternatively-licensed Happy Birthday songs.
Via Free Music Archive » Visit Blog
» 1 COMMENTS
lizb Is a Fan Of...
Henry Hynes
,
Oneida
,
Mil Mascaras
,
Bad Bats
,
Food For Animals
,
The Sediment Club
,
Personal and the Pizzas
,
Ilya Monosov
,
High Places
,
Custodian of Records
,
Okapi
,
Hazardous Guadalupe
,
Viva L'American Death Ray Music
,
Cryptacize
,
Death Sentence: Panda!
,
Diamondsnake
,
Curha
,
Chandeliers
,
Asian Women on the Telephone
,
The Shining Path
,
Dan Deacon
,
Katrah-Quey
,
Naked on the Vague
,
Bruce Hart
,
The Polyps
,
Gosprom
,
Ariel Pink's Haunted Graffiti
,
The Dirtbombs
,
Liechtenstein
,
Everybody Nose
,
Olneyville Sound System
,
Ponytail
,
A Smile for Timbuctu
,
Duchess of Saigon
,
Buraka Som Sistema
,
City Center
,
Ecstatic Sunshine
,
Los Fancy Free
,
Mucca Pazza
,
Xray Eyeballs
,
Joe Meek
,
3Puen
,
Rebirth of Fool
,
Mršavi Pas
,
Filastine
,
Growing
,
Mi Ami
,
Ganglians
,
Wooden Shjips
,
Mazing Vids
,
Various Artists
,
DJMC Haram
,
GB pka Gâteaux Blasters
,
Chenillon
,
Monroeville Music Center
,
comment on y va
,
Expwy
,
Jeva
,
Tha Silent Partner
,
Weave
,
Milisi Kecoa
,
People Like Us
,
Sophie Tucker
,
LE CLUB DES CHATS
,
Manuel J Grotesque
,
Dark Meat
,
Rod Hamilton
,
The Vaselines
,
DJ Ilya Monosov & the 21st Century Punks
,
Dan Melchior und Das Menace
,
Representing NYC
,
Miss Emma
,
New Weird Australia
,
Martha and the Muffins
,
Bradbury
,
Talibam!
,
Poland
,
Kraus
,
Homosexuals
,
Sans Blanc
,
Hogan Grip
,
Teenage Waistband
,
The Lost Demension
,
Dustin Wong
,
Mayyors
,
Angels in America
,
ZONA MC
,
Mela Zeta
,
Montañas
,
Faust
,
Pharaoh's Daughter
,
The Death Set
,
The Procedure Club
,
Lightning Bolt
,
Half Japanese
,
The Units
,
Deerhoof
,
F/i
,
Bacalao
,
varios artistas
,
él-g
,
Madame Rrose Sélavy
,
Kurt Vile
,
Jessie Evans
,
TerbujurKaku
,
Carlos Reyes