Album Description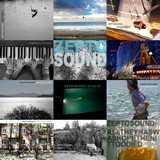 Released:
September 13th, 2010
Zeptosound are inspired by the transition from order to chaos, by the world being regular and known yet simultaneously deeply strange. Other people say we're classical, or new-age, or jazz/improvisational, but we don't really know. What we do know is that we like improvisation and randomness in our music and often feel we are on the edge of reaching something but the closer we get the further this something retreats into the darkness or the light. If we go too far towards it we'll kill it.  
 
There are four of us, with varying ages, phobias and abilities, but mainly it's just one of us. This one was in other bands. Two of us work on particle accelerators and make field recordings inside them late at night when no-one's watching: the sounds at the start of the track Voltage are an accelerator in pain. Three of us are grown-ups. Four of us are human, and we call ourselves zeptosound. We like being zeptosound. 
Other links:
www.zeptosound.com
Some other material at www.myspace.com/zeptosound
A couple of videos on youtube:
http://www.youtube.com/watch?v=V_JRVR5PH9A
http://www.youtube.com/watch?v=0UQy-CQkxrk
Zeptosound
by
Zeptosound
is licensed under a
Attribution-NonCommercial-ShareAlike 3.0 International License
.