You came this way:
Home
>
Grand Analog
Grand Analog

(1 Albums, 0 Tracks)
Artist
MEMBERS:
Odario Williams lead
Ofield Williams DJ
Grand Analog is fronted by Odario Williams. Members include Ofield Williams (DJ), Alister Johnson (keys), Warren Bray (bass) and Damon Mitchell (guitar). Grand Analog is a raw collective of seasoned record collectors, musicians and self described beat junkies. Odario describes the Grand Analog sound as a beautiful mess of rap'n'roll, dub and soul. "Grand Analog is unbalanced and dirty; never clean. Grand Analog is fuzzy with three coats of dust and reads like an old manual no longer in use". Calligraffiti, the debut album, has an array of soundscapes you can travel through: 'Touch Your Toes' boasts James Brown style drums, rock guitar and a New Orleans style horn break. 'Around This Town' can only be described as a ska-pop-hiphop joint. The new album titled "Metropolis Is Burning" keeps these traditions alive by fine tuning what is now the Grand Analog sound. Odario and DJ Ofield blame their father, a reggae DJ from the 80s, for cursing them with the love of music, bass and trouble. Catalist on keyboards was also born into a musical family inheriting a few dusty analog keys for the lab. GA's live show adds soul to the bloodline mixing infrequent stage jams and off the wall tactics. Grand Analog's METROPOLIS IS BURNING is available May 26, 2009.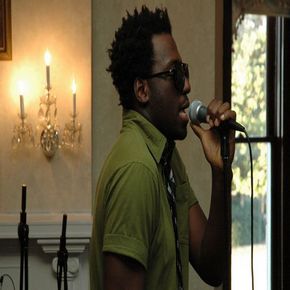 CBC Radio 3 Concert and Sessions