Artist
LOCATION:
Toronto, Ontario, Canada
http://radio3.cbc.ca/bands/Fucked-Up

"All too often punk music is about getting it right, picking a particular subgenre and acing it the way you might a test. Toronto's Fucked Up has proven the antithesis of this approach since their inception. Formed in early 2001, this five-piece has managed confrontation without cheap gimmicks or novelty, creativity without pointless noodling and intensity without predictable arrangements. Seamlessly plowing through punk's varied past, a Fucked Up song can invoke the melodic anthems of British Oi, the brawny directness of early '80s American hardcore and the artistic autonomy of a band that doesn't care what its forebears have done before.
Gruff, raspy vocals reminiscent of Negative Approach's John Brannon topple over driving guitars, sometimes favoring melody, sometimes a chaotic, down-stroke frenzy. A trail of hard-to-find seven-inch EPs show a band not only perfectly at ease with the trade of vintage hardcore punk, but one constantly willing to push its music into new, original directions. Fucked Up manipulates everything from its lyrics and artwork to song length and writing to make a distinct, singularly unique point.
Threading the best elements of Killed By Death obscurities through the Undertones' melody, Black Flag's aggression and Minor Threat's Marshall-driven guitars, Fucked Up rarely makes for direct comparisons, arriving instead at something wholly intense and new ... and isn't that the point?" (Jade Tree Records) 
"Kings of punk and hardcore Fucked Up return with a mammoth 12" single, second in a series of records based on the Chinese Zodiac. Year of the Pig is an 18 minute 34 second long prog-punk masterpiece featuring lush piano and organ arrangements by Max Danger (The Deadly Snakes) and guest vocals by Toronto's Jennifer Castle. Year of the Pig starts with gentle guitar and soothing organ before heading into darker territory with gruff male vocals offset by Castle's angelic singing and a meandering bassline. It's not until a full 7 and a half minutes in that the track explodes into a keith moon-esque drum workout, which is followed by a one note neu trick that builds up to a thrash attack. It's 'The Wall' as written and recorded by Poison Idea." (What's Your Rupture Records)
The record is the second of 60 the band is planning on recording based on the Chinese zodiac. Last year's was the Year of the Dog 12-inch.
» READ MORE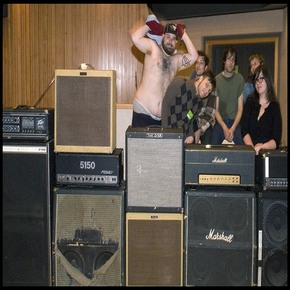 CBC Radio 3 Concert and Sessions