You came this way:
Home
>
DJ Champion
DJ Champion

(1 Albums, 0 Tracks)
Artist
MEMBERS:
Champion aka Maxime Morin - Composer/leader
Louis Lalancette - Bass
Pilou - Voice
Barry Russell - Guitar
Stéphane Leclerc - Guitar
Sébastien Blais-Montpetit - Guitar
Jean-Luc Huet - Guitar
After many months of anonymity from the spotlight and bustle of the music world, Maxime Morin, aka DJ Champion, has emerged from the shadows of his studio to present his highly anticipated new album Resistance(Saboteur Musique).
Eager to expand his musical horizons beyond his highly acclaimed success Chill Em All,DJ Champion deliberately deleted an entire studio recording following his last tour in the winter of 2008 after realizing similarities with his previous record were too close for comfort.  In order to break the cycle and create a zone of artistic instability, DJ Champion retired entirely from the public scene and engaged in a secluded lifestyle. This state of solitude pushed Morin in a profound musical direction and Resistance began to take form.
Aware of the challenges of re-creating the energy of his live performances, DJ Champion chose to incorporate elements of rock to Resistance, thus allowing him to deliver the same energy he captures on the live stage. Strongly inspired by turn of the century worksongs, the DJ sat down for a moment and for the first time, wrote most of the lyrics on the record. To help relay his prose, DJ Champion recruited Pilou, a young prodige from the Montreal music scene who makes his debut appearance singing with fire and fierceness alongside DJ Champion's signature electric guitar and electronic drum wizardry.
A strong album in its sonority with tracks that shines through the uplifting construction of the composition, Resistance, is the artist's inner struggle to avoid venturing down the same path creatively. "I could have gone back to where I am from", says DJ Champion, "I could have made obscure electro, even more experimental, but for me there was no challenge in doing so!" Musical exploration has always been more important then the image projected for DJ Champion and this is made clear with Resistance's eleven burning dance tracks that are just as contagious as any of his previous work.
» READ MORE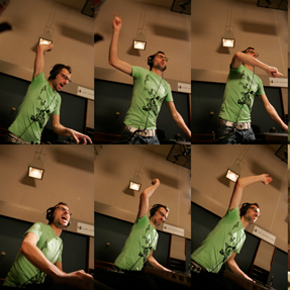 CBC Radio 3 Concerts and Sessions