You came this way:
Home
>
Creature
Creature

(1 Albums, 0 Tracks)
Artist
MEMBERS:
Meli Mae - Bass
Sid Zanforlin - Drummer
Cowbella - Keys/Cowbell
Kim Ho - Guitar
Two girls, two guys, a whole lot of possibilities. Formed in 2004 by Kim Ho, on guitar and vocals, Cowbella, on keyboards and vocals, Meli Mae at the bass and Sid Z, on drums,Creature's music is the energetic feel that will transform your life in an instant party. With a confident attitude and a genuine respect for their influences, Creature is in a whole other league, ignoring whatever the hype may be and creating their own trends to follow.

It's with the release of an EP in 2007, and an extensive Quebec tour that the band secured a fierce reputation as explosive performers. By spring 2008, they where releasing their first full length album, No Sleep at All, on Bonsound Records/Universal Music Canada.Creature is the kind of band that never stops making people dance, and that is probably because: "No one is bored in the band because we work in complete democracy. In studio, everyone's composing, we know that when we dance together on something we wrote, it's going to be a good song", explains Cowbella.  One of their first composition actually gave birth to their name : "We kept telling ourselves that we had to bring out the creature in us. We're the four legs of the Creature, a hybrid mix of pop, hip hop, dance and rock."
No Sleep at All is a happy delirium that reminds the aura of a young Prince, (the stage presence and guitar of lead singer Kim Ho is making it happen) the B-52's and even Gang of Four. Impossible not to bust a move while listening to their first album. The guitar and voice of Kim Ho along with Cowbella's add to the catchy riffs played by Sid Z, formely inMe, Mom and Morgentaler. 
Being now one of the bands to watch in the montreal rock scene (after seeing their show in New York City, Debbie Harry, the front lady of Blondie, defined the band as "completely unheralded in any way and fantastic"). The band recently took part in many major events such as SXSW, M pour Montréal, CMW and Les Transmusicales de Rennes in December 2008. Creature won't let you sleep in 2009, since No Sleep At All will be released in France on A-Z/Universal records shortly. The album is already available in Mexico since August 2009!
» READ MORE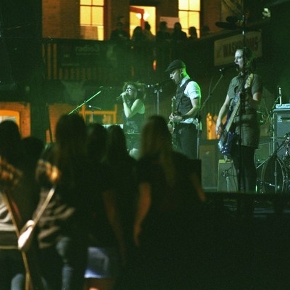 CBC Radio 3 Concerts and Sessions