Severed Lips Recordings (Label)
New Jersey Devil Core
About Severed Lips Recordings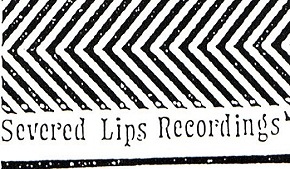 NEWS!
Please chek out the indiegogo fundraiser for my new feature Horror film "Upsidedown Cross" starring David Yow (jesus lizard) Erin Russ (devil sister)
Severed Lips Recordings was a cassette label which operated out of a basement in Ringwood NJ from 1992-2000. Consisting mostly of 4 track cassette recordings produced by a handful of interchangeable people and bands. The recordings were intended to be psychedelic headphone theatre; fuzzy, heavy noise rock and soul.  Featured acts were Gerbil Church, Disco Missile, Dynomite Cat, Mono Ovum, Alien Pornography, Mary's Song, The Starlets and King Ghidorah!.
Bands like Novice Brown, All natural Lemon and Lime Flavors, The Gillmen, I.D.K. and Appliances that Talk were staples of Severed Lips Recordings events.
A Severed Lips Recordings legion hall event was covered in Bikini Magazine 1993.  Cookies were baked.
King Ghidorah! went on to record with Don Fury and play with notable acts such as: Today is the Day, Nolan Gate, Dub Narcotic, Some Velvet Sidewalk, Fire Water, Speed Ball Baby, Croatan, The Gillmen (creeping pumpkins), Atavan, Ultra Bide, All Natural Lemon and Lime Flavors, I.D.K. Shirk Circus, Keith Morris and Shiv.
Post 1996-2004 S.L.R. also recorded Soundtrack music for indie horror and sexploitation features.
Curator, William Hellfire directed and produced over 30 feature horror and sexploitation titles available on DVD and VHS. Most notably DUCK! the Carbine High Massacre, released on VHS in 1999. In early 2000 William and Co-Director Joey Smack were both arrested for trespassing with guns on school grounds during the filming. Though the charges were dropped the film gained notoriety via massive news exploitation on all major networks and cable.
The Film's soundtrack featured tracks by: Bob Bert and Linda Wolfe AKA the Squelchers, Today is the Day, Croatan, Nolan Gate, Ultra Bide, Alien Pornography and King Ghidorah!
Duck! was re released on DVD in 2004 by Media Blasters 'Shriek Show' and was still considered too controversial (BLACKLISTED) from Wal-Mart and Best Buy.
Trailer foro Duck! The Carbine High Massacre
http://www.youtube.com/watch?v=zNtUviDpyQg
The most recent recordings from S.L.R. were for the band Tyrannosaurus Dracula in 2006-2007.
T-Drac played around with; The Hunchback, Heavy Creatures, John Wilks Booth, 'Ole Scratch and Animal Blood.
Recordings from King Ghidorah!, Smokestack and William Hellfire will appear in an upcoming Documentary on filmmaker Jim Van Bebber and will be featured as soundtracks to Jim's early Super 8mm films. Trailer fro Diary of a dead beat http://www.youtube.com/watch?v=fPYaWYsl7gQ
For a time being the soundcloud lossless archive will be available to download aiff and wav formated files.  soon all wil be moved to the MP3 format at FMA.  Please enjoy loudly! 
Please feel free to contact severed lips recordings, your feedback is greatly appreciated!
via William Hellfire on facebook or Factory3k@aol.com or soundcloud.com/severed-lips-recordings