Field Muzick (Label)
The World is Klang
About Field Muzick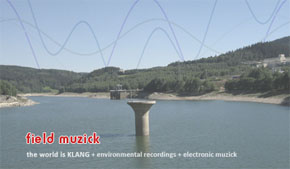 field muzick is aims music in it's widest sense and environmental recordings. It's about expand your reality, it's about listening to music on open windows, while sounds from outside interact with your current situation. 
There is primarily no academical approach. Sure it refer to acousic ecology if field recordings are used, but always in sense of music with the quality to be memorable. 
field muzick is specialiced to release an edition of limited mini cd-r in an unique way. the roots are in do-it-yourself scene so there is no commercial idea behind. fieldmuzick releases are for people who interested in, and just for them. so that's the reason why the releases are limited to a small amount. there is no need of 300 factory produced records and there is no need to send out a lot promos. 
As of 2010, Field Muzick is frozen. Maybe we come back, but for now, we are focused on new fields of music.