Da ! Heard It Records (Label)
About Da ! Heard It Records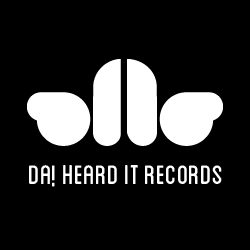 Da ! Heard it Records, created in 2006, is a net-label touching on Toyz-Pop, Electro Trash, Chiptune, Breakcore and Electro Punk among others, with a heavy leaning towards 8-bit music and pixel/net art.
The aim of this eclectic record company is to promote new artists and new types if music. D!HR is an outward-looking label, accessible to professional and amateur musicians alike, and to all types of listener, thanks to its policy of open and free culture and to the types of music it publishes.
Its albums are distributed under a Creative Commons licence, encouraging sharing and reuse of the music.
» VIEW BLOG
Da ! Heard It Records Blog Feed
Bozoo on 10/09/2018 at 05:19AM
For its 38th release, Da ! Heard It Records changes your grey matter into black matter.

Just like the too-strong coffee that brings us to work each morning, this cassette album has the dark and bitter taste of a hopeless routine.
With this collection of vague loops whose high unstable notes bring back to the surface daily uncertainties, the Pleurs Magnétiques ("magnetic cries") of this beverage has the listener drift far away from restorative sleep.
Dented, used, rickety, these rehashed snippets of existence crash into sunless beaches of sound.
In the background, the continuous breath that animates them sometimes gives a glimpse of its author's, Bernard Grancher.
After pulling out of the forgotten pile the magnetic tapes of a hundred old pieces from the nineties with his stooge, Emmanuel Lautreamont, the Rouen-born tried his hand here at an original exercise in style. 
Using the 4 track as an actual instrument, he plays with various effects to denature this initial material.
Between sonorous poetry and industrial music, the result shows an unpublished side of his work, all the while staying close to his habitual obsessions. The accompanying illustration, signed Nicolas Nadé, seems to be just as loyal to this pessimistic vision of our era.
Whether you are familiar with his surrealist pop synth released on Ego Twister and Gonzaï or simply intrigued by obscure atmospheres, you are sure to give in to this little black coffee…
Pleurs Magnétiques, the 38th release of Da ! Heard It Records is distributes under a Creative Commons License Y-NC-ND. The album is available for free listening and downloading at the following address: http://www.daheardit-records.net/en/discography/dhr-38
Via Da ! Heard It Records » Visit Blog
» 0 COMMENTS
Bozoo on 06/14/2018 at 06:37AM
For its 37th release, Da ! Heard It Records sends your ears into orbit.
Why, who could these mysterious characters, the Fragilos, out to discover apparently unknown territories be? Take the time to follow their adventures through this UFO-reminiscent album that encapsulates a few instants of their stealthy existence in 13 pieces …
In the style of the illustrative discs of the seventies and eighties from which Phillippe Brown draws inspiration, the titles of this cassette's compositions are clues themselves designed to stimulate the listeners' imaginations. Thus, by holding the sleeve drawn up by Man Oroa while listening, each will be able to make up his or her own little story and discover the naïve-sounding, yet far from obvious, melodies.
One will thus go from one moon to the next without ever fully landing, floating softly above the ground among the bossa, zouk, or oriental rhythms and cinematographic atmospheres imprinted as much with second degree as with light melancholy.
Attracted to a musical era he didn't experience but of which he uses the codes with style, Philippe has the characters evolve well beyond the musical frontiers we sometimes burden ourselves with. With this fictional original sound track at the crossroads of genres and eras, he visibly goes very far away, so far that everything leads us to believe that this dreamer of a musician most certainly has his head in the moon!
L'Alunissage des fragilos, the 37th release of Da ! Heard It Records is distributes under a Creative Commons License Y-NC-ND. The album is available for free listening and downloading at the following address: http://www.daheardit-records.net/en/discography/dhr-37
Via Da ! Heard It Records » Visit Blog
» 0 COMMENTS