Classwar Karaoke (Label)
what we want is obvious / whitewash as an address
About Classwar Karaoke
Founded in 2008, Classwar Karaoke is a label dedicated to the release of experimental music and short-films; principally, by means of a series of ongoing quarterly surveys, made available via the FMA or sites such as internet archive under Creative Commons license 3.0 http://creativecommons.org/licenses/by-nc/3.0/. All material remains the property of the respective artists and is offered for free download in line with this license. The Surveys published so far feature artists from all over the world; and the material in toto represents significant documentation of the experimental scene itself. Involvement in the project has helped spawn many fruitful collaborations, live-shows and a vibrant exchange of ideas; so much so that, for several repeat-participants, Classwar Karaoke is as much a collective as it is a community and also a mechanism for the release of new material.

If you are interested in participating, please explore this myspace in the first instance in order to establish whether your material fits, stylistically and in terms of outlook, with that of the current survey. There are two methods of participation: either with a piece of music or a short-film. On rare occasions, we may invite both. Each method also includes an image and a piece of text. General enquiries, submissions of audio, film, images and text should be sent to mail [at] classwarkaraoke dot com or simply visit our official website classwarkaraoke.com

Best wishes,
Anthony Donovan & Jaan Patterson


Classwar Karaoke includes live performances and physical releases, also.
Please contact us for details. mail [AT] classwarkaraoke DOT com

If you like what you hear and see, please leave a comment;
and if you'd like to be included in a future survey, get in touch,
and we can discuss that possibility.
» VIEW BLOG
Classwar Karaoke Blog Feed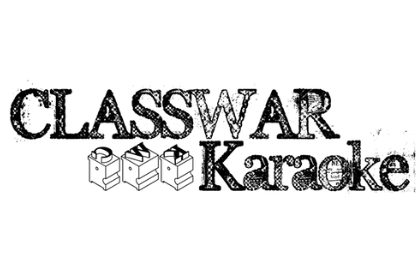 Classwar Karaoke is an online label primarily based around an ongoing series of quarterly surveys - in effect, largescale compilations - published online mainly through the Free Music Archive, on each of the last days of February, May, August and November. It hosts material culled from the experimental scene, including electro-acoustic, improv, free jazz, acusmatic, soundart, field recordings, cut-up, avant-rock, noise, ambient and sound poetry.
Classwar Karaoke was founded by Anthony Donovan in March 2008; with the first survey appearing a few months later. The label only truly came into it's own, however, when Jaan Patterson joined as co-curator later the same year. Concerted efforts to expand and professionalise the label ensued. At the same time, Patterson founded suRRism-Phonoethics, as a platform for full-scale releases. Many crossovers in personnel and outlook were evident between these projects, and, after a two year hiatus, upon his return, Patterson invited Donovan to similarly co-curate at suRRism-Phonoethics. Between them, and via these two projects, Donovan and Patterson have, by now, released hundreds of pieces of music and short-films, attracting many tens-of-thousands of hits.  
Included in the Classwar Karaoke and suRRism-Phonoethics roll-calls are internationally-recognised artits such as Bob Ostertag, Fred Frith, Rhys Chatham, Bryan Lewis Saunders, Leif Elggren, Lol Coxhill, Peter Brotzmann, Evan Parker, Geoff Leigh, Otomo Yoshihide, Terry Bozzio, Nate Young, Michael Giles, Keith Tippett, Jaap Blonk, Jochen Arbeit, Steve Beresford, Leafcutter John, Ludo Mich, Gino Robair and Zoviet*France, as well as an impressive array of lesser-known but equally innovative artists. Live gigs, mini-festivals and specialist multi-media releases have also featured, and physical releases, of limited edition CDRs and audio-tapes, are planned for the future.
Via Classwar Karaoke » Visit Blog
» 0 COMMENTS