You came this way:
Home
>
Blog
FMA Blog
Recent FMA Blog Posts
This is a feed of featured blog posts from FMA users. Blog on, bloggers!
FMA Blog
wmmberger on 08/07/2009 at 06:11PM
To say that Telecult Powers are a band after my own heart is to wallow in understatement. These guys brought me a double DVD of Asian horror, a red skull candle, and a copy of their latest tape. (Let it be known that I respond very favorably to such thoughtful tribute.) Then, they proceeded to carefully set up their home-built gear (which, by the way, made it into the building in one trip—no double-parking of car required!) Then, we rolled, and Telecult Powers proceeded to open a fissure in reality.
Telecult Powers are Mister Matthews and Witchbeam, synthesists extraordinaire, who very unassumingly make some of the best electronic music I've heard since MB or Con. Their sound pulls together so many things I like—soft noise, harsh noise, Krautrock, and occult electronics to name only a few—that their visit to My Castle of Quiet really just amounted to destiny fulfilled. I was gratified to have Mister Matthews write me the next morning and refer to the radio session as "some of our finest work yet," as their tapes are pretty fuckin' swell too (and packaged in Witchbeam's colorful, digital/occult/LSD illustrations.) These guys are just beginning to hit their stride...and they tell me there's some new vinyl coming soon.
Here is the entire Telecult Powers / My Castle of Quiet session, to download and enjoy, ideally by oscillating candlelight
Via WFMU » Visit Blog
» 0 COMMENTS
jason on 08/07/2009 at 10:24AM
City Center recently stopped by WFMU for a live set on Choking on Cufflinks. Host Michael Goodstein writes,
Brooklyn/Detroit City Center started as a solo project for Fred Thomas from early '00's pop legend's Saturday Looks Good To Me. Now a duo with Ryan Howard, City Center play effects laden layered pop which bringing to mind Brian Wilson, Arthur Russell and even "Architechture & Morality" era OMD.
The WFMU set, along with their more experimental WNYC set, are available on a limited-edition cassette from City Center's blog. Check out their blog for more free mp3s, a sweet summer mix, new 7''s (M'Lady Records) and 12''s (Troubleman Unlimited), compilations, and good times in general.
Via WFMU » Visit Blog
» 1 COMMENTS
lizb on 08/06/2009 at 09:02AM
Welcome to the enigma of one Ilya Monosov. With a musical ethos that closely mirrors WFMU's own freeform aesthetic, this man is everywhere and nowhere.
From his krauty-psych-noise-rock project (w/ Preston Swirnoff) The Shining Path, to his folky sometimes droney introspective solo work, and collaborations with Little Howlin' Wolf & Peter Barry (minimal experimental loveliness), the 21st Century Punks (driving, hypnotic, culty Eastern sounds), and the Hedonic Islands (beats, sampling), Ilya refuses corner himself. Instead of sticking to the tradition of a genre, some sort of magical and addictive quality is present throughout Ilya's work; perhaps it's merely the comfort of hearing the perfect ratio of repetition and drone to frenzied departues. With music released on the beard-heavy Holy Mountain label, Language of Stone, and Elevator Bath, I encourage you to explore Monosov's many sounds.
Take a listen to The Shining Path's particularly rocking live take on "Full Throttle Lover" below, and you may experience lift-off.
Via WFMU » Visit Blog
» 3 COMMENTS
JoeMc on 08/05/2009 at 03:41PM
Musicians have always used psuedonyms for one reason or another, but I think the art of self-rebranding reached a sort of apex in the 1920s and 1930s. Although there are some rappers who drop some whoppers these days, for me nothing compares with the stage names and nicknames of the bluesmen from this earlier era. A few casually gleaned favorites: Wee Bea Booze, Bumble Bee Slim, Sloppy Henry, Black Bottom McPhail, Blind Gussie Nesbit, Flat Foot Rockmore, Rabbits Foot Williams, Sweet Papa Stovepipe, and (the not-to-be-outdone) Sweet Papa Tadpole.
If you want to have a little fun, you can find out your "blues name" at one of those silly name generators that are all over the Web. There's a representative one here. I think I'll be trading under the name Boney Gumbo Lee from now on. 
Among these name generators, there's one that takes as its template the name of this post's featured bluesman: Blind Lemon Jefferson. (See here.) In a way, you can't get more iconic than Blind Lemon Jefferson. His name is so well-known that it can be the basis for lame lampoons like this and everybody gets the joke.
Of course, the reason Blind Lemon Jefferson's name is so well-known has less to do with his name than with the fact that he recorded some of the best blues songs of the 20th Century. This post features one of them.
READ MORE
» 0 COMMENTS
zlayton on 08/05/2009 at 10:20AM
Hard Data is a data-mining, sonification, and visualization project that uses statistics from the American military actions in Afghanistan and Iraq as source material for an interactive audiovisual composition based around an open-source "score" of events. Using Xenakis' understanding of formalized music as a starting point, DuBois draws upon a variety of statistical data ranging from the visceral (civilian deaths, geospatial renderings of military actions) to the mundane (fiscal year budgets for the war) to generate a dataset that can be used for any number of audiovisual compositions.The intention of the project is to recontextualize the formal stochastic music in the context of real-world statistics, and to provide a compositional and metaphoric framework for creating an electroacoustic music relevant and significant to our time. Presented as an online, open-source work, viewers are invited to download the data set and source material for the piece and create their own interpretations.
READ MORE
Via ISSUE Project Room » Visit Blog
» 0 COMMENTS
Existing as a subculture within the larger chipmusic ghetto can have interesting side effects. The multi artist collective AY Riders, many whom operate in Eastern European countries like Poland and Russia, have developed a strange divergent chip culture, platypus-like, around the ZX Spectrum computer.
The  ZX Spectrum, developed as an affordable competitor to the Commodore64 computer, is relatively obscure even to chip music fans here in the West, but has seen  itself cloned aplenty in the black market. Its storage medium was cassette tapes, and by default it only had a single voice beeper (think the sound your computer makes when it boots) but later versions had the utilitarian ay-3-8910. Not exactly the video game music equivalent of banging rocks together, but close. Having easy access to these affordable machines in the Eastern bloc states led to them being widely adopted, favored instead of the more expensive Commodore 64, and eventually becoming the subject of its own innovative demoscene.

The music on AY Riders' comp is a mash-up of various styles from industrial, to Italo disco, to the most chippy of gaming style chiptune. Perhaps due to the simplicity of its sound chip (even more so when they stick to beeper-based tunes), melody and rhythm is heavily emphasized over fancy sound effects, although it can be pretty amazing what sounds the users squeeze out of even the lowly beeper. This is a great intro to this scene and one you can dig deeper into on TCTD's recent podcast that focuses on the Russian artists behind the chips. Next week we will be upping another FMA web exclusive, so see you then!
Via True Chip Till Death » Visit Blog
» 1 COMMENTS
doncbruital on 08/04/2009 at 06:11AM
Let's start by defining art. Free of braggadoccio, with an eye toward maintaining some charitable humility for all that we as mortals don't hardly understand, we might conceive of artistic expression as a means of stoking the universe's natural fires of mystery, of approximating their epic wonder, of exalting in their glow. Quite obviously in this conception humankind may be regarded as rather small, a group of perennial attempters doing their damnedest to point to something which, being ineffable, can't hardly be taken in in its entirety; the blind men and the elephant, like. Not for a second do I buy, for instance, that goofy brand of Objectivist self-worship that, lilting in worship over humanity's ability to build a high-rise, only represses its mind in the service of control. No, humanity is fundamentally imperfect--that's the point--and as for control, well, there ain't none.
READ MORE
» 0 COMMENTS
pushbinlou on 08/03/2009 at 02:31PM
I take a couple of weeks off and lo and behold - a bevy of awesome new stuff appears in the electronic section here at FMA.  Dual Plover were great enough to offer most of the output of the now defunct experimental electronic supergroup (in my eyes at least) Sagan.
Sagan was a side project for Blevin Blectum, Lesser (Jason Doerck) and Wobbly (Jonathan Leidecker) as well as visual artist Ryan Junell.  They only put out a handful of recordings including a DVD, a 7" and the full length CD Unseen Forces.  As an added bonus Dual Plover included a live set that Sagan performed in Marin, California in 2003 which is a good example of Sagan at the height of their creative output.  Enjoy!
» 1 COMMENTS
robw on 08/03/2009 at 10:43AM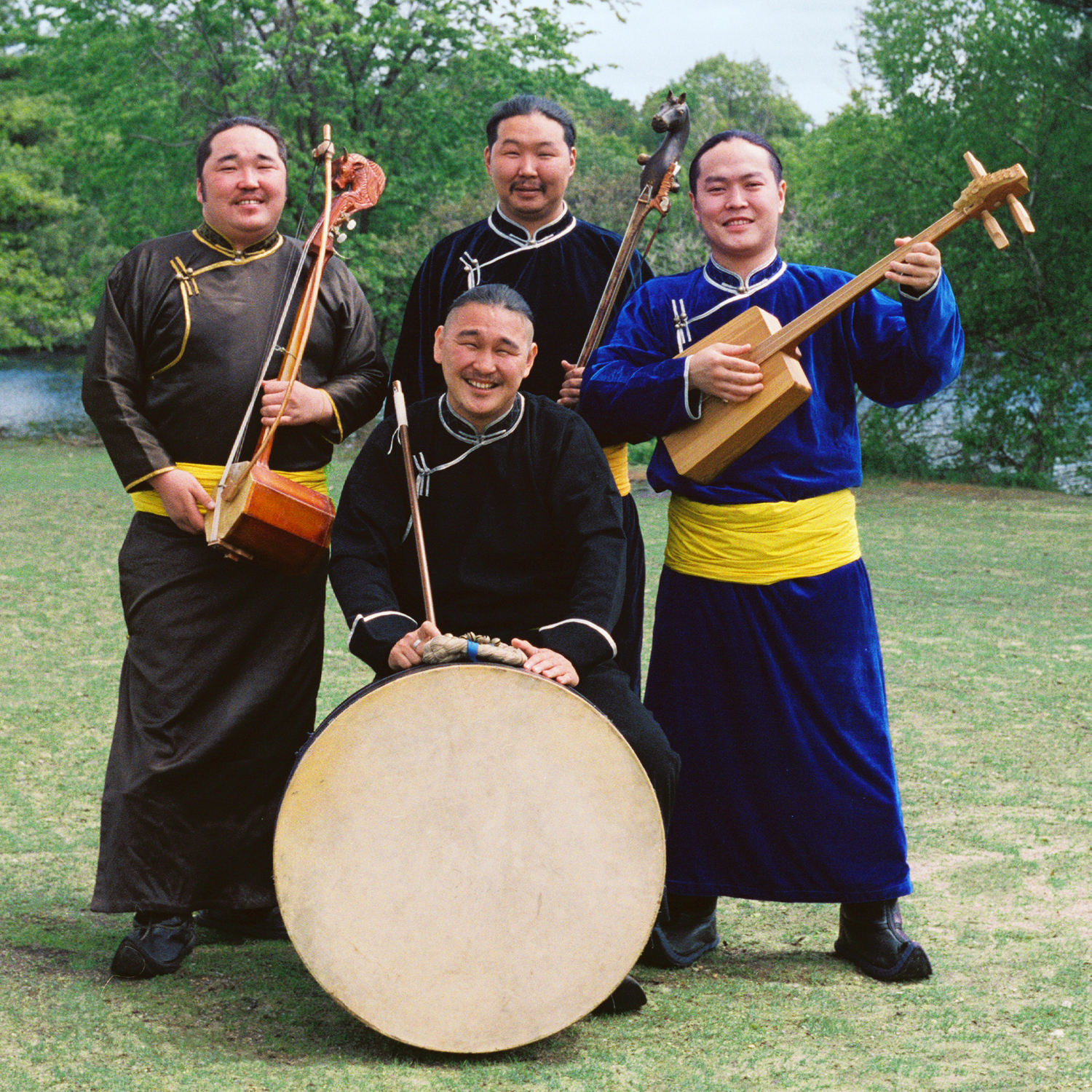 Alash is a quartet of master throat singers and instrumentalists from Tuva, the tiny but music-rich Central Asian republic. Proteges of Tuvan musical ambassador Kongar-ool Ondar (who you may know from the documentary film Genghis Blues), Alash mainly focuses on traditional repertoire. But the group also cites Jimi Hendrix as an influence and has collaborated with the Sun Ra Arkestra and Béla Fleck.

Alash is currently on the road in North America - gigs in the WFMU area include an August 9 date with the Sun Ra Arkestra at the Rotunda in Philadelphia, and their tour-ending August 15 gig at cozy Barbes in Park Slope, Brooklyn. See http://www.alashensemble.com for full info on tour dates. The website also includes excellent background on the group, the traditions, the songs and the instruments (including images of course).

We catch the ensemble for a live session, with background provided by their sidekick and sometime collaborator Sean Quirk. Thanks to our illustrious engineer, Mark Triant
<<WFMU Playlist & Streaming Archive>>  //  <<Alash Ensemble mp3s on the Free Music Archive>>
Via WFMU » Visit Blog
» 0 COMMENTS
tcamhi on 08/02/2009 at 12:44PM

Zee Avi is a singer-songwriter currently based out of California, but she's a worldy woman. Originally born in Borneo, she moved to Kuala Lumpur of Malaysia when she was a teen and then, for a time, she lived in London while attending fashion design school. And Zee has just as many musical influences as places she's lived. She cites vocal jazz artists like Billie Holiday, Doris Day, and Ella Fitzgerald and folk artists from the 60's and 70's as some of her many influences.

One of the most interesting things about her, though, is how she got her start in the music business. Zee was discovered on youtube by Patrick Keeler of The Raconteurs. Keeler stumbled upon a video of Zee performing her original song "No Christmas For Me" which had become a hit on the video uploading site. Keeler showed the clip to Ian Montone of Monotone Records and encouraged him to reach out to the young, budding musician. Contacts were made and the rest is history.

This past June, Zee Avi dropped by WFMU to perform a few of her tunes on Irene Trudel's show. A few choice tracks have made it onto the FMA and are definitely worth a listen. While chatting with Irene, Avi talked about her unique sound...

"My songs sound very different from eachother...I think it all comes from my personal ecclectic pool of influences. It's hard to categorize my music, when people ask me what kind of stuff I play I just tell them acoustic, folk, and jazz..."

Zee Avi's debut album is out now on Brushfire/Monotone Records.
» 0 COMMENTS