You came this way:
Home
>
Blog
FMA Blog
Recent FMA Blog Posts
This is a feed of featured blog posts from FMA users. Blog on, bloggers!
FMA Blog
pushbinlou on 08/03/2009 at 02:31PM
I take a couple of weeks off and lo and behold - a bevy of awesome new stuff appears in the electronic section here at FMA.  Dual Plover were great enough to offer most of the output of the now defunct experimental electronic supergroup (in my eyes at least) Sagan.
Sagan was a side project for Blevin Blectum, Lesser (Jason Doerck) and Wobbly (Jonathan Leidecker) as well as visual artist Ryan Junell.  They only put out a handful of recordings including a DVD, a 7" and the full length CD Unseen Forces.  As an added bonus Dual Plover included a live set that Sagan performed in Marin, California in 2003 which is a good example of Sagan at the height of their creative output.  Enjoy!
» 1 COMMENTS
robw on 08/03/2009 at 10:43AM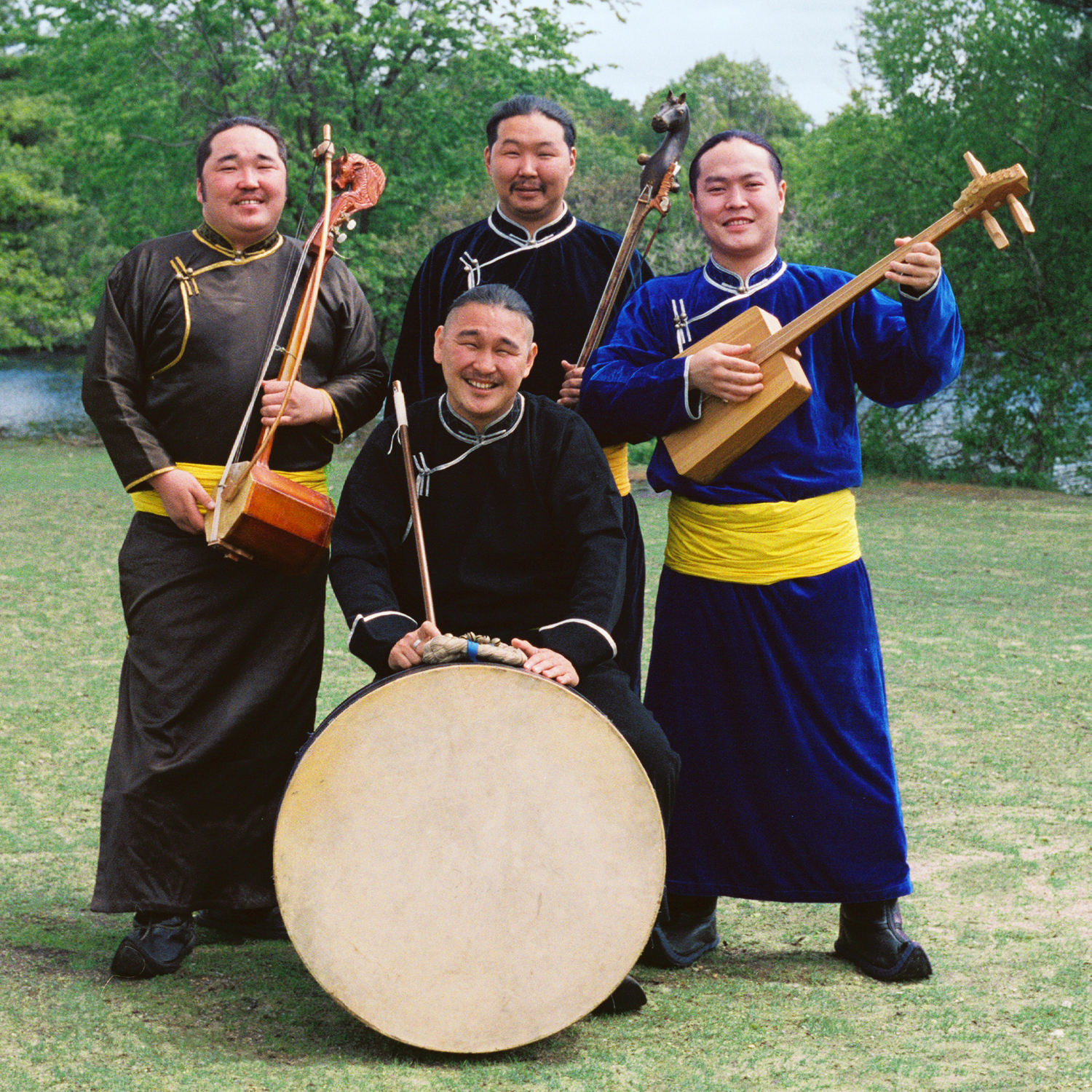 Alash is a quartet of master throat singers and instrumentalists from Tuva, the tiny but music-rich Central Asian republic. Proteges of Tuvan musical ambassador Kongar-ool Ondar (who you may know from the documentary film Genghis Blues), Alash mainly focuses on traditional repertoire. But the group also cites Jimi Hendrix as an influence and has collaborated with the Sun Ra Arkestra and Béla Fleck.

Alash is currently on the road in North America - gigs in the WFMU area include an August 9 date with the Sun Ra Arkestra at the Rotunda in Philadelphia, and their tour-ending August 15 gig at cozy Barbes in Park Slope, Brooklyn. See http://www.alashensemble.com for full info on tour dates. The website also includes excellent background on the group, the traditions, the songs and the instruments (including images of course).

We catch the ensemble for a live session, with background provided by their sidekick and sometime collaborator Sean Quirk. Thanks to our illustrious engineer, Mark Triant
<<WFMU Playlist & Streaming Archive>>  //  <<Alash Ensemble mp3s on the Free Music Archive>>
Via WFMU » Visit Blog
» 0 COMMENTS
tcamhi on 08/02/2009 at 12:44PM

Zee Avi is a singer-songwriter currently based out of California, but she's a worldy woman. Originally born in Borneo, she moved to Kuala Lumpur of Malaysia when she was a teen and then, for a time, she lived in London while attending fashion design school. And Zee has just as many musical influences as places she's lived. She cites vocal jazz artists like Billie Holiday, Doris Day, and Ella Fitzgerald and folk artists from the 60's and 70's as some of her many influences.

One of the most interesting things about her, though, is how she got her start in the music business. Zee was discovered on youtube by Patrick Keeler of The Raconteurs. Keeler stumbled upon a video of Zee performing her original song "No Christmas For Me" which had become a hit on the video uploading site. Keeler showed the clip to Ian Montone of Monotone Records and encouraged him to reach out to the young, budding musician. Contacts were made and the rest is history.

This past June, Zee Avi dropped by WFMU to perform a few of her tunes on Irene Trudel's show. A few choice tracks have made it onto the FMA and are definitely worth a listen. While chatting with Irene, Avi talked about her unique sound...

"My songs sound very different from eachother...I think it all comes from my personal ecclectic pool of influences. It's hard to categorize my music, when people ask me what kind of stuff I play I just tell them acoustic, folk, and jazz..."

Zee Avi's debut album is out now on Brushfire/Monotone Records.
» 0 COMMENTS
macedonia on 08/01/2009 at 02:21PM
It is an extremely cool thing to have the ESP-Disk label as part of the Free Music Archive.  I remain in awe of the free and adventurous jazz they have championed for so long, as evidenced by their discography.  Figures such as Sun Ra, Ornette Coleman, and Albert Ayler immediately come to mind.  However, a recent remastering of a classic album by The Har-You Percussion Group is a reminder that, as much as the label enjoyed getting deep, it could also get down on occasion.
Birthed from a Harlem Youth program and lovingly led by Roger "Montego Joe" Sanders, Sounds Of The Ghetto Youth is a Latin jazz gem highly revered by crate diggers, an album that I've just come into the knowledge of myself.  One of the tunes uploaded to the FMA is one that I remember hearing in DJ sets before:  "Welcome To The Party."  (Big shout to WFMU's own DJ $mall ¢hange for dropping this one on his Nickel and Dime Radio show a few weeks back.)  Drum-heavy with a steady bassline, handclaps, and a deliriously happy piano solo, you can feel the energy of the Youth as they audibly encourage each other on throughout the song.  Seriously people, to resist dancing to this is to have a hole in your soul and your sanity questioned.
The song is attached for your enjoyment, the perfect summertime in the city groove.  File it away in the "and that is why music programs should never, EVER be cut from an inner-city school's curriculum" section of your mind...
» 0 COMMENTS
James Toth aka Wooden Wand aka Wand recently released a super-limited LP of early material titled Born Bad, check out a few tracks here.
ISSUE had a great show with him and Michael Gira (who will be putting out Wand's next album on Young God) last weekend out in our courtyard.
Look for more upcoming courtyard shows in the future, including Jandek on Septmeber 6th with the amazing Susan Alcorn and Ryan Sawyer.
Via ISSUE Project Room » Visit Blog
» 2 COMMENTS
jason on 07/31/2009 at 12:38PM
The FMA loves Lucky Dragons (Lukey Dargons and Sara Rara) for two simple reasons: 1. Their music and visual art taps into Earth's eternal hot spring of positive energy, and remixes its best elements, and 2. They return the favor by feeding it all back out into the world under Creative Commons. Lucky Dragons have a new 12'' out on the Teenage Teardrops label called Open Power (pictured R), you can check out "Power Melody" below and one more on the FMA)
There's a ton more Lucky Dragons to check out on the FMA, here are a few starting points:
» 0 COMMENTS
JoeMc on 07/30/2009 at 12:17PM
Until not too long ago, before computers and samplers changed the way people make music, the dominant instrument of popular music was the guitar. In some circles, it still is. But 'twas not always so. Back at the turn of the century, when you wound up the Victrola in your front parlour to hear the latest tunes, what you'd most likely be listening to was not the guitar, but the dominant instrument of pop circa 1900: the banjo.
The banjo was not really more popular than the guitar with musicians at the time, but it had the edge when it came to recording. The loud, plucked strings over the drum of the banjo's body carried a lot more sound to an acoustic recording horn than most guitars of the day. Musicians who wanted a big, strong sound on their records knew that the banjo would do the trick. And nobody in the early recording industry knew this better, and exploited it more effectively, than Vess L. Ossman.
READ MORE
» 0 COMMENTS
lizb on 07/29/2009 at 03:34PM
For some reason, a punk rock record that opens with a spoken introduction is charming to me. Especially when a NJ accent is involved: "Hey... uh, we're Personal and the Pizzas. [long pause] I'm Personal, and these are the Pizzas."
Personal and the Pizzas are a NJ-themed band if there ever was one, hailing from Hoboken and singing songs about pizza, being able to read, pizza, getting into fights, pizza, girls, and pizza. If that doesn't win you over, than perhaps you should watch their hilarious video for the song "Brass Knuckles," with many nods to a great scene from the movie Bad Boys.
WFMU's home is NJ, and we do what we can to champion the Garden State's cause. Our own Terre T recently hosted a live set by Personal and the Pizzas, which you can check out in all of its delinquent glory here. It may inspire you to pick up a pie or punch someone on the way home.
Via WFMU » Visit Blog
» 0 COMMENTS
Sometimes when you're without ideas or feeling just plain stupid, all you need is a good search term.  Go to any music database and search words like "summer", or "fire", or "space", and you'll get nothing back but every motherfucking thing, and that's no good.  Conversely, type "canoe" or "mousepad" and see what happens.
So I'm not saying "moon", "rocket", "fly", "1969", and "france" are good search terms.  But they did yield this mix, hope you find something you like.
Via WFMU » Visit Blog
» 0 COMMENTS
doncbruital on 07/28/2009 at 03:43PM
"Sweep on, you fat and greasy citizens! 'Tis just the fashion." – Shakespeare, As You Like It
"The radio's on / The herd moves along / Why is the music so bad?" – Culturcide, "Love is a Cattle-Prod"
How, in today's grimily technophiliac society of, you know, lowest-common-denominator cultural fare and information overload and nasty tabloids and all the rest, is one to get hold of some decent rebellion? It's among the world's oldest questions (albeit adjusted for each successively worse epoch) which has thus prompted plenty in the way of answering-attempts offered throughout the course of popular history, by many of our greatest minds. But come on, allow me. Yeah, there're those who'd preach total divestment from the evils of technology and popular culture as the only workable solution (guaranteeing and safeguarding, for we holdouts, the staidly unshakable nagvoice in the back of our head saying that, um, they're right), but after all, here you are on a website, and for Pete's sake, you like cool music, it being your God-given right to enjoy some. How then? How to do so without becoming another cog, or surrendering yer rebel flag, or tacitly supporting the twice-homogenized-over spoilteries that pass, these days, for popular tunes? How to ward off, apotrope-style, the evil eyes and tin ears of the greasy listenership-at-large? Well, mock 'em.
READ MORE
» 0 COMMENTS