You came this way:
Home
>
Blog
FMA Blog
Recent FMA Blog Posts
This is a feed of featured blog posts from FMA users. Blog on, bloggers!
FMA Blog
jason on 06/22/2009 at 10:21AM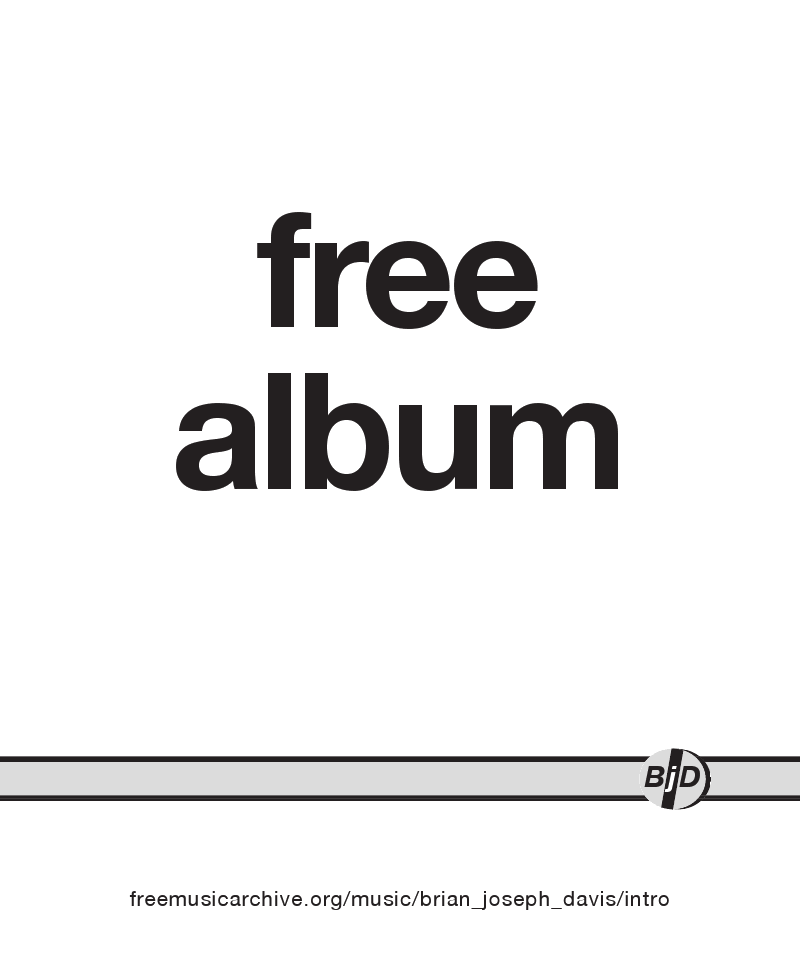 <-- This is an actual advertisement for the new Brian Joseph Davis album, "Intro and other instrumental works". It was going to be a CD, but, as Brian writes over at brianjosephdavis.com, 
"Halfway through designing the CD sleeve for what was going to be my second, mass produced release I stopped and thought: something about this does not seem all that interesting. I used to make CDs as art jokes...Over the last couple of years I've been making art jokes in front of actual people, in galleries and performance spaces. That is far more satisfying than anything else I've done and putting it on a CD and then sending it off on its way to navigate the increasingly brutal waters of music retail would be myself losing track of the joke."
The new album consists of three live instrumental pieces. The title track (below) is subtitled "Work For 10 Boom Boxes and 10 Tapes of Hardcore Intros". It starts out teasing hardcore then morphs into sludge, drums massaged out into an undulating drone, then cycling back. The second track is a metal take on Alvin Lucier, titled Alvin Lucifer. And the final track, a piano piece, was commissioned by the New York Miniaturist Ensemble who "perform a repertoire of works consisting of one hundred notes or less".
Brian's previous art jokes have included
- the sound of banned albums set aflame
- passerby recreating a classic song from memory (Yesterduh)
- Original Soundtrack, composed entirely from DVD title menu loops
- "Johnny", a compendium of lines from films that have the word "Johnny" in them.
Check out more from BJD here on the Free Music Archive. And while you're at it, I recommend checking out Blocks Recording Club, the label who's doing promo for BJD's free album. They've also kicked off a free digital singles club, featuring The Torrent, which you can sign up for at blocksblocksblocks.com.
» 1 COMMENTS
BTurner on 06/21/2009 at 06:41AM
Christchurch, New Zealand's Bats were a perfect hour's accompaniment to a sunny afternoon Primavera Sound fest in Barcelona (where WFMU broadcast for three days from May 28-30). Since 1983, the steady lineup of Kaye Woodward, Paul Kean, Malcolm Grant and Robert Scott (who was also a founding member of the Clean) have specialized in a distinct brand of delicate and surging electric folk-pop which sometimes got them tagged as the Kiwi answer to early 80's R.E.M. However, the Bats drew from a much more varied well (influenced by everything from the Troggs to Stereolab and onward), and kept their recording and touring lives relatively simple yet steady (with breaks for having kids, solo projects, and the occassional Clean reunion).
They've been long regarded a seminal core band of the Flying Nun label universe, with critics and fans alike continually heralding them throughout their long history. We've been longtime fans and friends here at the station, the band even put out a Live at WFMU 7" single on Merge back in 1994. Their latest, the Guilty Ones, is out now on Hidden Agenda, and we're happy they've agreed to let us archive their great Primavera set for download.
20 of the Primavera sets WFMU carried are archived for streaming here, by the way, and a few of those bands have OK'd downloads, which you can check out here in the Free Music Archive Primavera Sound collection.
>> The Bats - live on WFMU at Primavera Sound, Barcelona, May 28, 2009
Via Primavera Sound » Visit Blog
» 0 COMMENTS
longrally on 06/20/2009 at 09:11PM
About a year ago, when I started in earnest to feature live improvisational music on The Long Rally, I had a grandiose vision of how it might ultimately go down.  I imagined a weekly rotating door with musicians of all genres and personalities coming by to improvise live at 11pm in casual self-appointed groups: locals with out-of-towners passing through, adventurous rockers and noize dudes with straight up jazz musicians, the drone with the lyrical, the acoustic with the electric and electronic, the classically-trained with the self-taught. Sometimes a gumbo's just a gumbo, and sometimes it's the best fucking food you've ever tasted in your life.
Wednesday night was the closest I've gotten to my fanciful and somewhat naive dream when a cast of NYC's best and brightest made the trip out to our humble Jersey City home.  Jeremiah Cymerman, who played a solo clarinet/electronics set on the show last year, assembled the group of musicians, and together we came up with a loose concept of configuring them in little ensembles for short improvisational pieces.  Neither the musicians nor I knew what the formations would be or what would be played until a few minutes before kickoff. Between pieces whoever wasn't setting up would join me in the studio for some chat, and we'd end with the full group going at it.
The result was a relaxed and convivial atmosphere, some unexpectedly wacked out high points, and ultimately a wonderful set of live and spontaneous music!  Catch all of these folks at the Telluric Currents Series at Ibeam in Brooklyn this weekend.  I'm off the schedule for the summer, but who knows, maybe my live improv dreams will come true in the fall, after all.  Thanks to Sean Austin for engineering.
Hear the full set here on the Free Music Archive
READ MORE
Via WFMU » Visit Blog
» 0 COMMENTS
zlayton on 06/19/2009 at 02:59PM
Former Metallic Falcons singer/ songwriter Matteah Baim came out to ISSUE last month to play a short set.  We were really impressed with her work.
Via ISSUE Project Room » Visit Blog
» 0 COMMENTS
BTurner on 06/18/2009 at 07:05PM
Some more fruits of our late May visit to Barcelona's Primavera Sound fest, where WFMU set up camp (like, in a tent and all) for three sunkissed days and breezy Mediterranean nights. We've got archives of 20 of the sets we recorded and aired, and some of the artists were even generous enough to allow downloads via WFMU and the Free Music Archive sites. One of these groups, Scotland's legendary Vaselines, put in one of the most fun sets of the entire weekend, definitely with some of the best stage banter to boot. For the uninitiated, the group existed from 1986-1990 fronted by Francis McKee and Eugene Kelly (the latter going on to form Eugenius and Captain America) and had a big booster via the Northwestern USA underground axis of K/Sub Pop records (Sub Pop put out an anthology of the Vaselines on the tail of some major Kurt Cobain fandom, in fact Nirvana covered three Vaselines tunes). They reunited in 2006, toured the USA in 2009 and finished their recent tour at this Barcelona show. We unfortunately didn't get the first tune of the set, but dig in to the MP3's below, and if you like, check out some more pics of the Fest from WFMU's Flickr group.
>> The Vaselines live at Primavera Sound 2009
Via Primavera Sound » Visit Blog
» 0 COMMENTS
JoeMc on 06/18/2009 at 02:49PM
Feeling overwhelmed by the flood of information that comes at you day after day? Unable to cope with news of the Iranian revolution and the threat of nuclear war from North Korea? Feeling bombarded by ads that scream at you from TVs, subway cars, billboards, and taxis? Tired of annoying celebrities and their dubious claims to fame?
Well, my friend, what you need is a whit of Whit Cunliffe.
Back in 1906, music hall stylist Whit Cunliffe recorded the song featured in this blog post, "What Does It Matter to Me?" In just over two minutes, he names a bunch of the ills of his day that he'd prefer to have nothing to do with, from the "rot" of newspapers to the glut of product advertisements to the boring antics of the famous. The funny thing is, change some of the names and update some of the references, and you've got an opt-out anthem that is just as contemporary over a hundred years later. Cunliffe doesn't give a shit and he wants you to know it.
READ MORE
» 0 COMMENTS
lizb on 06/17/2009 at 11:00PM
Resuming my normal work routine after returning from a vacation requires a gradual acceptance of reality. Waking up at an ungodly hour to host a radio program (or to perform any other task involving motor skills) requires a similar gentle pacing of input to the brain. At least until the coffee kicks in.
When I'm caught in the purgatory of a waking stupor, be it post-vacation or pre-caffeine, certain types of music can provide efficient transportation from the catatonic state to a functional one.
On this particular post-vacation occassion, I was pleased to discover the sounds of Australian experimental electronic artist Bradbury. Minimal collage tunes like "Nymphs + Shepherds" below, and also "Memory Lane," "Sinistrogyric Mobius Disc," and others provide a lovely soundtrack for wiping the sleep out of your eyes, having a good stretch, and bouncing back into the mix.
» 0 COMMENTS
pushbinlou on 06/17/2009 at 05:16PM
It's a great feeling when I have been away for awhile and then check to see what new artists have made the decision to post tracks on FMA.  I was happily surprised to see that one of my fave minimal techo artists has decided to put his hat in the ring here at FMA.  Ezekiel Honig has been putting out wonderful minimal techno/ambient sounds since 2003 on various labels including Anticipate, Microcosm and Unfoundsound which put out the track linked below.  
I like the fact that a lot of Mr. Honig's music is both dance floor and headphone friendly.  There is a lot going on with it besides a pounding beat.  Take a listen to "the breeze of hibernation" which comes from his It's Getting Cold Outside E.P.
» 0 COMMENTS
BTurner on 06/17/2009 at 11:36AM
(photo Rodney Bender) Pulse Emitter is the project of Portland, Oregon programming master Daryl Groetsch, and over the years has produced a fantastic variety of modular mayhem both turbulent and soothing, utilizing a bank of home-made synths and electronics. Deep space explorations worthy of Hawkwind, precise, controlled soundbombing akin to the most broken Throbbing Gristle moments and more. Pulse Emitter performed a live set on my show on May 18th while in town for the big No Fun Festival at the Music Hall of Williamsburg. More info at Pulse Emitter's site, and also more music has been uploaded to the Free Music Archive, so go get some free stuff. Daryl tell us that a tidal wave of Pulse Emitter releases is forthcoming in the near future as well (and some dates at the Olympia Experimental Fest June 19-21 up in Washington state).
Via WFMU » Visit Blog
» 1 COMMENTS
WFMU dropped anchor on the shores of the Mediterranean last month at the invitation of Barcelona's stunning Primavera Sound Festival, where we joined 80,000 of our new best friends in an ecstatic celebration of music, good livin', good eatin', and futball victory.  We're still a bit dazzled and sorting the spoils, but it looks like we had a fabulous radio weekend, broadcasting more than 20 excellent band sets and meeting many new friends from all over the world.  WFMU has added streaming archives of many of the sets, and the FMA is hosting a bunch of mp3s for download as well. It fills my breast with great honor to include a fresh batch of Barcelona beats from our hometown faves and longtime bruhs Oneida!
Check out "Sheets of Easter" below, then make haste to Oneida's FMA artist page or the Primavera Sound Festival collection to make this feast your very own.
READ MORE
Via Primavera Sound » Visit Blog
» 0 COMMENTS