You came this way:
Home
>
Blog
FMA Blog
Recent FMA Blog Posts
This is a feed of featured blog posts from FMA users. Blog on, bloggers!
FMA Blog
tcamhi on 07/27/2009 at 12:19AM
While exploring the classical music section of the FMA trying to find some new tunes to take in I came across QQQ, a gem among the site's classical music artists. QQQ is a musical oufit that consists of a violinist, violist, guitarist, percussionist and more imaginative musical thoughts than your average quartet. Their music can best be described as folky, bluegrass-fiddle, and americana with a touch of classical styling. I've been enchanted by their tune Sister Sparrow, which has just enough of that country fiddle twain commonly heard in many americana songs combined with a viola counterpoint, carefully picked out notes from the guitar, and a lazy rhythm from the drums. The song also offers up some really great dissonant harmonies that'll make your ears perk up and say "wha?". The quartet came out with their debut album Unpacking the Trailer... earlier this year and it's unique sound is definitely worth a listen.

WFMU was lucky enough to be graced by the tuneful sounds of QQQ in late March when the group played a live performance in support of their debut on Irene Trudel's show. Now you can hear their lively performance anytime on the FMA!

QQQ is classified under the classical music sub-genre of composed music along with the classification of bluegrass...and they were among the first artists to be added to classical music section of the FMA.
As for their name, QQQ will only say that the last 'Q' stands for 'quartet'. Let the acronym guessing begin.
» 1 COMMENTS
calebt on 07/25/2009 at 11:39AM
Last week about forty rabid fans, myself among them, made the potentially perilous trip to Santos Party House for a concert featuring a band whose name noone can pronounce. Tonstartssbandht. Tahn-STARTS-band. I think. They made a track dedicated to explaining it and I still don't think I've mastered it. The brothers White have been terrorizing Montreal with their heavy samples and crippling melodies for a while, and this summer decided to take up residence in NYC.
Essentially opening for them at this show was Matthew Mondanile, playing as Ducktails but with a full band for the first time. In between rocking brutal versions of his summer psychedelia, Mondanile revealed his soft side - a shy, New Jersey kid hiding behind glasses and thanking his audience after every song.
Then came Tonstartssbandht. This show blew me away. They have a unique take on the sampler/vocal melody approach. Their debut album (cd-r?), An When, showcases the best of this side of the band. Their beats are heavy, their harmony delicate, intricate, and powerful. Powerful enough to be retailed at Other Music, at least. They have graciously posted a few tracks on the FMA, and hinted that there are more to come. They sound vaguely like Animal Collective, vaguely like the Beach Boys, vaguely like a youth choir backed by Led Zeppelin.
After working through their hits, however, they picked up their instruments. Eddy sat down at the drums and began pounding away like the prodigious gorilla from the Cadbury cream ad. Soon after, Andy picked up a guitar, turned off the delay, and unleashed up a tone that could've taken Wolverine in a fist fight. Suddenly, this was a rock show. The duo was leaping around, mixing noise and blues, demolishing eardrums, and reminding everyone why bands used to play instruments. In the future, music will sound something like this.
» 0 COMMENTS
jason on 07/23/2009 at 06:52PM
A couple of Pittsburgh's most intriguing artists, Tusk Lord and Hunted Creatures, uploaded some audio to the FMA in advance of their joint mini-tour which started last night (dates here).
Tusk Lord is Mike Kasunic with a rotating cast of musicians. I had the opportunity to see them live earlier this month, and was blown away by their set of finely tuned gravel-voiced slow-core. But after taking home a copy of their Summer 2009 cassette, I realized there was much more to this long-running home recording project, ranging from ambient sound-scapes to psychedelic acoustic prog-folk to experimental lo-fi pop. Take a listen to this side of yet another 2009 cassette below to get an idea of the range of contemporary Tusk Lord. There are plenty more Tusk Lord recordings archived here on the FMA, most from out of print limited run cassettes.
The Summer 2009 cassette is not on the FMA yet, as it's a brand new release from the Dynamo! Sound Collective. This label is run by Ryan Emmett aka Hunted Creatures, a local musician who has collaborated with Tusk Lord as well as members of Black Forest/Black Sea and Mike Tamburo. Ryan uploaded his Human Sweat Demo from 2005, and it's some seriously hypnotizing drone. When Human Creatures played on Phoning It In back in '07 (archived here), Nadav referenced one reviewer's allusion to Sunroof! on valium...sounds apt.
The Tusk Lord/Hunted Creatures mini tour ends in DC on July 26th, unless you wanna set them up with a show in Baltimore on the 27th (DO YOU?!?).
Tusk Lord and Hunted Creatures will also both be playing the Voice of the Valley festival in West Virginia Aug 14-16, which looks to be awesome. Other FMA-listenable peeps playin the fest include Ryan Jewell, Puffy Areolas, Lexie Mountain Boys,  Irene Moon,  Lazy Magnet,  Shawn Greenlee, Sword Heaven, Carlos Giffoni,and Nautical Almanac.  Details here.
» 0 COMMENTS
JoeMc on 07/23/2009 at 04:46PM
Last Friday was "rockabilly night" in Lincoln Center's ongoing series of dance concerts called Midsummer Night's Swing, and WFMU was there with our microphones and recording machines to preserve the event. The bill featured luminaries like Joe Clay, Carl Mann, and the Collins Kids (you can tune in to Dave the Spazz on July 30th from 8 to 11 p.m. if you missed it). As I watched these great performers play the juiced-up country music that rockabilly essentially is, I couldn't help but think of an earlier Midsummer Night's Swing I attended a few years ago, one featuring the legendary country artist Hank Thompson.
Hank Thompson predated rockabilly, but there was a hard-swinging, good-time sensibility to his music that likely had a big influence on what came to be called rockabilly. Today's post is all about the honky-tonk goodness of the one and only Hank Thompson.
READ MORE
» 0 COMMENTS
lizb on 07/23/2009 at 10:22AM
Ever since they spawned from the remains of the Gories back in the mid-'90s, the Dirtbombs' sound has been synonymous with modern Detroit. This is not to say that their songs sound like an insurance fire or Eminem. Their sweet pairing of garage rock with soul and a little bit of punk pulls from the best moments in the motor city's spectacular musical history, but without sounding retro. Let's face it, it would probably be difficult to make a song called "I'm Through With White Girls" sound like a throwback.
Earlier this decade, the Dirtbombs paid a few visits to WFMU's Cherry Blossom Clinic with Terre T, and both of these sessions are available for your listening pleasure right here. My favorite track from these sessions is "Earthquake Heart," which you can listen to below. The band's latest record, "We Have You Surrounded," was released last year, proving that the Dirtbombs are still kicking (and kicking hard with 2 drummers).
Bandleader Mick Collins recently made a special guest appearance at WFMU's benefit with Dave the Spazz and the Paul Green School of Rock All Stars at BB King Blues Club in NYC (MP3 | video), jamming with the kids on Roy Montrell's "Everytime I Hear That Mellow Saxophone." Nice cameo!
Via WFMU » Visit Blog
» 0 COMMENTS
Halas_Radio on 07/22/2009 at 05:34PM
Liminal Spaces was launched in March 2006 with a three-day international conference and a series of excursions along Road no. 60 – which connects Jerusalem to Ramallah and to the Qalandia checkpoint and refugee camp.

This conference inaugurated the first stage of the project, which was followed by six months of residencies in the regions of the participating artists. In November 2006 artists' works from the project were exhibited in Leipzig, Germany and parallel to that a second conference took place. The third and last meeting  of Liminal Spaces took place in October 2007 with a three-day traveling conference in Palestinian and nationally mixed towns in Israel. Liminal Spaces materials, in the way of transcripts, articles, pieces of fiction, and artists' pages are now being gathered for a reader that will be published in Spring, 2009.

The project must be viewed as a platform whose goal is first and foremost to enable forms of 'working together.'  Such methods of working concern not only the production of artworks, but even more importantly discussion and dialogue among Israeli and Palestinian artists and cultural producers, and between them and international colleagues – in a reality in which any form of collaboration is impossible. This platform has been made possible, in the face of numerous external obstacles, due to a number of understandings shared by all participants. These understandings include the need to bring the Israeli occupation to a final and rapid end; opposition to the blatant violation of human and civil rights; and the need for joint action in order to advance these goals.
READ MORE
Via Halas.am » Visit Blog
» 0 COMMENTS
jason on 07/21/2009 at 06:23PM
Just to clear up any confusion, as two cave rockin cro magnen were recently added to the FMA...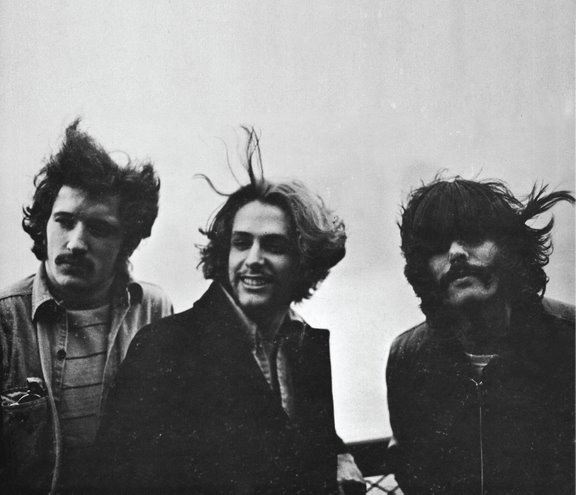 Cromagnon (one word) were former "teenybopper tune-smiths" who recorded an album that sounds like nothing else in the world, and I can only imagine what it sounded like when it was originally released 40 years ago by the legendary ESP-Disk. Originally titled "Orgasm", it was reissued this year as "Cave Rock". Check out "Toth, Scribe I" and a review from The Wire here, with more from the newly revived ESP-Disk' here on the FMA.
Cro Magnon (two words) is a new two-piece from Lafayette, Indiana. I first heard them on Die Stasi's XXperiments compilation LP, alongside female-fronted contemporaries US Girls and Zola Jesus, and was pretty blown away by their sheer brutality. The LP also had featured Cro Magnon solo projects Bird (Kate) and Circuit des Yeux (Haley, who has a couple LPs on De Stijl).
Cro Magnon brought their minimal nowave skronk to the WFMU live room this week for a live set on Talk's Cheap, check out "Wash" below and the full set here (including a cover of The Urinals' "I'm a Bug"!).
READ MORE
Via WFMU » Visit Blog
» 3 COMMENTS
doncbruital on 07/21/2009 at 12:53PM
Was Ezra Pound right when he wrote, in a 1915 letter to James Joyce, that theater was "a gross, coarse form of art," one which "spoke to a thousand fools huddled together"? Is there something inherently crude about the stage, where the rich expanse of human experience is reduced to crass pantomime of life-as-usual, stilted cartoonery, off-putting simulacra? The whole thing is, at the very least, a little creepy—people walk about, but only upon the confines of a shallow stage; they speak, but in polished nuggets of rhetoric; they regularly 'cheat out' to the audience and seem to look we real folks, we huddled fools, hmm, right bang in the eye—gah! Who are these fakers, and what do they want with us? It all begs imputing, you know? as surely there's some intelligence dictating this, some parameters of rhyme and reason by which one might codify all the ghoulishness. Surely a band can help sort out this mess.
READ MORE
» 0 COMMENTS
Still stuck in summer turnaround, so excuse brevity for quality! Earlier this spring, WFMU DJ Trent hosted a quartet of chipstars in a special live show from the solar powered Solar One. Amongst the performers was NYC Chip veteran Bubblyfish. Known to her friends as Haeyoung Kim, this classically trained musician and composer is an anomoly in the chip community, and not just for the fact she is a female in a scene dominated by men. Her style and technique owes alot to the fact that she seems to have been completely isolated from the concept of gamer culture, and stems from a holistic approache that regards the Game Boy as instrument. The live tease you get on Trent's show is but a taste of her moody and layered sonic barrages (you can catch more of her commercial recordings via her myspace). Bubblyfish's type nonpurist appraoch to sound chip based music is one we'll stick with in the next few weeks, as we get more into the deeper end of the chip music gene pool, with releases from some enigmatic artists from around the globe. See you in seven!
Via True Chip Till Death » Visit Blog
» 0 COMMENTS
jason on 07/20/2009 at 03:31PM
Raised in England and currently residing in North Carolina, Dan Melchior is a prolific garage-rocker and a universal favorite here at WFMU. He recently gave us the go-ahead to share a career-spanning set of previously unreleased recordings, including WFMU live sessions and home recordings from his newest project, Dan Melchior Und Das Menace.

The first live session dates back to 2001, when Melchior was playing straight-outta-the-swamp slide-guitar fuzz rock in The Broke Revue. They plowed through hits from their In The Red releases, like "You're My Wife", "Hungry Ghost", "Out of the Swamp", and "Me & JG Ballard" (from 2002's classic Bitterness, Spite, Rage, and Scorn) and "Witch On Fire", the opening track to 2001's Heavy Dirt.

Melchior returned to The Three Chord Monte again in 2003 for an acoustic set accompanied by Bruno of the Broke Revue, playing gems like "This Is Not the Medway Sound", which later appeared on WFMU's 2004 marathon compilation Tunes On Toxic Terrain (the studio recording is the titlte track to 2002 Smart Guy Records LP).
READ MORE
Via WFMU » Visit Blog
» 1 COMMENTS