You came this way:
Home
>
Tag: Various Peppermill Records
"Various Peppermill Records"
(Used 5 times)
Related Articles
ange on 04/09/2013 at 03:00AM
With winter and the hiccup of daylight savings time behind us, our taxes filed, our yearly vacation time used up already and our New Year's resolutions long forgotten, we set to the tasks of re-populating the Earth and making beautiful music.

For this Spring Compilation from Peppermill Records, enjoy a lovely string of more acoustic-based artists to brighten your weeks. Some of my favorite gems here include the bouncy French indie pop opening track from Montag, and the intimate and textured vocal duos in "Pony Rides" by Candy Claws.
Via ccCommunity » Visit Blog
» 0 COMMENTS
miscellaniac on 10/11/2012 at 11:00AM
It's the time of year when pools of inner elbow sweat evaporate and become spontaneous autumn drizzles. Clammy, odiferous subway commuters transform into coughing, sneezing incubators with winter itch. Solids, liquids, and gases play musical chairs. Now they have a soundtrack.

1. Strange Forces "Liquid Sunlight" - Berlin-based Aussies pluck you from the air, where you find yourself falling through the time vortex and landing smack dab in the middle of a bunch of Bushwick druids on a crisp night.

2. ARMS "Heat & Hot Water" - Experimental indie pop that is accessible, yet complex. Also a good remedy for bronchitis!

3. John Vanderslice "Underneath the Leaves" - Perhaps a metaphor for the cycle of loss and renewal that accompanies the seasons. Sounds like Jeff Mangum with a light at the end of the tunnel.

4. Noi "Everything Is Changing" - Could this be the next (Thai) Jandek? Though mysterious, this track is part of the Music for Video portal and has even been used in an FMA member's web series already! 

5. Ghostland Observatory "Freeze" - You will be overpowered by funk to such a degree that you will not only cut a rug, but wrap yourself in it for warmth.

 
READ MORE
» 2 COMMENTS
FMAmp3 on 04/03/2012 at 12:00PM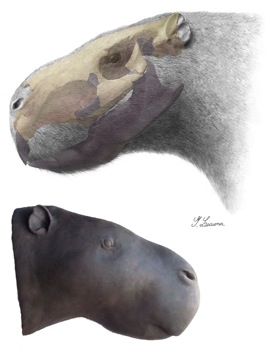 "Long Ago, A Rodent As Big As A Bull Lurked In South America" was the headline of a New York Times article on Josephoartigasia the week that Rafter contributed to 52 Weeks (Peppermill Records).
Each week for a year, starting with the winter soltice of 2007, 52 artists like Mochipet, Binärpilot, Daedelus, Jason Forrest, and Gangpol & Mit each took a turn composing songs inspired by that week's news. After seven days, they passed their creation on to the next artist to pick up from where they left off (Rafter's tune feeds off of Nathan Michel's fantastic "Time To Fire Isiah". The entire project is divided into four seasonal albums: Winter, Spring, Summer and Fall. 
Rafter is a San Diego-based producer who runs Singing Serpent studios and has been releasing albums for Asthmatic Kitty since 2007. A remixed version of "Long Ago" appeared on Rafer's 2010 album Animal Feelings under the name "No F**cking Around." Also check out the accompanying remix album, and the video for the song after the jump.
READ MORE
Via Free Music Archive » Visit Blog
» 0 COMMENTS
DylanGoing on 02/17/2010 at 08:45AM
A nugget of not-so-distant history from 2006:
My band politely opened the show and played a decent, three song set that didn't have anyone jumping out of their skin but generated some polite comments afterwards. Mordstrahlen, the eastern European chopped-and-screwed hip hop cdj alias of Shawn Greenlee played between all the sets as people perused the liquor table full of Old Grandad of an indeterminate age that my friend, the estate cleaner/tomb raider, had found in he attic of someone recently deceased. The attic conditions didn't prove to be too kind on Old Grandad's finer notes and nuances so a mildly distressed, kerosene-smelling crowd politely waited for the next action-adventure rock band to play...and play they did.
One particular person was so excited about the playing that it suggested to him that the plastic lawn nativity virgin mother that was hanging around was not being smashed with enough garden hoes. Person, who happened to be the propietor of the space, took his trusty garden hoe and in the upswing, knocked the head off of the sprinkler, letting a violent black cloud of warehouse water out on the crowd, band, and vintage equipment. He disappeared and water kept filling the space for about twenty minutes while I ran several blocks down to find a wet-dry vac from my studio.
This was the second out of five acts set to play, two being on tour from Europe: Jason Forrest (aka DJ Donna Summer) with his band, and About from the Netherlands. We certainly couldn't have brought these nice people all the way out to not play, so we strung some extension cords (on the ceiling, for there were already a couple inches of water on the floor) and some lights to a part to the warehouse where there was a spot of raised cement about four inches high where a band could conceivably fit, completely dry. They fit, and they performed for the remainder of the crowd who danced enthusiastically in several inches of water. Nobody was electrocuted.
Anyway, moral of the story: however cold, bleak and socially anesthetizing this winter might be, check out Jason's take from the Peppermill Records compilation "Winter" and remember that you're probably not ankle deep in water right now.

» 0 COMMENTS