You came this way:
Home
>
Tag: Various Artists Maybe Mars
"Various Artists Maybe Mars"
(Used 3 times)
Related Articles
dvd on 08/06/2012 at 01:45PM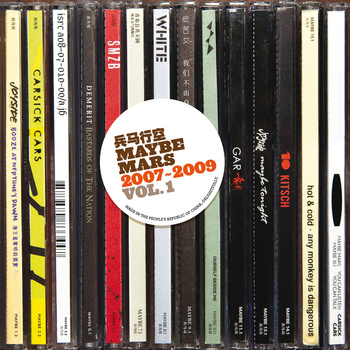 Like many others who wanted to be astronatus when they grew up, I stayed up late last night to watch NASA's livestream of the Mars landing. As a former Space Camp cadet, I wanted to make today's MP3 topical, so I searched the FMA for "mars" and found a lot of interesting stuff, including this track off a sampler from Chinese label Maybe Mars.
According to the label, Ourself Beside Me is "one of the most exciting and innovative bands to emerge from the Beijing scene[...] these three hard-charging ladies have swept everything before to become among the most admired and inspiring bands in China." Dig these pop sounds and check out the rest of the sampler, with bits of experimental, pop, hardcore, and more.
Via Free Music Archive » Visit Blog
» 0 COMMENTS
Nat_Roe on 04/14/2010 at 01:33PM
When Japanese laptop noisician Marqido came through Rob Lim's Janitor From Mars program five years ago, Marqido probably never would have foreseen the musical direction he would take when returning to my program last week with his duo 10.  South Korean crooner Itta began collaborating with Marqido several years ago after Marqido toured through Seoul's experimental venue Yogiga.
As 10, the duo is just finishing up their first American tour, promoting their recent album, Kitsch.  Fans of 10 will be surprised by this live session (or by any of their live concerts for that matter), since 10's electro-pop is highly improvisatory.  Each of the three performances I've seen personally in the past weeks have been completely different.  Wave No Wave is taken at half tempo on this recording, for instance, and all the songs are significantly lengthened.  Marqido makes great use of an optical theremin (which is already at the top of my Christmas wish list) and feeds Itta's vocals and both members' keytars through Logic on his laptop.  10 has been one of my favorite mutant-pop bands for a few years now (especially their album Nomad), so it's been particularly illuminating to see the free improv that underlies the pristine, taut pop on their recordings.
Via WFMU » Visit Blog
» 0 COMMENTS