You came this way:
Home
>
Tag: Transpacific Sound Paradise
"Transpacific Sound Paradise"
(Used 4 times)
Related Articles
ange on 03/30/2013 at 02:48PM
For the fifth year, WFMU's Transpacific Sound Paradise brought us a live broadcast from the massive annual Balkan and Eastern European music and dance bacchanal, the Zlatne Uste Golden Festival. We present here 14 different artists who performed this year, who are performing everything from Bulgarian dance staples, to music from the Golden Age of Egyptian Cinema, to traditional polyphonic acappella folk from Georgia.
Black Sea Hotel is the Brooklyn-based vocal quartet of Corinna, Joy, Sarah and Willa. Their set from last year included traditional songs learned under a plum tree in Bulgaria, but with their own distinct twists and arrangements, since many of the songs were originally sung by larger choirs.

Brazda is a New York-based Balkan band that plays fresh arrangements of traditional repertoire from Bulgaria, Macedonia, Greece, and beyond.

Supruli is a Georgian choir directed by Carl Linich (also of Tenores de Aterúe). Its members have studied in Georgia -- listen and hear why polyphonic singing is so captivating to music scholars.

Yale Women's Slavic Chorus performs songs from Macedonia, Russia, Georgia, and Bulgaria.

Zikrayat, who specialize in Egyptian film music's golden era, accompanied by live dancing on stage at the Golden Festival for this rendition of the song "Tahey" by an unknown composer whose song now lives on.
If this trove doesn't satisfy your Balkan and Eastern European jams fix until the festival returns in next January, be sure to explore our collections from 2012, 2011, 2010 & 2009.
None of this would have been possible without Rob Weisberg, host of Transpacific Sound Paradise. He'd also like to thank the Golden Festival founders and organizers, the Zlatne Uste Balkan Brass Band and the festival committee; co-host and tech guru Irene Trudel; and to the rest of our our illustrious crew: Mark Koch, Juan Aboites, Chuck Dean, Dan Barker, Jason Sigal, Matthew Cherchio, Bryan Koniarz, Ariana Hellerman, Katie Gentile & Nick the Bard.
Via WFMU » Visit Blog
» 0 COMMENTS
robw on 01/19/2011 at 03:00PM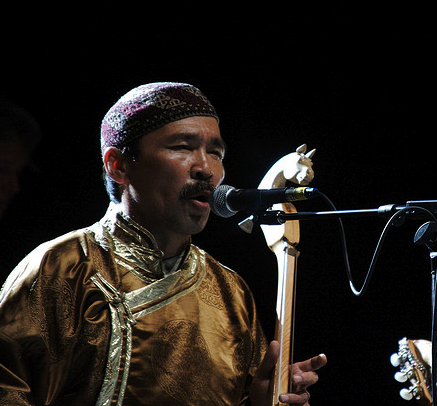 This winter has felt a bit like Siberia in WFMU's hometown of Jersey City, so it's the perfect time for what may be a New Jersey radio first: a twin bill of live sets by bands from Siberia, live on Transpacific Sound Paradise with Rob Weisberg this Saturday, January 22nd from 6-9PM.
Kicking things off is the first and still greatest traditional band from Tuva in southern Siberia, Huun Huur Tu. The tireless overtone-singing spike-fiddle-wielding marvels serenade us in-studio midway through a winter North American tour that includes a gig at Joe's Pub in NY on Saturday January 29.
Later in the show, Sibirskaya Vechora, an award-winning ensemble from the Krasnoyarsk region of central Siberia, steps up to the mics. The group, dedicated to researching and preserving regional traditions, performs traditional songs from Siberia and other parts of Russia.
In 2008, Sibirskaya Vechora carried out a cultural heritage research project titled 'Young Voices for Ancient Songs.' One of its results was the CD "Muziki, Viryazukhi Moi", which contains 13 songs recorded during ethnographic expeditions and performed by Sibirskaya Vechora. The album is available form the Free Music Archive, courtesy of Sibirskaya Vechora and CEC Arts Link.
Huun Huur Tu and Sibirskaya Vechora perform live on Transpacific Sound Paradise with Rob Weisberg this Saturday, January 22nd from 6-9PM, on WFMU 91.1 FM in the New York Metropolitan area and 90.1 in New York's Hudson Valley.
Via WFMU » Visit Blog
» 0 COMMENTS
robw on 03/09/2010 at 05:45PM
For a quarter of a century, NY Balkan music scene pioneers the Zlatne Uste Balkan Brass Band have organized the annual Golden Festival. a massive two-night grassroots Balkan and East European music and dance festival at the Good Shepherd School, 620 Isham Street (near Broadway and 207 St.) in upper Manhattan. The festival is the biggest event of its kind in New York City: The second night (Saturday) is a marathon featuring 40-50 bands and artists performing on three stages from 6pm until 4 in the morning. See: http://www.goldenfest.zlatneuste.org/

With the help of co-host / tech guru Irene Trudel and our peerless crew, WFMU's Transpacific Sound Paradise broadcast all the music from the Golden Festival's Kafana stage from 6pm until midnight on Saturday January 16th. Kafana is Serbo-Croatian for "cafe"; the stage is located conveniently near the food!

We are now proud to present a collection of recordings from the festival on the Free Music Archive. The full collection is here, while a mix of highlights is available at right (please click "i" for more info about each artist).

>> 2010 Golden Festival photo gallery on Flickr
>> 2010 Golden Festival mp3 collection on the Free Music Archive
READ MORE
Via WFMU » Visit Blog
» 0 COMMENTS
» MORE INFO
» 0 COMMENTS
» ALL MIXES