You came this way:
Home
>
Tag: Tom Carter
Related Articles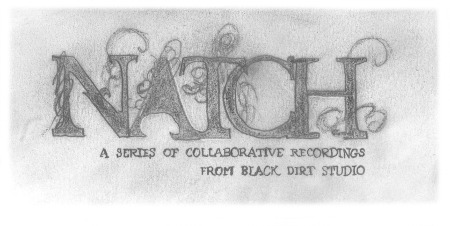 NATCH is a series of collaborative recordings from Black Dirt Studio. Music comes naturally. Give a kid a drum and stick, sit 'em at a piano, tether 'em to a Flying V jacked into a half stack and listen to the sparks fly.
The series serves a few different goals - one, to bring musicians together in a recording enviroment without the usual hangups which can weasel their way into a proper album session. NATCH sessions are open format - the artists are free to approach the time in any way they'd like, from improvisation to cover songs to instant composition to sound enviroments to original prewritten material to a simple exploration of the process. The second goal of the series is to tie together the threads of the current broad musical landscape into a more coherent web illustrating how close so much music is in its purest intent. The landing spots of so many disperate artists can be much closer than they may seem from afar. These sessions hope to zoom in the scope of many a listener without the perscribed box and bow of a commercial release. The third and most important goal is to have fun, make some music, and let others enjoy it!
The first session took place in January of 2012 and the plan is for the series to be ongoing. Initially artists who had previously been through the studio doors were the first to be invited but the list of forthcoming contributors has grown beyond that stable.
NATCH 0 is the prquel to the series, a document of a session from 2007 booked by Dave Nuss (NNCK, Sabbath Assembly) featuring him, Rahdunes, Stellar Om Source and Aswara.
NATCH 1 is the first session from the series featuring the Black Twig Pickers and Steve Gunn.
NATCH 2 features Dave Shuford (D Charles Speer, NNCK, Rhyton), Margot Bianca (Flown) and Pigeons.
As of today, there are two more sessions in the can, awaiting release...
READ MORE
Via NATCH » Visit Blog
» 0 COMMENTS
andrewcsmith on 10/15/2010 at 10:00AM
In training for the Electric Temple-hosted Drone Marathon this Saturday at ISSUE Project Room, we've put together this mix of drones to get you through your Friday. Hopefully you'll be all limbered up and ready to drone by 2 p.m. on Saturday—think of this one as a Drone 5k.
The brand-new label Electric Temple ambitously looks to be both a production company and record label. Putting together events as well as putting out recordings, their goal is to challenge audiences by crossing generational and genre-based gaps in the avant-garde world. The lineup they've put together for this marathon definitely does that: drone godfathers Phill Niblock and Tony Conrad are on the same bill as younger artists like Noveller, Marcia Bassett, and Tom Carter. The entire schedule (the whole 10 hours of it) is posted on the main page, but the juxtaposition of "conceptual drones" by Pitchfork-praised Kyle Bobby Dunn, Downtown staple Aki Onda, and Tony Conrad's Three Loops for Performers and Tape Recorders from 1961 looks like they're out to expand everyone's horizons. And isn't that what drones are all about?
Via ISSUE Project Room » Visit Blog
» 0 COMMENTS