Related Articles
dvd on 06/25/2012 at 05:00PM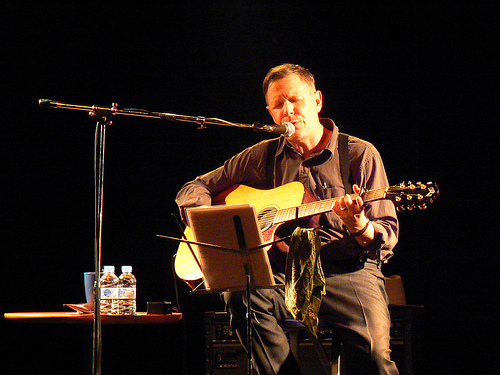 WFMU returned to Barcelona in early June for yet another fantastic festival from the folks at
Primavera Sound
. As always, the line-up is curated with a freeform mentality, bringing a diverse array of artists spanning multiple genres and generations. We've had a few weeks now to recoup from our sleepless broadcast coverage of the festival [playlists
here
and
here
] and we're excited to present our first batch of downloadable artist-approved live recordings! 
Part 1 begins with: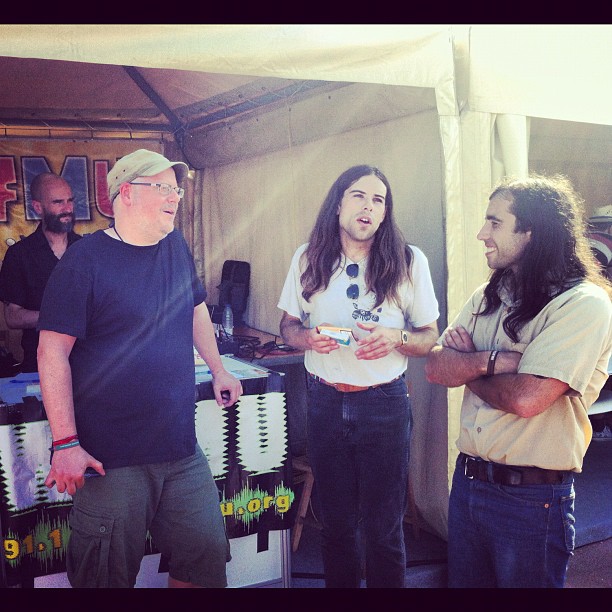 Brooklyn's
Obits
are no strangers to the Free Music Archive, and they've taken the time to remaster this recording of their Primavera performance just for the FMA. It sounds great! Seattle's
Mudhoney
 inspired heaps of Grunge rockers with their early singles on Sub Pop in the late eighties. Now they're back and still kicking ass - don't miss their set, a fan favorite! Despite multiple attempts from
Michael Gira
(pictured above)
over the years
to slip obsenities into our Primavera broadcast, our FCC dump button still got the better of him. For our troubles, he let us share a song from his excellent solo performance in Barcelona. Olympia's
Milk Music
visited the WFMU studios on Brian Turner's show last Summer (session
here
). This Summer we caught up with them in sunny Spain for some afternoon tunage on the Mediterranean (pictured at Left).
Liturgy
's brand of "
transcendental black metal
" gave way to the hypnotically buiding "
Generation
" and finally,
The Men
, who
headlined
our show at
SXSW
, offer another sampling of their post-punk stylings with a few new songs sprinkled in. 
Take a look at the
Primavera Sound 2012 Collection
for all of the livesets uploaded to date, and be sure to check back in the next couple weeks as we continue to upload more and more great sets from this year's festival. Below you'll find some highlights from our first batch...
Via Primavera Sound » Visit Blog
» 0 COMMENTS
TAGGED AS:
liturgy
,
milk music
,
mudhoney
,
michael gira
,
obits
,
the men
,
live performance
,
primavera
,
festival
,
barcelona
,
See Less...
BTurner on 03/16/2012 at 01:50PM
WFMU returns to Austin Saturday night for it's showcase, this time an event independent of the SXSW Festival at the great Beerland, 711 Red River. It's a 6-band blowout featuring The Wedding Present, The Men, Xray Eyeballs, Electric Jellyfish, Death of Samantha and Supreme Dicks! Liz Berg, Jason Sigal, Brian Turner will be broadcasting the sets live over WFMU-FM and wfmu.org starting 8pm central/9 PM Eastern. $10 door entry, no SXSW badges or wristbands accepted. All proceeds to the bands. Special commemorative posters designed by Nevada Hill will be available at the show.
Lineup (Times Central):
8PM: Electric Jellyfish: Straight outta Melbourne: "Electric Jellyfish carry the torch along with Eddy Current Suppression Ring lighting the way to a legendary story of distinctive rock 'n roll beginning with bands such as Radio Birdman, The Saints, X, the Birthday Party, feedtime, etc. Their sound is on par with The Wipers in their heyday...such daring emotional vulnerability, yet it's psych/punk that's sonically full-fledged, solid, walloping, and (to quote Monoshock) 'philosophically Stoogely'".(Rick Ele)
 9PM: The Wedding Present: The first band to play a WFMU show to have had 18 top 40 singles in the UK!
10PM: Death of Samantha: Full on reunion show by Cleveland post-punk/indie godfather legends! DoS tore through the late 80's early 90s and gave birth to Cobra Verde (which included members John Petkovic and Doug Gillard, who also spent time in Guided By Voices); Petkovic also was a member of Sweet Apple with J Mascis, Gillard made records with the great Gem, solo, and nowadays plays in Bambi Kino and Nada Surf. Drummer Steve-O was an Elvis impersonator in Memphis for a while. This is gonna rule.
11PM: Supreme Dicks: Uber-rare out-of-New England show by these reclusive woodsy Massachussetts psychedelicists! Their official recordings ceased in the mid 1990's, but have popped up live around their locale through the years, now lured to Texas on WFMU's special invite to which we are extremely grateful. The Dicks are also subject of a well overdue recent anthology on Jagjaguwar, a 4CD complete history called Breathing and Not Breathing.
12M: Xray Eyeballs: NYC new wave dance party faves, started up by OJ from Golden Triangle. Equal parts Jay Reatard and the Urinals, described by our own Liz Berg (who had them live on her show): "fuzzy, over modulated garage pop at a languid trot."
1AM: The Men: (photo left: Ryan Muir) Raucous four-piece post-punk combo out of Brooklyn who've cobbled together a pile of not-so-pounding influences (drone, Krautock, pop) and sets them into car-crash mode. Howling guitars, rocked-up Suicide references, this could be the great crossover Amphetamine Reptile spacerock band if they were around circa 1989. Seriously driving punk rock with intricate, layered structures amidst the raw power. Played live on Brian Turner's show in 2011 (issued as a tour CD), and have a new album out Open Your Heart on Sacred Bones. Perfect way to tear up the evening's finale!
Past WFMU Austin events [2008 | 2009 | 2010 | 2011] have included: Sun Araw, Kurt Vile, Half Japanese, Mayyors, Los Llamarada, Harvey Milk, Pierced Arrows, Dengue Fever, Cheveu, Kelley Stoltz, Whitehorse, Hank IV, Evangelista, Major Stars, Iron Man, Absu, Woven Hand, Gary War, XYX, Shit & Shine, Gunslingers, Home Blitz, Todd, Moon Duo, the Renderers, Sonny & the Sunsets, El-G, Amen Dunes, the Homosexuals, Lexie Mountain Boys, Psychedelic Horseshit, Gary Higgins, Paul Metzger, The Bad Trips, Citay, the Endtables, Obits, Slough Feg, Elm, Prizehog, Speedwolf, Prizehog, Epileptinomicon, Headdress, and True Widow. So you know it's gonna be a stellar night in 2012! Stop by, grab a poster, dance the night away with WFMU.
Via WFMU » Visit Blog
» 0 COMMENTS