You came this way:
Home
>
Tag: Scotland
"Scotland"
(Used 25 times)
Related Articles
dvd on 08/17/2012 at 10:00AM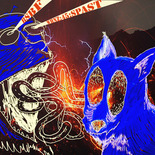 Glaswegian duo Blue Sabbath Black Fiji create quite an amalgamation of sounds. Using guitars and electronics, the group blasts noisy constructions with hints of disco beats laying just beneath the surface. Their latest release on We Have No Zen! is a bit of a pre-flight departure, "a collection of unreleased psychedlic pre-boogie jam[s]." 
Originally titled Space Satan, the album deals with all things cosmic. This track really stands apart, not only from the rest of the collection, but from the typical BSBF fare -- an ambient voyage that is all too rare in what is usually a noisy universe. 

Blue Sabbath Black Fiji at:
Via Free Music Archive » Visit Blog
» 0 COMMENTS
S27 on 07/24/2010 at 07:51PM
Our 50th release on Section 27 comes from label co-founder Nonima, the followup to his 2009 album "Wrpdata" entitled "Karmadebt". Described as "a mysterious and enigmatic work that quite profoundly demonstrates his evolution as an artist.
Think electronic music with an extended exposure to Chernobyl radiation, a bouquet of darkened hues neatly packed into curvy, symmetric metal structures. Whether you're keen to lush textures or aggressive drum arrangements, Nonima has managed to expand his forte in experimental music to a magnificently illustrious scale, spanning countless genres while remaining persistent as one incredibly distinct entity.
AVAILABLE AS A FREE DOWNLOAD IN BOTH MP3 AND FLAC FORMAT.
To download as MP3 click HERE
For the High Quality FLAC Version, please click HERE
» 1 COMMENTS
TAGGED AS:
netaudio
,
uk
,
pollux
,
idm
,
electronica
,
by-nc-nd
,
section 27
,
nonima
,
scotland
,
flac
,
altered carbon
,
adviruz
,
glitch
,
abstract
,
creative commons
,
release
,
netlabel
,
mp3
,
theaudiologist
,
tam ferrans
,
experimental
,
2010
,
s27-050
,
new
,
See Less...
katya-oddio on 06/10/2010 at 03:00PM
Glasgow has been a center of learning since the middle ages. It was the focus of the Scottish Enlightment in the 18th century. It has been the site of major leaps in engineering. It has been a city of fearless, forward thinking people for centuries. Glasgow's Kazoo Funk Orchestra approaches pop music with the same fearless Scottish method. They are a pop band having fun and inviting you in on the joke.
Fall in love with Scottish fearlessness -- even in pop music! Enjoy the albums MIDNIGHT FINGER PAINTER and ADVENTURES IN FUZZY FELT LAND in full here at the FMA.
Via Oddio Overplay » Visit Blog
» 0 COMMENTS
» MORE INFO
» 0 COMMENTS
» ALL MIXES