You came this way:
Home
>
Tag: Samba
"Samba"
(Used 12 times)
Related Articles
FMAmp3 on 04/11/2012 at 01:00PM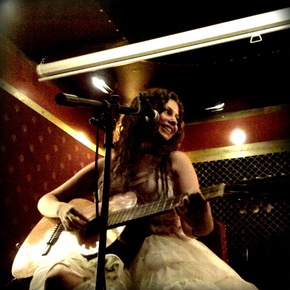 Maya Solovéy is a trilingual singer/songwriter who lived in Massachusettes, Ecuador, and Spain before settling in New York. She sings in Portuguese, Spanish and English.
"A Vida" is sung in Portuguese over Brazilian-style guitar. It can be found on Maya Solovéy, I:II , a Creative Commons BY-NC-SA release.
If you've enjoyed Maya Solovey's music thus far, you can invest in her next EP and receive commissions just by spreading the word—a pretty cool idea from the new fundraising platform Sokap.
Via Free Music Archive » Visit Blog
» 0 COMMENTS
JoeMc on 01/06/2010 at 04:34PM
When I logged on to the FMA this morning, I really wanted to hear something happy, something that would make me feel a little more excited about starting my day. Lo and behold, after a couple of "not quite right"s, I found my tonic for today: Smokey!
I talk not of bears or Miracles here, but of Mr. Smokey Hormel, a man who needs no introduction to guitar enthusiasts. He's one of those guys whose guitar tone is pretty much recognizable out of the box; you've no doubt heard him on records by Tom Waits, Beck, Joe Strummer, Johnny Cash, and about five thousand other people. Lately, Smokey has gotten interested in Congolese dance music from the late 50s and early 60s, and that's the kind of stuff he's doing with his new outfit, Smokey's Secret Family.
Back in September of last year, Smokey's Secret Family appeared on one of WFMU's broadcasts from Barbés in Brooklyn, a series of remote broadcasts shepherded by Rob Weisberg of the Transpacific Sound Paradise program (Saturdays, 6 to 9). Here is a track from that concert, and a fine one it is.
READ MORE
Via WFMU » Visit Blog
» 0 COMMENTS