You came this way:
Home
>
Tag: Radio Free Culture
"Radio Free Culture"
(Used 11 times)
Related Articles
lizb on 09/08/2014 at 03:45PM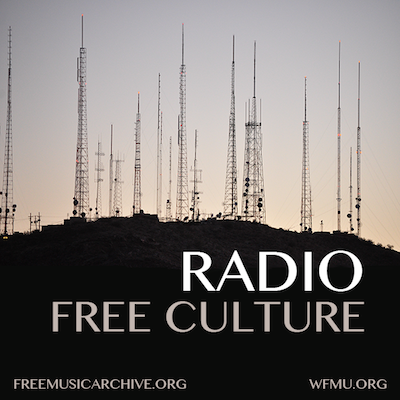 WFMU and the Free Music Archive are proud to present a new season of Radio Free Culture, a weekly podcast exploring issues at the intersection of digital culture and the arts. Our season opener is a two-part interview with FMA pal Elliot Harmon, Communications Manager at Creative Commons. We couldn't have imagined a better way to bring back Radio Free Culture than to take a look at the current state of affairs at our favorite alternative licensing operation.
Check out the first episode here, or subscribe to the podcast here (via iTunes).
» 3 COMMENTS
ange on 05/06/2013 at 08:29PM
The TV Show Glee is about a cute group of high school underdogs, who sing sparkly cover songs while dancing through the cafeteria.
But there's another Glee club forming, whose members have no say in joining. They're a ragtag group of underdog musicians who've found their arrangements of cover songs appearing in the hit show without their permission or credit of any kind. One member of this club is independent musician Jonathan Coulton. He's is the Internet's take on a rock star. He was also a recent judge of our Birthday Song contest, and he's currently hosting a highly successful Code Monkey comic book Kickstarter campaign.
For this May's edition of The Organist podcast from Believer Magazine & KCRW, I've produced a story about what's become known as #backgate. It begins about 8 minutes into the program, wedged between James Franco (!) and Tao Lin (!).
READ MORE
Via Free Music Archive » Visit Blog
» 0 COMMENTS
ange on 04/29/2013 at 06:30AM
On this month's edition of WFMU's Radio Free Culture, multi award-winning producer and sound artist Francesca Panetta joins the Free Music Archive to discuss Hackney Hear, the winner of this year's Prix Europa Radio Production Award. It's a smartphone app that asks you to put it in your pocket as you explore London Fields and Broacway Market in London. As you travel, the app scores your journey with a blend of location-specific interviews, archived audio, music, and poetry.
We'll discuss the future of app-based storytelling, the challenges of GPS accuracy, and learn how Francesca pins two lapel mics to her left and right ears to capture a wide stereo sound.
Then, later in the show, listen back to this past year's Radiovision Festival, where Francesca spoke on a panel with Pejk Malinovski (East Village Poetry Walk) and Ellen Horne (RadioLab). The three super-producers will discuss how they're pushing the boundaries of audio with walking tours, immersive apps, and live events. Plus, the significance of taking risks and experimenting with new methods of storytelling. Jim Colgan (Soundcloud) moderates.
Here's our interview as heard on WFMU's Radio Free Culture:
READ MORE
Via Free Music Archive » Visit Blog
» 1 COMMENTS
jason on 02/23/2013 at 04:00AM
This is a guest post by Kristin Thomson, a social researcher, musician and co-director of Future of Music Coalition's Artist Revenue Streams project. We'll discuss this groundbreaking project on the next episode of WFMU's Radio Free Culture, Monday 6-7pm ET.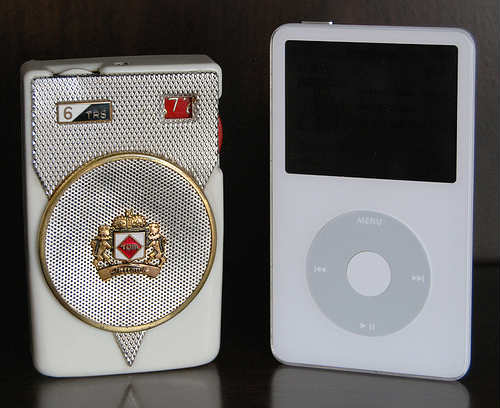 For at least fifty years of the 20th century, the relationship between music and radio airplay was fairly well understood. Record executives knew that if they wanted a hit record, they needed that song to get played on the radio, preferably as many times as possible. In fact, until 2000, radio airplay was essentially a prerequisite to selling significant amounts of recorded music.
Clearly, radio airplay is still critical – especially for genres like pop, country and urban/R&B – but in recent years both radio and the mechanisms for selling music have been upended. Traditional commercial radio, with its limited playlists and regional reach, has been challenged by new forms of radio: webcast versions of existing stations (including WFMU), pureplay webcast stations like Soma-FM or Pandora, and Sirius XM satellite radio. Then there are the interactive services like Spotify, Rhapsody, Last.fm, and Rdio, many of which mimic radio through playlist options or pre-programmed channels. And there's YouTube, now considered one of the most widely used sources of music discovery in the world.
The sale of recorded music has also changed. Prior to about 2000, the money that a musician could make from the sale or license of a sound recording was pretty simple: you could sell physical copies of an album or a single in a retail setting like a record shop, you could sell them via mailorder, or at shows/gigs. If you were lucky and your music was placed in a movie or TV show, you could make money from the synch license on the master recording. But that was about it. Since about 2000, these options have expanded to include digital sales on stores like iTunes and Amazon, digital performance royalties when sound recordings are streams on non-interactive services like Pandora or Sirius XM, and interactive service payments for streams on Spotify/Rhapsody. And there are more.
The average US consumer now has dozens of low-cost or free ways to listen to and discover new music. What has this done to the relationship between radio airplay and music sales? And, more to the point, are musicians benefiting from this changing landscape?
In 2010, the nonprofit Future of Music Coalition launched Artist Revenue Streams, a multi-method, cross-genre examination of musicians' revenue streams, how they are changing over time, and why. We used three methods to collect data: in-person interviews with over 80 hard-working musicians and composers; an online survey that was completed by over 5,300 US-based musicians and composers, and financial case studies that allowed us to fully examine musicians' income and expenses over time.
READ MORE
Via Free Music Archive » Visit Blog
» 0 COMMENTS
ange on 01/28/2013 at 12:29PM
Radio may be old fashioned, but it's still powerful, connected, and intertwined with the dreams and revolutionary power of the Internet. WFMU's Radiovision Festival brings together innovators who are doing things right now in radio, on the internet, and sometimes both.
This year's keynote speaker was one of those innovators, Mark Frauenfelder. He is the founding editor of Make Magazine, the founder of BoingBoing, editor at Wired Magazine from 1993-1998, and the founding editor of Wired.com. He is the author of Made by Hand: My Adventures in the Land of DIY. He also hosts Boing Boing's podcast called Gweek.
Here's the audio of his keynote talk as heard on Radio Free Culture, and a transcript of his talk lightly edited for readability.
Today what I'm going to talk about is do-it-yourself. Do-it-yourself media and do-it-yourself physical things. Making your own media, and making your own 3-D things. And I'm going to talk a little bit about things haven't really changed much in the last hundred years, how they've really changed dramatically in the last two or three years, and, looking to the future, how much more it's going to change in really exciting ways. 
Just a little bit about what I do. I started BoingBoing with my wife as a zine in 1988. The first issue came out in 1989, and the reason that I started it was because I wanted a magazine that I wanted to read. I think that's a really good recipe for creating your own media—imagine getting something drop-shipped to you that is the perfect thing that you want to read, or use, or have be part of your life, and then make that happen.
READ MORE
Via Free Music Archive » Visit Blog
» 0 COMMENTS