You came this way:
Home
>
Tag: Radio
"Radio"
(Used 20 times)
Related Articles
solrezza on 04/12/2013 at 05:47PM
Listen: SHORTS FOR RADIO
(We recommend listening to this program during the night)
"Old disembodied voices from another world without time, no space, no language."
Dedicated to archive.org  everything we do once done leaves belong only time knows no copy rights.
"Short for radio" is an experimental radio series which has a duration of 12 minutes is the result of research based on sound files of the 20′ to 60′ from around the world are on the archive.org in the public domain.
"Shorts for radio" is born in late 2011 with the idea of creating a small fragment virtual radio, a piece of experimental radio and sound bites to collect texts that at some point been transmitted from a media such as radio or television. Through these sound bites seek to recreate a new discourse, a play on words, a transformation of language, a gino between composition and radio-style sound, a sigh radio between a virtual world where radio turmoil mutates and languages and meanings come to different senses.
Radio is a medium that takes the form of what it represents, a voice, a sound behind a black curtain, a solitude in the middle of the night, a gaze without eyes. Something that is beyond our reach, but it's there. Understand something beyond the language of words, a language that extends through the sounds.
Each program contains a description of the files used, all additional sounds were performed and produced entirely by Sol Rezza.
Since this work was conceived from licensed files Public Domain This work is licensed under the same license.
Year: 2012
Produced by: Sol Rezza
To: Panz4 Troupé
Cover design: Daniel Iván
» 0 COMMENTS
TAGGED AS:
public domain
,
soundscape
,
experimentalt
,
minimal
,
radio
,
creative commons
,
broadcas
,
noise
,
voice
,
podcast
,
sol rezza
,
See Less...
solrezza on 04/12/2013 at 05:43PM
16 - 22 APRILE 2012 Pepite: C'è chi la chiama sound-art, musica contemporanea, suoni di ricerca, sperimentazioni acustiche o suoni di confine, noi le chiamiamo Pepite: piccoli semi di ricerca sul suono, elementi preziosi della nostra programmazione. Ogni settimana selezionati e messi in evidenza all'interno del flusso freeform della nostra programmazione.Some call it sound-art, new music, research sounds, acoustic experimentations or liminal sounds, we just call them Pepite, golden nuggets: tips on sound research, precious bits of our programming. Each week we select few Pepite and highlight them into our freefrom streaming.Gli ascolti di questa settimana arrivano da un luogo davvero particolare e raccolgono suoni che viaggiano sulla rete, voci senza corpo, senza spazio, tempo o lingua ben definita.Sono suoni che vivono di nuova vita in un progetto dell'artista argentina Sol Rezza, sono suoni e voci ricomposti in racconti radiofonici."La Radio è un medium che prende la forma di quello che rappresenta: una voce, un suono dietro una tenda scura, un senso di solitudine nel mezzo della notte, uno sguardo senza occhi. Talvolta è qualche cosa al di fuori della nostra portata, eppure lì, vicino; un qualche cosa capace di andare oltre il linguaggio delle parole, un linguaggio di suono" Con queste Pepite porgiamo il nostro orecchio a SHORTS for radio un progetto dedicato a archive.org da Panz4 TroupéSHORTS for radio è programmato nello streaming notturno di Radio Papesse—This week listening tips come from a very peculiar place and collect sounds from the web, disembodied voices from another world without time, no space, no language.Sounds that get a new life into a project by artgentinian artist Sol Rezza, sounds and voices restructured into radiphonic pieces."Radio is a medium that takes the form of what it represents, a voice, a sound behind a black curtain, a solitude in the middle of the night, a gaze without eyes. Something that is beyond our reach, but it's there. Understand something beyond the language of words, a language that extends through the sounds."With this golden nuggets we turn our ear to SHORTS for radio a project dedicated to archive.org by Panz4 TroupéSHORTS for radio is programmed in the night streaming of Radio Papesse
» 0 COMMENTS
TAGGED AS:
broadcast
,
creative commons
,
digital
,
experimental radiophonic
,
shorts for radio
,
sounds
,
podcast
,
experimental
,
sol rezza
,
radio
,
reviews
,
See Less...
jason on 02/23/2013 at 04:00AM
This is a guest post by Kristin Thomson, a social researcher, musician and co-director of Future of Music Coalition's Artist Revenue Streams project. We'll discuss this groundbreaking project on the next episode of WFMU's Radio Free Culture, Monday 6-7pm ET.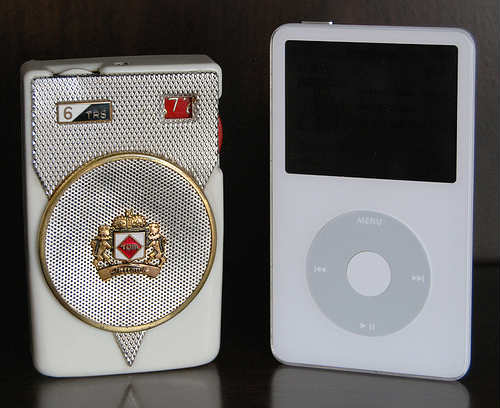 For at least fifty years of the 20th century, the relationship between music and radio airplay was fairly well understood. Record executives knew that if they wanted a hit record, they needed that song to get played on the radio, preferably as many times as possible. In fact, until 2000, radio airplay was essentially a prerequisite to selling significant amounts of recorded music.
Clearly, radio airplay is still critical – especially for genres like pop, country and urban/R&B – but in recent years both radio and the mechanisms for selling music have been upended. Traditional commercial radio, with its limited playlists and regional reach, has been challenged by new forms of radio: webcast versions of existing stations (including WFMU), pureplay webcast stations like Soma-FM or Pandora, and Sirius XM satellite radio. Then there are the interactive services like Spotify, Rhapsody, Last.fm, and Rdio, many of which mimic radio through playlist options or pre-programmed channels. And there's YouTube, now considered one of the most widely used sources of music discovery in the world.
The sale of recorded music has also changed. Prior to about 2000, the money that a musician could make from the sale or license of a sound recording was pretty simple: you could sell physical copies of an album or a single in a retail setting like a record shop, you could sell them via mailorder, or at shows/gigs. If you were lucky and your music was placed in a movie or TV show, you could make money from the synch license on the master recording. But that was about it. Since about 2000, these options have expanded to include digital sales on stores like iTunes and Amazon, digital performance royalties when sound recordings are streams on non-interactive services like Pandora or Sirius XM, and interactive service payments for streams on Spotify/Rhapsody. And there are more.
The average US consumer now has dozens of low-cost or free ways to listen to and discover new music. What has this done to the relationship between radio airplay and music sales? And, more to the point, are musicians benefiting from this changing landscape?
In 2010, the nonprofit Future of Music Coalition launched Artist Revenue Streams, a multi-method, cross-genre examination of musicians' revenue streams, how they are changing over time, and why. We used three methods to collect data: in-person interviews with over 80 hard-working musicians and composers; an online survey that was completed by over 5,300 US-based musicians and composers, and financial case studies that allowed us to fully examine musicians' income and expenses over time.
READ MORE
Via Free Music Archive » Visit Blog
» 0 COMMENTS
douglasawh on 01/03/2013 at 03:55PM
Long time listeners of our show will know that we have long separated our talk shows and music shows into to shows. In March, we are going to try a more traditional radio format with the tracks in the same episode as the talking. This may last only in March, or it might be our new format.
Our upcoming interview schedule includes artists, netlabelists and FMA's very own Andrea Silenzi.
Below is the planned release schedule (a select track from the bands can be found even further below). Of course, things come up, so schedule is subject to change.
January 06: Let Fall The Sparrow
January 13: Andrea Silenzi
January 20: A/V Linux
January 27: Chotto Ghetto
February 03: 20lb Sounds
February 10: Loz Kaye
February 17: Baconsmash Records
February 24: Lorenzo's Music
March 03: Reuse Aloud
We are not booking other interviews in March in case an earlier interviewee needs to reschedule and also we want to experiment with the new format before submitting guests to it!

We have all of April very tentatively booked. If you're a musician, audiocaster, netlabel or technologist that specializes in remixable Creative Commons music and would like to come on our show for an interview in May or the summer months, please email me at douglas.whitfield@law.unh.edu.
Via Music Manumit » Visit Blog
» 1 COMMENTS
ayeko on 12/16/2012 at 07:58PM
» 1 COMMENTS
TAGGED AS:
tech
,
techhouse
,
tech news
,
minimal techno
,
dep house
,
easy listening
,
electronica
,
00s
,
electro
,
electron
,
new wave
,
lounge
,
melodic
,
soundtrack
,
remix
,
creative commons
,
free
,
audio
,
free music
,
radio show
,
dj
,
mp3
,
original mix
,
broadcast
,
radio stations
,
netlabel
,
disco
,
midi
,
music
,
electronic music
,
radio
,
webradio
,
techno
,
minimal
,
house
,
ayeko
,
See Less...
» MORE INFO
» 1 COMMENTS
» ALL MIXES
» MORE INFO
» 0 COMMENTS
» ALL MIXES
» MORE INFO
» 0 COMMENTS
» ALL MIXES
» MORE INFO
» 0 COMMENTS
» ALL MIXES