You came this way:
Home
>
Tag: Quiet American
"Quiet American"
(Used 3 times)
Related Articles
dvd on 08/13/2012 at 11:45AM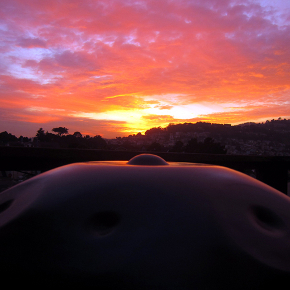 Aaron Ximm's work as Quiet American showcases an extreme attention to the audible environment with a massive collection of over 90 hours of field recordings available for free download under a Creative Commons Attribution-NonCommercial-ShareAlike license. With many more unreleased recordings, these sounds follow Aaron's travels around Vietnam, Fiji, Myanmar, Laos, Cambodia, and Nepal.
This release sees Ximm going in a slightly different direction - an album of instrumental pieces played on the Hang, an instrument similiar to a steel drum, made from two sheets of pitched steel. The sound is ethereal and meditative, a unique and fitting addition to his cannon of recordings. 
Aaron Ximm at: Free Music Archive | Quiet American | Twitter
Via Free Music Archive » Visit Blog
» 4 COMMENTS