You came this way:
Home
>
Tag: Providence Ri
"Providence Ri"
(Used 8 times)
Related Articles
cheyenne_h on 11/12/2014 at 02:43AM
WFMU and the Free Music Archive are proud to present a new season of Radio Free Culture, a weekly podcast exploring issues at the intersection of digital culture and the arts. 
In this episode, Cheyenne Hohman, current Director of the FMA, spoke with Jacob Nathan about a long-running art and performance space called AS220 in Providence, Rhode Island, where he serves as the Live Arts Director, setting up shows, doing audio recordings, and helping artists find space to perform. AS220 has been around since 1985 and boasts a long and storied past - and a promising future. 
AS220 is one of many FMA curators. You can listen to their mixes at the AS220 curator page. 
Check out the podcast here, or subscribe to the podcast here (via iTunes).
» 0 COMMENTS
DaveBombay on 08/19/2013 at 05:25AM
Skin on the Clock by Secret Boyfriend is another solid release from the Price Tapes label based Providence, RI. Skin on the Clock is a drone-y experimental mix of songs that take you on modulated journey through the land of mono magnetic music that slips in and out of catchy territory. The spectrum of sounds and samples used are skillfully assembled into a good album that is ripe for your tape deck. 
Ryan Martin, the solo-artist behind Secret Boyfriend, hails from Chapel Hill/Carrboro, NC where he is helping to keep the low-fi/expiremental/noise game alive and well. If the digital download provided here isn't enough to whet your tape palette, mosey on over to pricetapes.tumblr.com to get a physical copy.
Via ccCommunity » Visit Blog
» 0 COMMENTS
jason on 04/05/2013 at 10:30AM
Here's a classic from Olneyville Sound System. Like their namesake System—the inspirational former workplace of David Byrne that churns out hot weiners covered in a legendary meat sauce—OSS also specialize in a flavor that is distinct to the Olneyville neighborhood of Providence RI.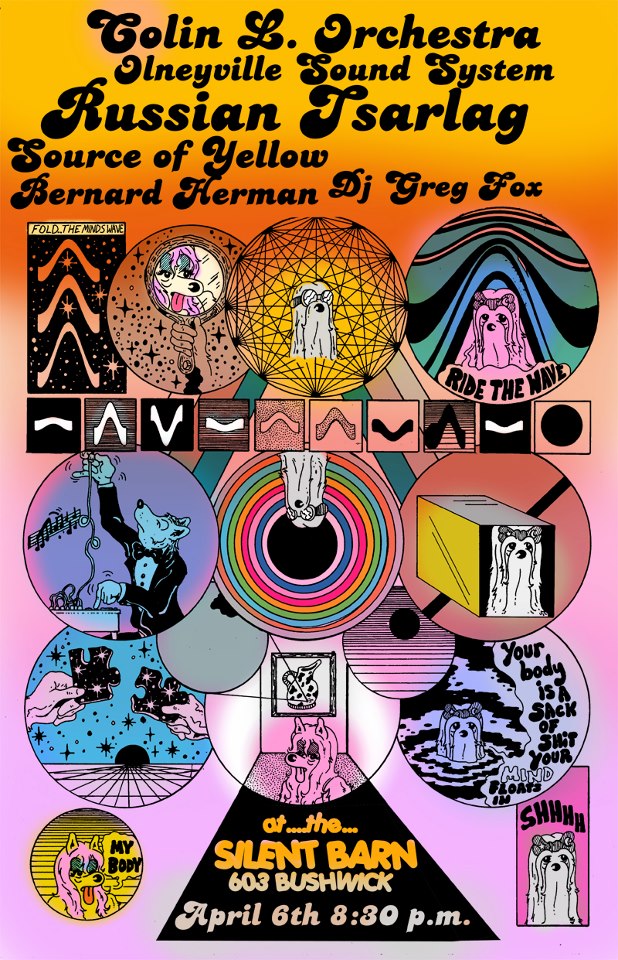 OSS make bass and drum music. Not to be confused with "drum 'n' bass." This is real raw bass sludge from Dan St. Jacques (Landed, Six Finger Satellite) and Adam Autry (Boredoms' Boadrum, Plate Techtonics). Their sound is akin to Lightning Bolt doing ESG, concise noise-funk with the experimental humor of Men's Recovery Project. "These Guys Don't Take Requests, They Don't Play Showtunes" comes from their '97 Load Records debut Because We're All In This Together, which featured "anti-blues" harmonica by Roma and maniacal vocals by Jon Von Ryan.
"Olneyville Sound System was very influential on Usaisamonster," Colin Langenus wrote in a post describing a recent collaboration Adam Autry. The Colin L Orchestra joins in on a rare OSS Brooklyn performance this Saturday at the Silent Barn. Providence's Russian Tsarlag, recent WFMU guests Source of Yellow, DJ Greg Fox, and a ventriloquist who goes by the name of Bernard Herman are also on the bill.
Feel free to request "These Guys Don't Take Requests" at an upcoming OSS show, but they'll be playing new material. Word is they have a new album tracked at Machines With Magnets. I got to see some of it live about a year ago and it is going to rule. We'll hear some when they swing by Talk's Cheap / WFMU on April 18th. For a deeper voyage into the history of OSS, check out On Safari, recorded live at Providence's defunct Safari Lounge.
Via WFMU » Visit Blog
» 0 COMMENTS
jason on 01/26/2013 at 04:15AM











Price Tapes is a cassette label from Providence, Rhode Island, releasing some of the best local and not-so-local contemporary experimental music. The tapes have been preserved as free downloads at the Price Tapes Tumblr, and we're pleased to host them at the FMA. Price Tapes tends toward sonic adventures by solo artists who gravitate towards Providence's thriving artist community. When they joined the FMA, Price Tapes requested we add a few new genres to our genre tree like darkwave and fake techno. What is fake techno? Let's unpack the tapes and listen:
Christopher Forgues used to make music as Kites, releasing fantastic albums like Peace Trials for Providence's Load Records, that were often classified as 'noise' or 'folk'. Lately, under the name Mark Lord, he's applying that same creative force to music that usually gets classified as techno. But it's not really that simple. Hence, 'fake techno.'  

Coppertone is the darkwave project of Sasha Wiseman. Darkwave is dark ethereal synth pop with grit, and we really should add it to our genre tree since we already host music by similar-sounding artists like Zola Jesus and Stacian.

As Pak, South Carolina's Lauren Pakradooni makes recordings out of her own handmade loop tapes, run through effects with layers of warped vocals.

Philadelphia's Davey Harms (Mincemeat or Tenspeed) recently moved to Providence where he continues to refine his distinct effects-pedal-generated beats. Price Tapes has a fantastic live excerpt, and check out Mincemeat or Tenspeed's FMA profile for lots more including The Tower, one of the best releases of 2012.

As Russian Tsarlag, Providence filmmaker and visual artist Carlos Gonzalez churns out a fascinating stream of narcoleptic no-fi downer-pop.






Price Tapes proprietor Mickey Z is a visual artist working in comics and screenprinting, to be credited for most of the Price Tapes artwork as well. 

Mickey contribtues tracks from her solo project Dungeon Broads, a plethora of off-kilter home-taped doomishness including a tribute to Lazy Magnet and collaborations with Pippi Zornoza (Bonedust) and Jacob Berendes (fujichia).

She also sings and plays viola in the experimental no wave 3-piece Bloodhuff.
Check out Price Tapes at Big Cartel for in-stock tapes, and on the FMA, where you'll find much more including Earth-Enemy's synth pop with an acoustic tribute to Black Pus, and a tape from Providence noise wunderkid Spiritual Recess.
Via price tapes » Visit Blog
» 2 COMMENTS