You came this way:
Home
>
Tag: Philadelphia
Related Articles
You know that one great band that always ends up playing with a ton of shitty bar bands? You know when you go out to some dive bar with your friends and there are some crappy metal bands playing the stage, and then all of the sudden one act comes up and is legitimately gnarly, but no one really pays attention because it goes over there heads? For years, this was Bugs and Rats, from Quincy, MA. It's not a surprising thing when you see Quincy. It's a small town outside of Boston, not known for any sort of booming music scene. Perhaps it was the lack of music scene that helped Bugs and Rats ooze to fruition.
The boys; Shawnie Brando, Kellzo, and Radek Weirzbowski, started writing and playing music together in 2003. Influenced by the hardcore scene and bands like Godflesh, Nirvana and Eyehategod, the band's early sound was a mix of simple song structures, repetitive hooks and vocals akin to some sort of dog being strangled. The first release, 2004's Smart as a Whip was (according to Brando) met with little interest from the Quincy bar band and metal 'scene.' Bugs and Rats were not really playing punk, they were not really playing metal, there weren't really playing rock. It was hard to pin-point what they were doing.
- Rory MacMurdo
Via Boston Hassle » Visit Blog
» 0 COMMENTS
dvd on 07/17/2012 at 12:00PM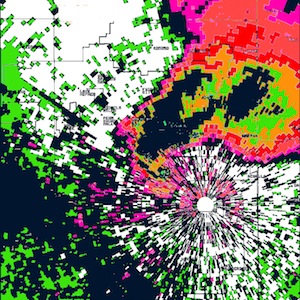 Drawing from influences as diverse as synth-pop and SETI, this release features extensively processed tonalities and explores what can be achieved with limited sound sources. Released in conjunction with A. P. Vague's "doppler" exhibition in New Brunswick, this track explores the outer realms with gusto - mixing cosmic synth with astral noise. Snag a copy on cassette at 905 Tapes, or tune in here.
Via Free Music Archive » Visit Blog
» 0 COMMENTS
kingmmm1234 on 07/19/2011 at 11:34AM
"WFMU-YOU GOT IT!" sung Anamanaguchi's Peter Berkman on their improvised WFMU jingle last Sunday for Beastin the Airwaves with Keili. The chiptune-punk quartet's 10-song set (including the jingle, plus a bonus Wavves cover!) of hyper-active and insanely tunes is now part of Anamanaguchi's FMA Profile.
Anamanaguchi integrate traditional rock instruments--drums, bass, and guitar--with the soundchips from early video game systems (in this case, a hacked NES from 1985) that make Chip Music unique. And with innovative releases like the immersive Dawn Metropolis and a new album in the works, they've taken the scene to new heights.
Once an underground phenomenon, chip's growing popularity could be tied in with nostalgia-fueled extended adolescence of today's Millennial Generation. Yet for the members of Anamanaguchi, video games were not the sole influence on their music as "a lot of influences come from stranger stuff," Peter Berkman said in a 2009 A.V. Club interview, "...just absurd stuff." And a simple listen to the range of chip-inspired music here on the FMA -- resources like True Chip Til Death, and the ever-expanding Blip Festival -- is enough proof to show that the genre of the new millennium will be infecting young minds well into the future.
There are certainly enough Anamanaguchi fans to sell out their upcoming shows at at Philadelphia's North Star Bar Thursday July 21 and the Music Hall of Williamsburg this Friday July 22. Get tickets while they are still available, and in the meantime, listen to this incredible live recording, engineered/mastered by Ernie Inradat here.
READ MORE
Via WFMU » Visit Blog
» 0 COMMENTS