You came this way:
Home
>
Tag: Outsider
"Outsider"
(Used 8 times)
Related Articles
henryhynes on 07/01/2010 at 08:59AM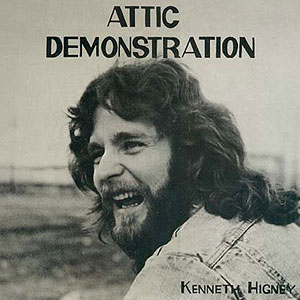 Kenneth Higney's Attic Demonstrations is a record you might find wedged between a worn copy of Skip Spence's Oar and Born In the U.S.A. That is if both of those are commonly placed in the $100+ rack of your local record store. He comes off a lot like Spence or Dave Cloud, but while Spence was doing hard drugs in NYC and Cloud was getting restraining orders from young women in Nashville, Higney was drivin' trucks through rural America, spreading goods throughout the land.
Higney, a New Jersey native, took a break from his job as a truck driver and recorded his Demonstrations in several single takes in 1976. His idea was to find like-minded musicians to play the tracks with him or re-record the demonstration songs. Though he may have failed at this task, he did succeed in making a fairly sought after record among serious collectors.
Attic Demonstrations, while being very scattered, is a wildly imaginative and emotional record complete with acoustic ballads, fuzzed-beyond-all-return soloing, and old-timey vocals from the man Higney himself. Drawing from 60's folk-rock and pretty much all things 70's (even a five minute forray into disco with 'Funky Kinky'), Higney manages to pump out a fair share of wild tunes (some recorded with more rhythmic consistency than others). Standouts include 'Can't Love That Woman', 'Look At The River', 'Children of Sound', and the opener 'Night Rider'. Look out for the songwriting on 'Can't Love That Woman' and check out the entire 11 song album here. Thanks to Swan Fungus for the tip on this album!
» 2 COMMENTS