You came this way:
Home
>
Tag: Outer Space
"Outer Space"
(Used 11 times)
Related Articles
dvd on 08/17/2012 at 10:00AM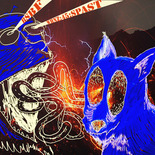 Glaswegian duo Blue Sabbath Black Fiji create quite an amalgamation of sounds. Using guitars and electronics, the group blasts noisy constructions with hints of disco beats laying just beneath the surface. Their latest release on We Have No Zen! is a bit of a pre-flight departure, "a collection of unreleased psychedlic pre-boogie jam[s]." 
Originally titled Space Satan, the album deals with all things cosmic. This track really stands apart, not only from the rest of the collection, but from the typical BSBF fare -- an ambient voyage that is all too rare in what is usually a noisy universe. 

Blue Sabbath Black Fiji at:
Via Free Music Archive » Visit Blog
» 0 COMMENTS
» MORE INFO
» 0 COMMENTS
» ALL MIXES