You came this way:
Home
>
Tag: Nyc
"Nyc"
(Used 13 times)
Related Articles
jason on 11/29/2012 at 01:30PM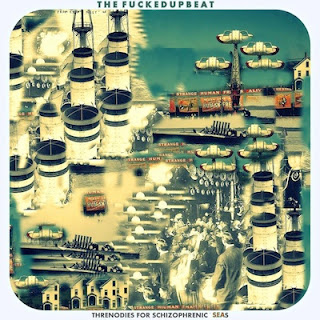 Recorded in New York at the height of Hurricane Sandy, Threnodies For Schizophrenic Seas is the latest album of "experimental schizo noir trip hop" from a duo that calls itself The Fucked Up Beat. New York's Eddie Palmer and San Diego's Brett Zehner have released eight albums since forming in 2011 as a bi-coastal email collaboration. Each release collages public domain sound samples with field recordings and live instruments.
The Fucked Up Beat's instrumentals often feel like a film noir Manhattan moment caught in a Martian timeslip. The circumstances of this recording lend an even more ominous, submerged tension that is enhanced by fantastically schizophrenic song titles like "A Sea Shanty For Staten Island Ships/ Holy the Solitudes of Skyscrapers and Pavements!" "Supermarket Goods Escape and Terrorize Local Shoppers/ and rose to build Harpsichords in their lofts" and "Wall Street Gas Panic/ who were burned alive in their innocent flannel suits on Madison Avenue."
Though the tracks are offered under a Creative Commons license that specifies "No Derivatives," you can find remix-ready source material at their site on the open source music community Opsound. I double checked with the band about the license, because their bandcamp specifies "No Derivatives" while the HAZE netlabel uses the remixable ShareAlike license. The music seems ripe for video (one of the group's own creations is embedded below) and if you would like to use the music in this or any other derivative way you can reach the band through their FMA profile.
The F*cked Up Beat - Supermarket Goods Escape and Terrorize Local Shoppers/ and rose to build Harpsichords in their lofts from The Fcked Up Beat on Vimeo.
» 0 COMMENTS
10khrs on 09/17/2012 at 02:00PM
On Thursday September 20, 2012, the 24th Season of INTERPRETATIONS, Thomas Buckner's longstanding series for the presentation of innovative new music begins with an evening featuring two innovative composers! Composer and Sonic Arts Union founding member David Behrman's concert-length work is built around texts by Siegfried Sassoon & S. N. Behrman, and features Eric Barsness & Thomas Buckner (voices), Theodore Mook (cello), Ralph Samuelson (shakuhachi), & Peter Zummo (trombone). Canadian Composer Tim Brady's monumental work takes solo guitar to evocative and dramatic new territory. Featuring Stephanie Griffin (viola), Cheryl Seltzer (piano), and Martin Messier & Nelly-Eve Rajotte (video).
In anticipation of our opening event, we would like to offer three pieces of music:  Two tracks from Tim Brady's monumental work 24 Frames, and one piece by David Behrman, performed by Jon Gibson at the Kitchen in the mid 1990s.
READ MORE
Via Interpretations » Visit Blog
» 0 COMMENTS
lizziedavis on 08/16/2012 at 12:00PM
Radioactive Pussy is audio activist performance art at its finest and simultaneously most raw. Utilizing the folk traditions of the past and updating them with current situations, the issues and music they present are intended to activate and generally motivate the listener. (via.) The band includes experimental stalwart Chuck Bettis as well as Yuko Tonohira, cofounder of Todos Somos Japon, a group that communicates political dialogues among people in and outside of Japan through the bilingual website jfissures.org.
Radioactive Pussy held their first performance on July 24th, 2012 at NYC's Zebulon. You can find the whole set here on the FMA. Listen to one of the "raw documents" of the political performance below in the form of "Fuck Nukes!"
Via Free Music Archive » Visit Blog
» 2 COMMENTS
lizziedavis on 06/29/2012 at 02:30PM
It's a dangerous time to be an experimental musician influenced by black metal. Bands that seem to get just a bit too conceptual with their metal have attracted heavy controversy over the last few years. Luckily, Extra Life has managed to evade the wrath of purists while taking black metal to an entirely new plane. Fronted by Charlie Looker, an elementary school teacher, former member of Zs and Dirty Projectors, and true "musician's musician," Extra Life fuses black metal, early music, and experimental theory to create music that is at once intensely powerful and a little fragile. Their latest release, Dream Seeds, is a haunting and jarring study of the nature of dreams and children.
Extra Life will be playing in Spy Music Festival in NYC at the end of the month. I asked Charlie Looker some questions via email.
You've said that the inspiration behind Dream Seeds comes from the ethereal realm of dreams and childhood, yet to me, the music also feels meticulous and intellectualized. What's your process of developing songs out of the hazy sphere of youth into the careful world of adulthood?
Any time you do something creative you're taking things which are subconscious and making them conscious. You take something ethereal and unformed and you make it manifest in the world. That's always what the creative process is, whether or not the source is dreams or childhood or whatever. If what you make is good, then it actually increases and intensifies the mystery of the original impulses. If along the way, the whole feeling becomes dry and obvious and overly intellectual, then you've failed. I'm not sure if I'd call our working process intellectual. It's definitely meticulous. We all get obsessively caught up in little details of our parts, how the parts interlock, subtleties of rhythmic feel. But that's not philosophical or academic, it's just craft. Any intellectualizing about the music usually comes after the fact of making the music, in reflecting on it.
How young were you when you started playing and writing music?
I played the piano very seriously from ages five through eleven. Then I got into metal and I started playing the electric guitar. I played in some hardcore-influenced bands in high school and I'd write parts of songs, just riffs and chord progressions. Around sixteen I got a four track and started making these long insane home-recorded piece, really influenced by John Zorn and Ennio Morricone, like soundtracks without film. That's basically how I got into experimental music in general.
What were some of the musical influences behind the album?
The past few years my favorite music I've been checking out is Antony and the Cocteau Twins. But I'm not sure how much that's even audible to the listener as an influence on the record. I've been really into Current 93 but we don't really sound like that, other than maybe on "No Dreams Tonight". I've also been super into Romantic and Impressionist orchestral music, listening to it a ton and also studying the scores in depth. This has definitely opened up my sense of arrangement, orchestration and recording, but then again, on this record most of that production side of things comes from our guitarist/engineer Caley Monahon-Ward and not me.
You just got back from a European tour. How was it?
It was awesome. It was tiring, but not nearly as tiring as touring the states. We were fed well.
Are you doing any sort of special set or collaborations for Spy Music Festival?
The main thing I'm doing is just a straight-up Extra Life set on June 30. But also on that bill Caley and I will both be playing guitar in Rhys Chatham's ensemble which is definitely a special thing. Chatham is an important musician and I've never met him before. Spy Fest in general will be sick. Northern Spy is a really unique label and I'm proud to call it home.
Extra Life will be performing this Saturday, June 30th at Issue Project Room in Brooklyn, NY with Rhys Chatham Guitar Trio and Neptune.
» 1 COMMENTS
lizziedavis on 06/28/2012 at 12:00PM
Skeletons are an American entertainment unit from New York City via Oberlin, Ohio. Skeletons began as the solo project of Chicago native musician and filmmaker Matt Mehlan in 2001, but has grown to include Jason McMahon and Jon Leland. Now into their second decade of existence, Skeletons count 7 full length albums, an 18-member "Skeletons Big Band" incarnation, and the inception of NYC' Silent Barn among their accomplishments.
Last November, Skeletons released a MIDI version of their song "No" for download with an Attribution-Noncommercial-Sharealike CC license. It was made (mistakes and all!) by playing midi drums, a keyboard, and a midi guitar live, then using "SOFT-SYNTH" presets to create a "version". They then edited the original vocals from the "PEOPLE" album to fit this new "version". Anyone and everyone is invited to download the file and make their own version of the song. For more information on the project, click here! (via.)
Skeletons will be performing on Friday, June 29th at Brooklyn, NY's Union Pool with Rhys Chatham - Ryan Sawyer Gunn - Truscinski Duo, and Peter Stampfel as part of Northern Spy's Spy Music Festival.
Skeletons on
Via Free Music Archive » Visit Blog
» 0 COMMENTS