You came this way:
Home
>
Tag: Noise
"Noise"
(Used 305 times)
Related Articles
wmmberger on 04/21/2014 at 05:39PM
The concentrated joy of this set by Future Death Toll is its own reward. Fresh off of tour, the band sounded a-frickin'-mazing, and I was immediately confronted with a familiar feeling, of "O, Lucky Man!" ...I dig deep into the underground, bobbing for those most-artistic of apples, and this time came up with the OUTSTANDING sounds of FUTURE DEATH TOLL!!! Indeed, I am fortunate, to have this incredible OUTLET wherein I can extend invitations to artists such as these, and they just show up and play! Sit in that Studio B chair sometime, and you'll begin to understand how good the years of MCoQ weekly broadcasts have been to me, and my colleagues at the station, and to WFMU's devoted listeners. The kiss of WFMU is GOLDEN, and I need to remember to utilize this opportunity, in order to bestow upon all who care the rareified talents of artists like these.
Based on a barely labeled cassette tape I had received a long time ago, different from this set (more "home studio," obviously), I knew this band would make good use of the opportunity for a live radio set, and I was not disappointed. Though the tape is generally "lighter," as might be expected, as well as more song-oriented, F-DT do a lot of different things, and as with Slasher Risk before them (see this set from 2010), the variety of their capabilities just meant that playing live on the radio revealed another layer. They were noisy, dense and intense, but not entirely free-form, with themes that arose, dominated and then dissipated, as you will hear.
Though I did not have a pile of hard releases to muse over and absorb, there's quite a lot posted online, both to the band's Web site, and their YouTube page, and I've been at this long enough, that I knew for certain that F-DT's radio set would not disappoint, and it went far beyond that, into dazzling territory, rousing a hearty, enthusiastic response from Castleheads on our playlist comments.
So sit back, listen and enjoy. Massive props to engineer Juan Aboites for applying his considerable and diverse talents to making Future Death Toll radio-ready; whatever I throw at him, he makes the very best of it, rising to every challenge. Thanks also to Tracy Widdess for again making excellent, memorable photo art from my on-the-quick iPhone band captures.
Via WFMU » Visit Blog
» 0 COMMENTS
wmmberger on 05/02/2013 at 09:59PM
Arvo Zylo's recordings and talents run the range from truly overwhelming, confrontational, and chilling, to thought-provoking. His experimental sounds are rooted in the 1980s Raplh/LAFMS/post-TG international "noise boom." Over many releases and collaborations, he has maintained a character of the unexpected, though one always wants to hear what that next sonic mask will be. In his other projects Blood Rhythms, Saint Street, and Mister Fuckhead, Arvo guarantees provocative listening, and the "catchy" or more-easily-palatable nature of the work will naturally come and go, giving way to the horror.
The cassette-and-CDr album 333, his recent split with Death Factory, and some of the live solo work he's done recently, under his own name and as Blood Rhythms, all stand out to me as experimental music of the highest order from an original talent.
READ MORE
Via My Castle of Quiet » Visit Blog
» 0 COMMENTS
solrezza on 04/12/2013 at 05:47PM
Listen: SHORTS FOR RADIO
(We recommend listening to this program during the night)
"Old disembodied voices from another world without time, no space, no language."
Dedicated to archive.org  everything we do once done leaves belong only time knows no copy rights.
"Short for radio" is an experimental radio series which has a duration of 12 minutes is the result of research based on sound files of the 20′ to 60′ from around the world are on the archive.org in the public domain.
"Shorts for radio" is born in late 2011 with the idea of creating a small fragment virtual radio, a piece of experimental radio and sound bites to collect texts that at some point been transmitted from a media such as radio or television. Through these sound bites seek to recreate a new discourse, a play on words, a transformation of language, a gino between composition and radio-style sound, a sigh radio between a virtual world where radio turmoil mutates and languages and meanings come to different senses.
Radio is a medium that takes the form of what it represents, a voice, a sound behind a black curtain, a solitude in the middle of the night, a gaze without eyes. Something that is beyond our reach, but it's there. Understand something beyond the language of words, a language that extends through the sounds.
Each program contains a description of the files used, all additional sounds were performed and produced entirely by Sol Rezza.
Since this work was conceived from licensed files Public Domain This work is licensed under the same license.
Year: 2012
Produced by: Sol Rezza
To: Panz4 Troupé
Cover design: Daniel Iván
» 0 COMMENTS
TAGGED AS:
public domain
,
soundscape
,
experimentalt
,
minimal
,
radio
,
creative commons
,
broadcas
,
noise
,
voice
,
podcast
,
sol rezza
,
See Less...
solrezza on 04/12/2013 at 05:37PM
It is recommended to listen to it as a journey: with earphones if possible, and in a comfortable location. Dopo qualche tempo torniamo ad occuparci della netlabel Acustronica, opificio di note sintetiche, che da qualche anno propone un buon panorama artistico legato all'elettronica più pura. Il progetto, partito da Perugia, propone periodicamente interessanti progetti musicali, capaci di legare l'anima sintetica con quella alternativa. Tra le new release l'etichetta umbra propone il fascino estetico musicale di Sol Rezza uscita con Split, quattro lunghe tracce di buone ambientazioni soniche, tra loop ed ipnotismo. L'artista argentina, cresciuta come sound artist, sound designer e sound jockey, arriva a definire i suoi ideali sonori attraverso una approfondita conoscenza musicale applicata alla poliedricità del suono, fagocitando intuizioni e sensazioni tradotte in suoni talvolta persuasivi, talvolta disturbanti ed magnetici. La tracklist offre un insieme combinato di strutture sonore per certi versi partecipi di un continuum narrativo, ricreato attraverso modificazioni virtuali di suoni, nature sampler ed evoluzioni schematizzate, in una diluizione di tempi atti a rilassare e turbare all'unisono, aprendo l'uscio ad un attento ascoltatore pronto a lasciare i propri pensiere fuori da quella porta, per alimentare il proprio immaginifico. La track battezzata da un controllato sampler rumoristico e da loop sonori si rende capace di definire un immaginario cognitivo legato al titolo della traccia (Paradox) ed i in parte alle immagini oniriche che trapelano da una partitura che offre un prorio scheletro portante sul quale si adagiano eliche costruttive che subiscono cambi, spostamenti, deviazioni, mutamenti, e rinascite, attraverso un costrutto attento ma pressochè libero. Le composizioni di Sol Rezza rappresentano esempi di suite elettroniche che si raccolgono al di sotto di una pioggia di note bagnate nel loro volo pindarico. Sensazioni orientaleggianti e tribali aprono ad un'anima sonora non troppo lontana da alcune devianti forme Burzumiche, nei suoi cicli elettronici scarni e minimalisti, porti ad un noise che congloba il rumorismo funzionale con un elettrornica pura. Con Aerangis Confusa, l'artista si propone nella sua prima parte con una sorta di Sign of life pinkfloydiana, adatta nel suo andamento ad una mescolanza di inquietudine artistica e visioni filmiche. La traccia, Nonostante una ridondanza di termini, non annoia, ma coinvolge in un placido crescendo ipnotico e disturbante.Un incubo narrativo in cui ci si sente trascinati come similmente accade in Revolution as a Loop, in cui una voce kubrikiana, lascia trapelare la confusione reale in un ansiolitico movimento sonoro. Un a sorta di insomnia musicale in fusione con una struttura modernista dei suoni, che non lascia nessun tipo di spiraglio alla tipicità armonica che molti generi hall tendono a sviluppare. A chiudere il full lenght è l'alternative The Cat, che chiude le porte intraprendendo un riuscito incontro tra classicismo e elettronica, per poi virare su di una splendida chiusura nebbiosa, in cui un accrescitivo sonoro ci trascina dentro ad un nero e disorientante paesaggio oscuro. Quindi… lasciate libere le vostre menti, accostatevi dai pensieri quotidiani e datevi completamete a questo Split, per perdervi in un mondo parallelo. Tracklist Paradox Aerangis Confusa Revolution as a Loop The Cat
» 0 COMMENTS
jason on 04/05/2013 at 10:30AM
Here's a classic from Olneyville Sound System. Like their namesake System—the inspirational former workplace of David Byrne that churns out hot weiners covered in a legendary meat sauce—OSS also specialize in a flavor that is distinct to the Olneyville neighborhood of Providence RI.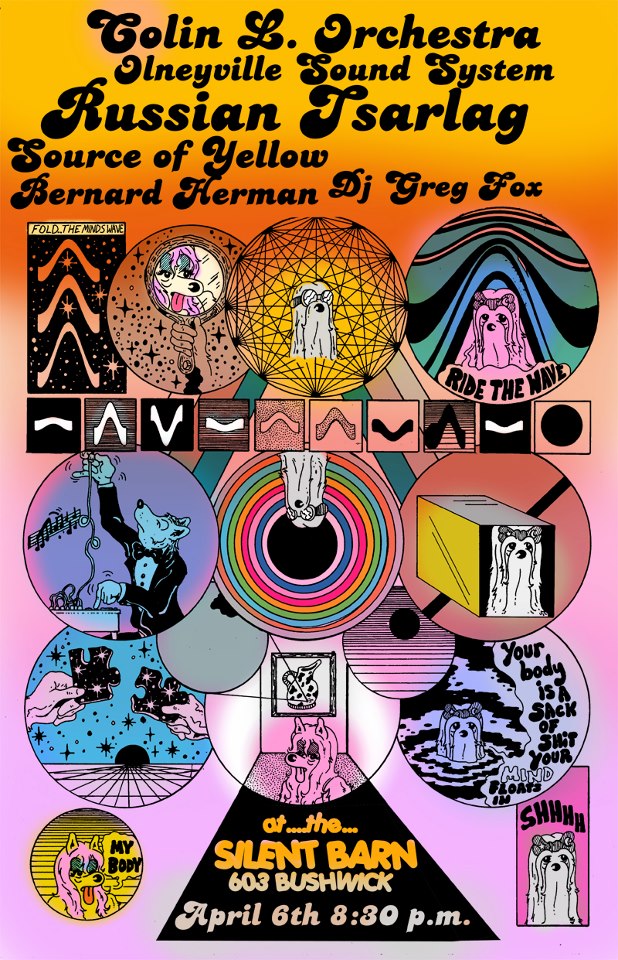 OSS make bass and drum music. Not to be confused with "drum 'n' bass." This is real raw bass sludge from Dan St. Jacques (Landed, Six Finger Satellite) and Adam Autry (Boredoms' Boadrum, Plate Techtonics). Their sound is akin to Lightning Bolt doing ESG, concise noise-funk with the experimental humor of Men's Recovery Project. "These Guys Don't Take Requests, They Don't Play Showtunes" comes from their '97 Load Records debut Because We're All In This Together, which featured "anti-blues" harmonica by Roma and maniacal vocals by Jon Von Ryan.
"Olneyville Sound System was very influential on Usaisamonster," Colin Langenus wrote in a post describing a recent collaboration Adam Autry. The Colin L Orchestra joins in on a rare OSS Brooklyn performance this Saturday at the Silent Barn. Providence's Russian Tsarlag, recent WFMU guests Source of Yellow, DJ Greg Fox, and a ventriloquist who goes by the name of Bernard Herman are also on the bill.
Feel free to request "These Guys Don't Take Requests" at an upcoming OSS show, but they'll be playing new material. Word is they have a new album tracked at Machines With Magnets. I got to see some of it live about a year ago and it is going to rule. We'll hear some when they swing by Talk's Cheap / WFMU on April 18th. For a deeper voyage into the history of OSS, check out On Safari, recorded live at Providence's defunct Safari Lounge.
Via WFMU » Visit Blog
» 0 COMMENTS
» MORE INFO
» 0 COMMENTS
» ALL MIXES
» MORE INFO
» 0 COMMENTS
» ALL MIXES
» MORE INFO
» 0 COMMENTS
» ALL MIXES
» MORE INFO
» 0 COMMENTS
» ALL MIXES