You came this way:
Home
>
Tag: New York City
"New York City"
(Used 12 times)
Related Articles
jason on 11/29/2012 at 01:30PM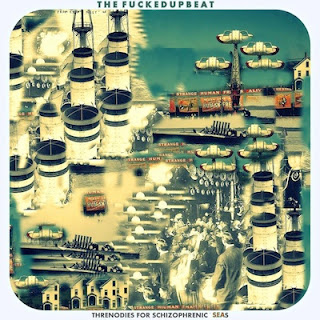 Recorded in New York at the height of Hurricane Sandy, Threnodies For Schizophrenic Seas is the latest album of "experimental schizo noir trip hop" from a duo that calls itself The Fucked Up Beat. New York's Eddie Palmer and San Diego's Brett Zehner have released eight albums since forming in 2011 as a bi-coastal email collaboration. Each release collages public domain sound samples with field recordings and live instruments.
The Fucked Up Beat's instrumentals often feel like a film noir Manhattan moment caught in a Martian timeslip. The circumstances of this recording lend an even more ominous, submerged tension that is enhanced by fantastically schizophrenic song titles like "A Sea Shanty For Staten Island Ships/ Holy the Solitudes of Skyscrapers and Pavements!" "Supermarket Goods Escape and Terrorize Local Shoppers/ and rose to build Harpsichords in their lofts" and "Wall Street Gas Panic/ who were burned alive in their innocent flannel suits on Madison Avenue."
Though the tracks are offered under a Creative Commons license that specifies "No Derivatives," you can find remix-ready source material at their site on the open source music community Opsound. I double checked with the band about the license, because their bandcamp specifies "No Derivatives" while the HAZE netlabel uses the remixable ShareAlike license. The music seems ripe for video (one of the group's own creations is embedded below) and if you would like to use the music in this or any other derivative way you can reach the band through their FMA profile.
The F*cked Up Beat - Supermarket Goods Escape and Terrorize Local Shoppers/ and rose to build Harpsichords in their lofts from The Fcked Up Beat on Vimeo.
» 0 COMMENTS
msdavison3 on 02/28/2011 at 02:50PM
MetalSucks recently released the fantastic second half to their soopersized variety-bucket sampler of metal in New York. NYC Sucks Vols. 1 & 2 cover quite a bit of ground; across this collection's 27 tracks, the wide breadth of bands and styles are really only unified in their sonic intensity. To their credit, MetalSucks' definition of "Metal" in this compilation is markedly inclusive, even catholic. It's unlikely that you would ever see some of these bands sharing a live bill with each other, and perhaps that's what makes this such an enthralling listen. In Volume 1, you've got the ethereal melodies of Made Out Of Babies' Julie Christmas in one instance doing the cha-cha right up against Tiger Flowers' serrated assault on the following track. On Volume 2, Defeatist rub out a nasty grind in under two minutes with "Dawn of No Light", and then further on down the road, Krallice's majestic, nine-minute "Autochthon" gallops all the way down into the black. Awesome. Other cool and unexpected turns include the Travis Beans and drum machines of The Austerity Program whose textures and clinical prescision evoke Big Black, firing back at the bombastic saga of Brooklyn's Hull. Those clever genre-shifting juxtapositions happen throughout both volumes.  
NYC Sucks' stylistic expanse afforded the editors a luxury of being truly able to cherrypick the healthiest heavies of what's bubbling up around NYC (though a respectful nod is given to Abacinate's Jason Sica and Atakke). That makes it near impossible to single out any one band, but of course that's the idea. If you like to argue apples vs. oranges, Mods vs. Rockers with your friends, this is a pretty solid soundtrack for that kind of pointlessness. I'll start! Here's a few tracks that I enjoyed (come at me, bro):
» 0 COMMENTS
lizb on 08/05/2010 at 08:45AM
Heads-up, minimal synth fans! A few tracks have recently been added to the FMA from NYC's premier robot dance party band, Mazing Vids. The duo of Ryan and Ryan have been making music together since the early '00s, with cold teutonic beats, scratchy synths, and distorto vox. If you're in the NYC area, catch Mazing Vids live at Glasslands Gallery in Brooklyn on Aug 29th.
"Drastic Mirth" is the band's most recent LP, released in late 2009, and features the great song "Could You Die" (below). I'm also a big fan of the song "Erector Set," which places Mazing Vids in the same zip code as Espelndor Geometrico, Grauzone, Der Plan, and Crash Course in Science.
Speaking of the oldies... if you dig vintage robot music, there are a number of recent comps and reissues that are totally worth checking out.
Compilations: Cold Waves + Minimal Electronics (Angular), The Minimal Waves Tapes Vol. 1 (Stones Throw), Milky Disco - 1, 2, or 3 (Lo), Neon Beats (Klang Galerie).
Reissues: Deux (Minimal Wave), Esplendor Geometrico LP box (Vinyl on Demand), Kebab (Soft Spot), 39 Clocks (Bureau B), Crash Course in Science LP box (Vinyl on Demand).
» 0 COMMENTS