You came this way:
Home
>
Tag: New York
"New York"
(Used 22 times)
Related Articles
ange on 03/22/2013 at 08:15AM
Via WFMU » Visit Blog
» 0 COMMENTS
jason on 11/29/2012 at 01:30PM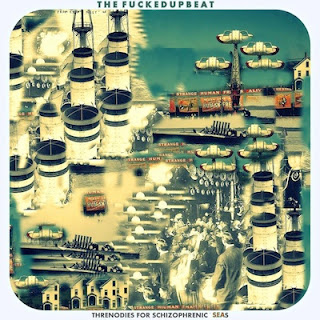 Recorded in New York at the height of Hurricane Sandy, Threnodies For Schizophrenic Seas is the latest album of "experimental schizo noir trip hop" from a duo that calls itself The Fucked Up Beat. New York's Eddie Palmer and San Diego's Brett Zehner have released eight albums since forming in 2011 as a bi-coastal email collaboration. Each release collages public domain sound samples with field recordings and live instruments.
The Fucked Up Beat's instrumentals often feel like a film noir Manhattan moment caught in a Martian timeslip. The circumstances of this recording lend an even more ominous, submerged tension that is enhanced by fantastically schizophrenic song titles like "A Sea Shanty For Staten Island Ships/ Holy the Solitudes of Skyscrapers and Pavements!" "Supermarket Goods Escape and Terrorize Local Shoppers/ and rose to build Harpsichords in their lofts" and "Wall Street Gas Panic/ who were burned alive in their innocent flannel suits on Madison Avenue."
Though the tracks are offered under a Creative Commons license that specifies "No Derivatives," you can find remix-ready source material at their site on the open source music community Opsound. I double checked with the band about the license, because their bandcamp specifies "No Derivatives" while the HAZE netlabel uses the remixable ShareAlike license. The music seems ripe for video (one of the group's own creations is embedded below) and if you would like to use the music in this or any other derivative way you can reach the band through their FMA profile.
The F*cked Up Beat - Supermarket Goods Escape and Terrorize Local Shoppers/ and rose to build Harpsichords in their lofts from The Fcked Up Beat on Vimeo.
» 0 COMMENTS
As a large percentage of you probably know, Ari Up (Slits, True Warriors, and a/k/a Medussa) passed away this past October, but not without leaving this planet with an abundance of music, memories and occasions to remind us of her soul. Ari struck me as someone who couldn't be "turned off"; sadly with her passing, we know that is not true, and it still seems unreal, in reflecting on the vibrancy she had. Those of us who witnessed her perform, witnessed her living life - exclamation after exclamation, present to every second she had. She would have turned 49 on Monday, and at the Music Hall of Williamsburg on Sunday 1/16, will be the "Ari Up Punky Reggae Birthday Party", featuring members of the Slits original and current; the True Warriors, a later group that Ari fronted, and many many more guests.
The show at Music Hall of Williamsburg on Sunday is a benefit and proceeds will go to The St. Jude Children's Research Hospital. Tickets are available here. Leading up to that, there were 2 special programs aired on WFMU this week;
On Miniature Minotaurs with Kurt this past Wednesday, we heard a set from the Ari Up & the True Warriors' performance from Santo's Party House from October 2008, courtesy of Punkcast.com- the playlist from that program here. 
On the Fun Machine on Tuesday of this week, I aired a True Warrior's set that I had the pleasure of engineering when they played on Pat Duncan's program May 8, 2003.
READ MORE
Via WFMU » Visit Blog
» 1 COMMENTS
In 1977, Gary Wilson released his second album, "You Think You Really Know Me." It was a bizarre yet affecting collection of songs that ranged from lite lounge-funk (that could almost recall a young Prince Nelson Rogers at times) all the way to creepy atmospheric tunes that wouldn't be out of place on a Dario Argento soundtrack. Despite receiving some radio airplay and even some fanmail from costumed avant-garde rockers The Residents, Gary Wilson soon found himself in the pitfalls of obscurity.

While working at an adult entertainment shop on the West Coast, his name had slowly built up a following over the next two decades, with an infamous shout-out from Beck on the album "Odelay" and a full length documentary on his life and music, named after his most famous record.

Since his reemergence, Gary has finally been able to experience success as an artist, releasing records on labels like Stones Throw and enjoying his time as a performing artist. He appeared live at WFMU on Scott Williams' show in 2002, around the time where he played his first shows in New York City since the 1970s.  Gary Wilson is releasing an album called Electric Endicott later this year on Western Vinyl. I interviewed Gary via email.

 

 
Between your 2002, when you reemerged with a live performance on Scott Williams' show on WFMU, and now, your career seems to have gone through some tremendous changes. Do you view this as a rebirth of what you were doing in the late 70s or a new era of Gary Wilson? 
I would say a continuation of what I was doing in the 60s and 70s. One is always "growing" and adapting to the dynamics of life. We all go through it. This will reflect in your art. I do a lot of self editing. If a song of mine does not reflect the Gary Wilson personality, or what I think Gary Wilson represents, then it is tossed out. It has always been that way (since I was 12 years old). I try to stay true to what I think Gary Wilson should sound like. What is important to me is for a listener to put my music on and know that what they hear is Gary Wilson. Since 2002 a lot of different things have happened to me. Good things.  Life can be interesting sometimes.
What inspired you to incorporate tape, mannequins, wigs, flour and trashbags into your live performances?
READ MORE
Via WFMU » Visit Blog
» 1 COMMENTS
robw on 03/09/2010 at 05:45PM
For a quarter of a century, NY Balkan music scene pioneers the Zlatne Uste Balkan Brass Band have organized the annual Golden Festival. a massive two-night grassroots Balkan and East European music and dance festival at the Good Shepherd School, 620 Isham Street (near Broadway and 207 St.) in upper Manhattan. The festival is the biggest event of its kind in New York City: The second night (Saturday) is a marathon featuring 40-50 bands and artists performing on three stages from 6pm until 4 in the morning. See: http://www.goldenfest.zlatneuste.org/

With the help of co-host / tech guru Irene Trudel and our peerless crew, WFMU's Transpacific Sound Paradise broadcast all the music from the Golden Festival's Kafana stage from 6pm until midnight on Saturday January 16th. Kafana is Serbo-Croatian for "cafe"; the stage is located conveniently near the food!

We are now proud to present a collection of recordings from the festival on the Free Music Archive. The full collection is here, while a mix of highlights is available at right (please click "i" for more info about each artist).

>> 2010 Golden Festival photo gallery on Flickr
>> 2010 Golden Festival mp3 collection on the Free Music Archive
READ MORE
Via WFMU » Visit Blog
» 0 COMMENTS