Related Articles
ange on 03/05/2013 at 11:00AM
When our excellent new curator Price Tapes joined the Free Music Archive, they suggested we add a new genre called Fake Techno. To explore this new sound, we reached out to the originator of the term Fake Techno, the effects pedal virtuoso David Harms of Mincemeat or Tenspeed. He explains that if you wanna jump on the Fake Techno bandwagon all you have to do is get a holographic eagle. Laptops not recommended.
What is Fake Techno?
Fake Techno's a term I used to describe my music starting back a couple years ago. I was working with a lot of effects and feedback loops trying to approximate the structure and sounds of techno, and it sounded good but without drum machines, synths, music making stuff, it didn't really work. It wasn't noise but it wasn't techno so I decided it was the fake version of techno.
What's your process for getting the sound you want? 
I was accidentally strict when I was starting out and was only using effect pedals to make the music. This meant it was really easy to make the wrong sounds, but now that I'm old and don't care I use shit like synths, drum machines, and midi cables. This means I gotta try extra hard to make sure the music sounds wrong lest I make 'real' techno.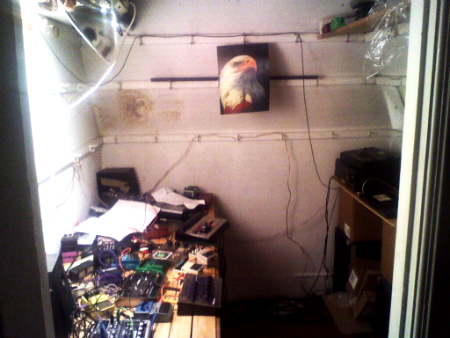 What would we find if we went into your studio? 
This is a picture of my studio. If you wanna jump on the Fake Techno bandwagon the only thing you absolutely need from this set up is a holographic eagle. Fake Techno, like noise, can be made with any pile of garbage. The only thing I can't recommend using is a laptop 'cause that's the wrong tool. If you use a laptop you're probably gonna end up making techno, or electronic music. Don't use a laptop.  
READ MORE
Via Free Music Archive » Visit Blog
» 4 COMMENTS
m_p_landis on 05/11/2011 at 11:00AM
Today I'd like to encourage you to check out some true undergound freak-squad music. Mutwawa, from Richmond, VA.
This 2-man unit combines mutated African rhythms and sounds, perhaps akin to the vibe of Konono No 1, with the gritty, experimental synth-stomp of Forcefield. Both members have long and impressive resumes: Jason Hodges is credited with samples and has played in the power-violence bass-n-drums band Suppression, freakout post-punk band The Amoeba Men, Bermuda Triangles... the list goes on. All of them highly recommended. Gary Stevens is credited with effects, and he is also the founding member of noise band Head Molt and for several years ran the infamous DIY house/venue The Rat-Ward. Again, I could go on...
Mutwawa - Live at Strange Matter - March 8, 2011 - Richmond, Virginia from Silver Persinger on Vimeo.
Embedded below is their first album "Necro Zulu" which can also be dowloaded. I have to point out that I love how this album is composed of songs. Mutwawa can do the noise band M.O. of cranking out one solid 15-minute set too, which works live (just check out how well they work that format in the video above), but I do appreciate the extra bit of self-editing that goes into boiling your material down to a batch of 2-3 minute highlights. It also makes an album that much more repeat-listenable for me, and this is a good one. Play this on something with some good bass.
CNP Records blog, Jason's record label  |  Rat-Ward blog, for all of Gary's projects 
[originally posted at WFMU's Beware of the Blog]
Via WFMU » Visit Blog
» 0 COMMENTS