You came this way:
Home
>
Tag: Monorave
"Monorave"
(Used 1 time)
Related Articles
jason on 11/09/2012 at 11:00AM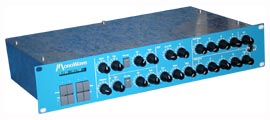 All of the tracks on this adventurous chip music compilation began with a single sample.
That's the sound of the Monowave, a Moog clone originally envisioned as a bass synth.
Hexawe, a CC-BY label for Piggy Tracker releases, put out an open call for remixes. This group of talented musicians heeded the call, looping tiny sections of the monowave sample and sequencing these instruments using their portable game console of choice. The result is Monorave, an inspiring showcase of what's possible with remixed digital soundwaves.
This compilation is truly open source in that you can download the tracker DAT files yourself and tweak them. When you do, you'll find that each song has a folder containing all the samples used in the sequence, and many of the tracks draw all of their source material from that single monowave sample.
» 0 COMMENTS