You came this way:
Home
>
Tag: Mixes
"Mixes"
(Used 3 times)
Related Articles
cheyenne_h on 03/05/2015 at 09:00AM
» 1 COMMENTS
ange on 01/23/2013 at 01:15PM
Good news, mix-makers! The Free Music Archive is delighted to announce that we've partnered with 8Tracks to make our library available through their lovely mix-making and sharing tools. The basic idea of 8Tracks is making simple and sharable online mixes with at least 8 tracks. Here's a peak at what that looks like: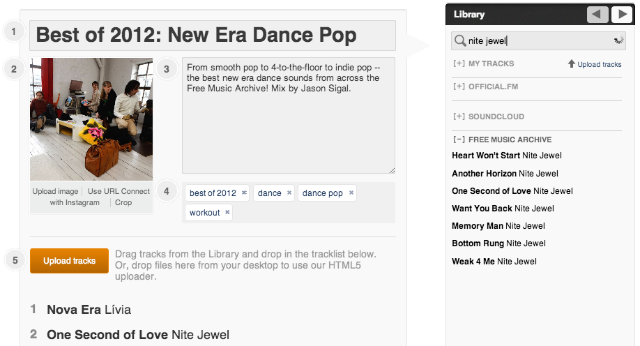 How better to celebrate the merging of two awesome music websites than with a mix tape exchange? We shared mixes featuring our favorite Punk Hooks and New Era Dance Pop. In exchange, 8Tracks has made us a mix of hidden indie rock gems. 
Enjoy this mix, and head over to make your own sometime at 8tracks.com.
Via Free Music Archive » Visit Blog
» 0 COMMENTS
Cheers, my FMA pals!
I started here blind as a bat, through the labyrinth of the FMA. The soundwaves have bounced back from the noisy underground and resonated inside my skull, driving the hunger for more. So, here's to finding a favorite artist, album, or track, and seeing one of you there already! I'm so surprised at the uncanny similarities in what we like. It's great seeing all the participation, and networking of members, curators, and artists. I will continue playing phantom DJ through my mixes, and enjoy being a part of this community... much better than the last community... the angry mob that charged my home with pitchforks, finally setting it on fire.
Stay tuned for more!
Uncle Dracula
» 0 COMMENTS