You came this way:
Home
>
Tag: Mincemeat Or Ten Speed
"Mincemeat Or Ten Speed"
(Used 2 times)
Related Articles
ange on 03/05/2013 at 11:00AM
When our excellent new curator Price Tapes joined the Free Music Archive, they suggested we add a new genre called Fake Techno. To explore this new sound, we reached out to the originator of the term Fake Techno, the effects pedal virtuoso David Harms of Mincemeat or Tenspeed. He explains that if you wanna jump on the Fake Techno bandwagon all you have to do is get a holographic eagle. Laptops not recommended.
What is Fake Techno?
Fake Techno's a term I used to describe my music starting back a couple years ago. I was working with a lot of effects and feedback loops trying to approximate the structure and sounds of techno, and it sounded good but without drum machines, synths, music making stuff, it didn't really work. It wasn't noise but it wasn't techno so I decided it was the fake version of techno.
What's your process for getting the sound you want? 
I was accidentally strict when I was starting out and was only using effect pedals to make the music. This meant it was really easy to make the wrong sounds, but now that I'm old and don't care I use shit like synths, drum machines, and midi cables. This means I gotta try extra hard to make sure the music sounds wrong lest I make 'real' techno.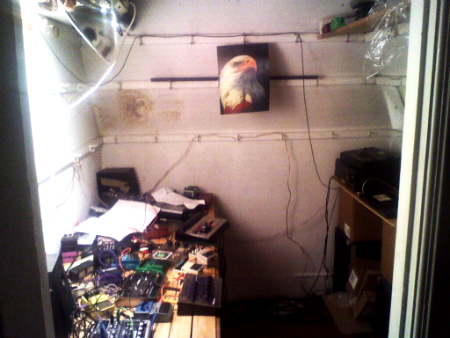 What would we find if we went into your studio? 
This is a picture of my studio. If you wanna jump on the Fake Techno bandwagon the only thing you absolutely need from this set up is a holographic eagle. Fake Techno, like noise, can be made with any pile of garbage. The only thing I can't recommend using is a laptop 'cause that's the wrong tool. If you use a laptop you're probably gonna end up making techno, or electronic music. Don't use a laptop.  
READ MORE
Via Free Music Archive » Visit Blog
» 4 COMMENTS
ange on 01/30/2013 at 08:58AM
Cozy up next to your space heater's comforting humm, rest a warm laptop over your thighs, and use your headphones as earmuffs as you enjoy a collection of instrumentals made by machines. For our latest Music for Video selection, a mix of beeps, buzzes, clicks and whirrs. Few of these sounds come from an instrument you learned in band class. They are perfect for your sexy robot love stories, hackday montages, and lonely urban sunrises.
 

1. Asthmatic Astronaut (website, CC BY-NC-SA) - The chill dance party that must go on inside our computer towers. These colorful wires have moves you've never seen before.

2. Etc. (website, CC BY-NC) - This is the song that went through my head when I would sneak onto my family computer late at night to visit seedy AOL chatrooms. A dial-up dance party.

3. Leggysalad (website, CC BY-NC-SA) - This track has the amazing ability to infuse sentimental feelings the present moment. It's a flashback of your happiest moments spliced together into an sonic Facebook album.

4. Bleak House (website, BY-NC-SA) - Music for wondering if something's the matter, perfect for your most gentle and thoughtful moments.

5. C. Scott (website, CC BY) - In this magical dreamscape, all your beats will come true.

6. Johnny_Ripper (website, CC BY-NC-SA) - An innocent journey back to a simpler time that soon becomes exponentially more dynamic. A good match for an animation project.
READ MORE
Via Music for Video » Visit Blog
» 1 COMMENTS