You came this way:
Home
>
Tag: Kosmische Musik
"Kosmische Musik"
(Used 8 times)
Related Articles
FMAmp3 on 04/16/2012 at 11:50AM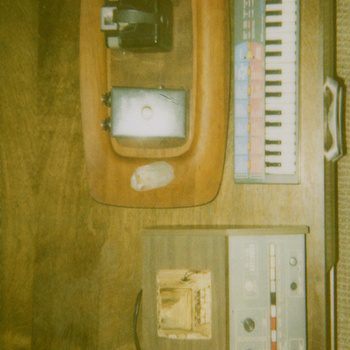 Here's a track to put you in the Monday zone. Andy & Zeus are two friends in a spacecraft, navigating the outer limits via analog synths. The Brooklyn-based duo have roots in Boston where Andy played in Astronaut with Daniel Lopatin (Oneohtrix Point Never) and "Zeus played in Chas Mtn with Gary War.
Originally released by Electrick Gypsy Service Records & Tapes on the sold-out Tales of Power cassette, "MCMLXXXI Choir" has gone on to float the web as a free download. Its kosmische energy has fueled remixes by Duchess Leo, Double Entendre and A.B.B.M. The track can also be found on this month's massive release by BEKO-DSL featuring 100 artists including Alligator Indian, Excepter, Maps and Diagrams and many more.
Via Free Music Archive » Visit Blog
» 1 COMMENTS
katya-oddio on 05/06/2010 at 05:34PM
In 2006 on Sascha Müller's trippy Pharmacom-rec netlabel, a serious 2-CD album appeared that excited chill out, new age, space music, and electronica fans alike. The release was the work of Frank Dorittke as "F.D. Project" and was titled MARE TRANQUILLITATIS.
It is a pure, perfect tribute to Berlin School German electronica. Fans of Tangerine Dream, Klaus Schulze, Ashra, Kitaro, or Mike Oldfield will discover a hidden treasure that sounds like Kosmische Musik composed and performed in the late '70s. MARE TRANQUILLITATIS delivers fresh new sounds for fans of the genre.
Prepare for retro futurism. Set your dials back decades, put on your giant headphones, close your eyes and drift off into space with all the cosmic synthesizers, soaring virtuoso guitars, shifting analog sequencer bass lines, Mellotron-style samples, and spacey effects so indicative of the Berlin School.
In MARE TRANQUILLITATIS, Dorittke presents future music from the past created in the present. Just like a mission into deep space, this 2-CD release has the power to remove you from the present world and fill you with wonder.
READ MORE
Via Oddio Overplay » Visit Blog
» 1 COMMENTS