You came this way:
Home
>
Tag: Kexp
"Kexp"
(Used 23 times)
Related Articles
paulsmith on 10/10/2012 at 01:00AM
Seattle's KEXP delivered us a great mix of some of their best sessions from January to February of this year, featuring local and international artists and bands. Here's our guide to the tracks:
 
From Seattle, Sandrider preview their self-titled debut, released on Good To Die Records. 'Crysknife' sees them at their loudest. Sprawling 13-piece ensemble Orkestar Zirkonium list funk, punk, klezmer, and Eastern European and Indian styles as their inspiration, resulting in a distinct sound that's both boisterous and drum-and-brass-driven.

Then there's lo-fi folkster Bill Campbell, who performs under the guise of Thee Midnight Creep and plays a spooky autoharp. Singer-songwriter Damien Jurado writes ambitious psychedelic folk compositions that'll make you swoon.
 
Representing Portland next is warehouse band Blouse who preview its self-titled debut with a song called 'Into The Black.' Quasi, an indie trio formed in 1993, comprising ex husband and wife Sam Coomes and Janet Weiss and bassist Joanna Bolme, play 'Case Of No Way Out'.  Laura Gibson is a Portland-bases folk singer and songwriter. 'La Grabde,' is the title track of her acclaimed 2012 album.

 
READ MORE
Via KEXP » Visit Blog
» 3 COMMENTS
FMAmp3 on 03/29/2012 at 04:00PM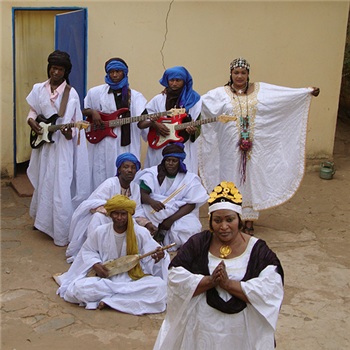 A cousin of the Farka Touré family, Khaïra Arby took Mali's national music competition by storm in 1970 when she was just eleven years old. But despite her gift for song, she soon found herself given to marriage with a man who forbade singing. After years of frustration, Khaira Arby divorced to embark on a career in music. She joined Mali's national band and blossomed into a renowned solo artist in the 1990s, known as "The Nightingale of the North" to the south's "Songbird of Wassoulou," Oumou Sangaré.
On the heels of her first international release, Khaïra Arby visited the KEXP studios in Seattle for this live performance on The Best Ambiance with Jon Kertzer. She performed with her band from the deserts north of Tombouctou, Kevin Suggs with songs in the Sonrai, Arabic, Tamashek, and Bambara languages of the Sahara. Video after the jump, with more on KEXP's blog.
Khaira Arby is on Facebook & Twitter. MP3s @ iTunes
READ MORE
Via Free Music Archive » Visit Blog
» 0 COMMENTS
TAGGED AS:
blues
,
jon kertzer
,
mali
,
africa
,
kexp
,
north african
,
desert rock
,
the best ambiance
,
khaira arby
,
african
,
See Less...
kexpadmin on 12/26/2010 at 03:00PM
So many incredible artists have played live on KEXP this year, from top local Seattle artists like Damien Jurado and Black Stax, to those of international renown like Vieux Farka Touré, Charlotte Gainsbourg, Beach House, and Devendra Banhardt. The venues have ranged from KEXP's 90.3-FM headquarters in Seattle, to the Cutting Room Floor in New York City (where KEXP programming airs on 91.5-FM), to live events like Bumbershoot, SXSW, and the Capital Hill Block Party.
We've put together seven mixes that offer some of the many highlights from KEXP's live performances:
KEXP 2010: Worldwide -- 2010 marked the 25th anniversary of "The Best Ambiance" hosted by Jon Kertzer, and these were just a few of the many recent highlights:

KEXP 2010: Shimmering Pop -- these artists bring a fresh, irresistable approach to pop music

KEXP 2010: Rock! -- classic artists like The Wedding Present and The Posies, contemporary heavy-weights like Drive-By Truckers and The Hold Steady plus up-and-coming artists like White Mystery and Love Is All...
READ MORE
Via KEXP » Visit Blog
» 0 COMMENTS
macedonia on 10/09/2010 at 12:37PM
If you like your hip-hop rough, rugged, and real, make sure to keep tabs on Diamond District.  Based in Washington, D.C., their debut album In The Ruff has been catching the ears of those that lean towards the '90s production style of the genre.  Longtime producer Oddisee is joined by X.O. and YU on the microphone, each spitting gritty rhymes over grimy beats reflective of present-day D.C.
Back in May of 2010, Diamond District visited the studios of KEXP for a live session.  "The Shining" is a good representation of what you can expect from their album.  As for Oddisee, his work ethic is tireless, constantly creating instrumentals you can't help but snap your neck to.  For further proof, make sure to stop by his Bandcamp page and take a listen to his Odd Season EPs and particularly his Traveling Man album...
Via KEXP » Visit Blog
» 0 COMMENTS
elizalomas on 08/03/2010 at 04:45PM
Stanton Moore is best known for being a founding member of legendary New Orleans funk band Galactic. Away from this, he has a solo career which spotlights him as all-round inspiring musician, innovator and teacher. His dedication to funk drumming is surpassed only by the love of his home, New Orleans, where jazz was created and where people like him are investing their time and talents to keep it as vibrant as ever.
In April this year he released the book 'Groove Alchemy', an essential investigation into the original elements of funk and groove drumming. He gives invaluable insight into how his drumming is turned to gold: combining masterful, experienced rhythms with the characteristic laid-back lilt of New Orleans.
The release of this book reflects the type of musician Moore is. From providing masterclasses in the Big Easy drumming style, to introducing his own titanium snare drum, to setting up a scholarship for young aspiring musicians post-Katrina, Moore's heart and soul are truely backing every beat he makes.
Via KEXP » Visit Blog
» 2 COMMENTS
» MORE INFO
» 0 COMMENTS
» ALL MIXES
» MORE INFO
» 0 COMMENTS
» ALL MIXES
» MORE INFO
» 0 COMMENTS
» ALL MIXES
» MORE INFO
» 0 COMMENTS
» ALL MIXES