You came this way:
Home
>
Tag: Jealousy
Related Articles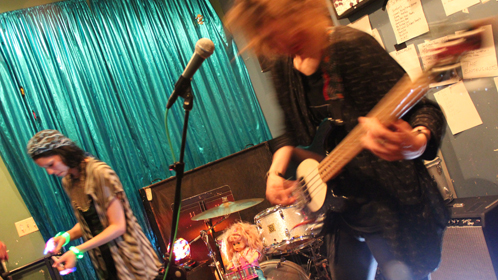 Jealousy in the Love Room (pic by Yvonne Szymczak)
This picture captures the last moment before the lights went out, the strobes came on, and everything went weird.  Great weird: disorienting, non-linear, exploratory, and those other catchy faves trippy, spacey, and whoah...
San Francisco-based Mark Treise's 4-year running project Jealousy takes a wildly disparate set of inspirations and distills them, coherently and brilliantly, through a bass guitar and his voice.  The bass is relentless, repetetive and symphonic; his voice is high & textural and occasionally takes on the cadence of Genesis Breyer P-Orridge.  Lyrics are abstract poetry that often seems to be on about some sex stuff or other.  Jealousy has been described as having come to fruition with last year's excellent Moniker Records LP "Viles" (dl the whole thing here on the FMA).  But while Mark has indeed sharpened his focus, this session on my radio show displays him very much still searching.  4 of the 5 songs played were largely improvised.
Mark was joined on this session by Alison Peery, who played theremin and the handheld Korg Monotron synth - Hawkwind-style swoops and sweeps abound.  The songs were dark as pitch, but the vibe here was very laid-back and open to whatever might happen.
Here's some major trippy light show video, shot by Yvonne Szymczak & David Van Dokkum.


Jealousy Live on WFMU from WFMU on Vimeo.
And here are some handy links:
Jealousy on the FMA, comprising the entire "Viles" LP, plus a live session on my radio show, and on Keili's
Jealousy on Myspace, Moniker Records on the FMA
Via WFMU » Visit Blog
» 1 COMMENTS